Little Brooklynites can now put on their lab coats and discover the world of science while navigating Brooklyn Children's Museum newest exhibit Science + You.
The exhibit, which opened Tuesday, is an interactive child-sized laboratory with hands-on scientific tools and methods scientists use for problem-solving, investigation and experimentation kids can utilize while exploring subjects like human health and nutrition.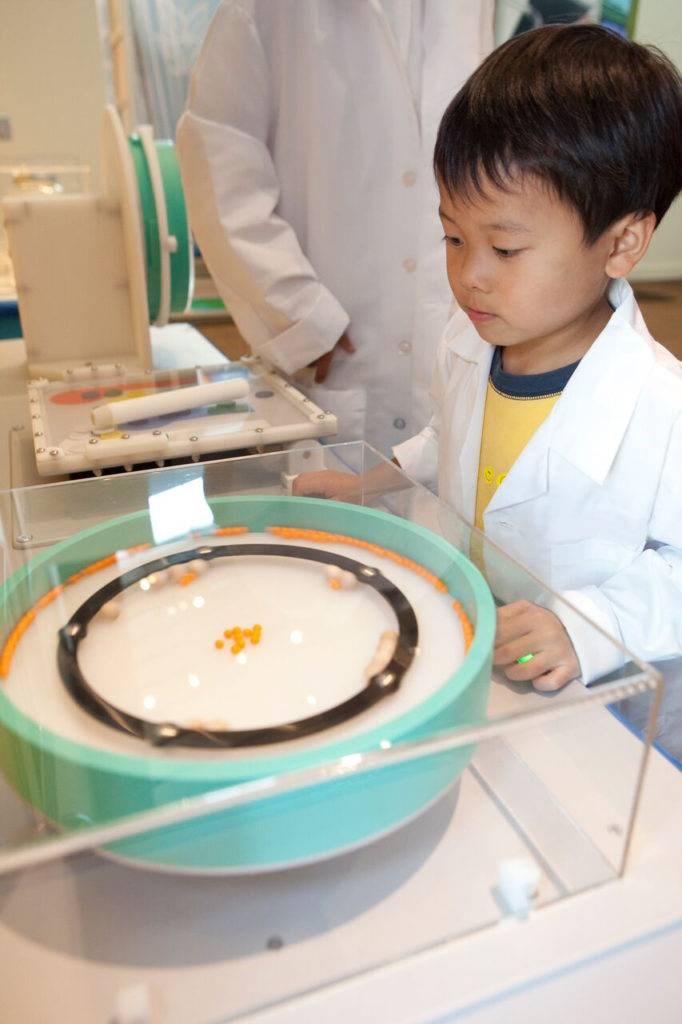 The aspiring scientists enter the 1,200 square-foot Science + You exhibit through the "Cleanroom," where they pretend to wash their hands and wipe their feet on a special gel-like floor mat that changes colors to represent the dirt particles it's removing. The kids then proceed through a pretend shower to be bathed in blue light before they put on their white lab coat.
As they embark on their science journey, kids get to learn about antibodies in an interactive piece that demonstrates how the human body's antibodies collect germs and deposit them into white blood cells in order to protect us. In the Test Lab, visitors can explore how scientists use machines to both mix and separate liquids and solids before they can manually mix and separate liquids and solids themselves.
The Magnification Area features a specialized Wentzscope, a large microscope designed for kids, as well as video microscopes that magnify objects on a large screen, allowing children to compare and contrast an array of natural and man-made items up close.
The Healthy Lifestyle component of Science + You emphasizes the importance of diet, physical activity and rest with interactive activities such as a human puzzle, that invites children to assemble pieces of nutrition and exercise to achieve a healthy balance, and a Test Kitchen that teaches children about the importance of healthy and balanced diets while making soup.
Science + You is on view through April 28, and open during regular museum hours.