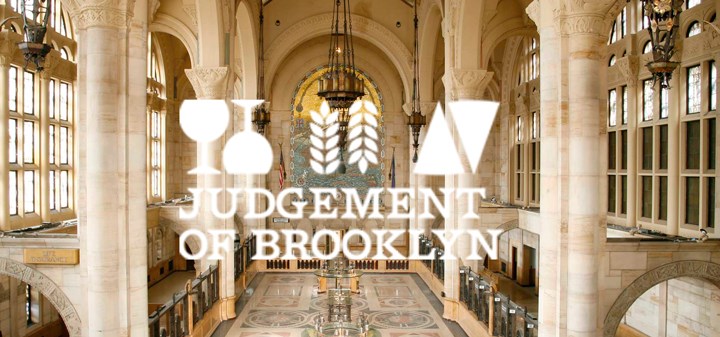 Anticipation is growing!
Judgement of Brooklyn-- a consumer tasting event organized by Tap+Cork, in conjunction with Bed-Vyne Wine and Bed-Vyne Brew—is only two days away!
On Saturday, May 17, from 7:00pm - 11:00pm at One Hanson Place (the old Williamsburg Bank), is Central Brooklyn's first blind tasting of wine, beer and food pairings that will let the residents be the final judge.
The event producers held their first round of tastings two weeks ago at Brooklyn Borough Hall. It was a blind tasting exclusively for the judges—sommeliers and beer experts—and their results have been tabulated.
"Some of the American wines did very well, especially in the Rhone Valley category," said Michael Brooks, co-owner of Bed-Vyne Wine. "And for beer, there were some really high scores in the stouts category as well."
But Brooks and Bed-Vyne co-owner Rotimi Akinnuoye said they're really looking forward to the big event on Saturday.
"One of the biggest draws for this event is that people will be educated and will also get a chance to vote," said Brooks.
Everyday residents will get a chance to sample, receive expert information on what they're sampling and then weigh in on a wide variety of local, national and international beers and wines.
Participants' will use their smartphones to vote. And the results will be publicized next week on the Judgement of Brooklyn website.
What's also great about Saturday's event is that the results, side-by-side with the results of the "experts," will give restaurant owners and wine retailers an honest look at Brooklyn's true palate and brand preferences for beer and wine.
To purchase tickets to Judgement of Brooklyn, go here. But hurry! The "connoisseur tickets" already have sold out!
"Also, for the car-lovers, we have a new surprise," said Akinnuoye. "We will be showcasing a custom-made Lamborghini that will be featured. It's an award-winning vehicle from the recent auto show held at Jacob Javitz!
"And we're still open to entertaining restaurants and other sponsors that want to jump on board.