On the morning after Election Day, several Brooklyn elected officials gathered at the Barclays Center to calm nervous Brooklyn Democrats and to denounce President Donald Trump's claim that the Democratic Party tried to steal the presidential election.
U.S. Rep. Hakeem Jeffries organized the event that included U.S. Rep. Yvette Clarke, U.S. Rep. Nydia Velazquez, NY Sen. Zellnor Myrie, NYC Council Majority Leader Laurie A. Cumbo, NYC Council Member Alicka Ampry-Samuel, NY Assemblymember Diana C. Richardson and NYC Public Advocate Jumaane Williams.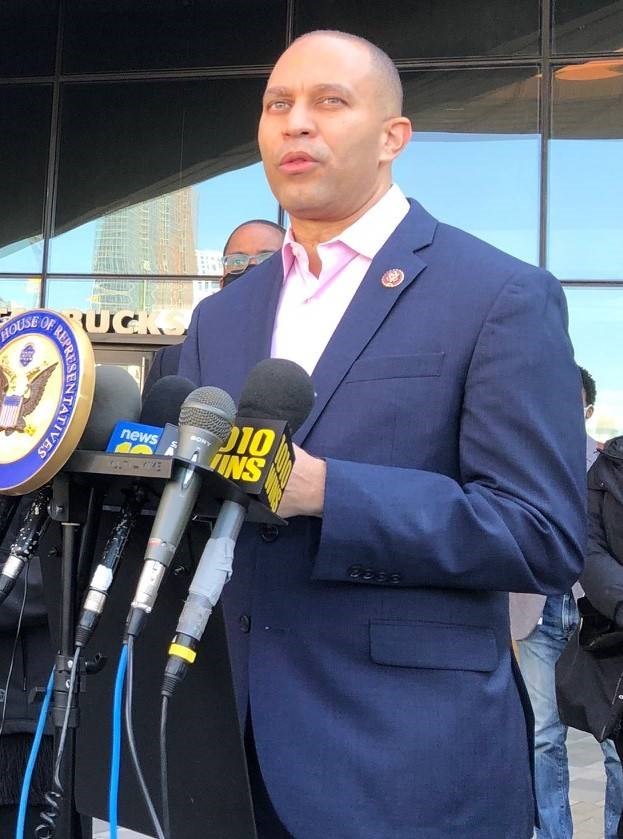 Millions of votes were still being counted in key battleground states on Wednesday in what many called the most important election in a generation. Yet, Trump prematurely claimed a victory over his Democratic rival Joe Biden.
The president falsely asserted that voter fraud involving uncounted mail-in ballots — presumably from mostly Democratic voters — was taking place and vowed to launch a legal challenge.
The assemble of elected officials had one clear message to Trump: Let the electoral process play out.
"Our nation's fundamental principle is government of the people, by the people, and for the people," declared Jeffries, whose district includes Fort Greene, Clinton Hill and East New York. "And so, at the end of the day, the integrity of our democracy depends on the people deciding."
Jeffries said he believed Biden would ultimately win both the popular vote and the Electoral College.
"Any declaration of victory by the current occupant of the White House is baseless, flawed and irresponsible," he added. Jeffries told BK Reader he was proud of Brooklyn's high voter participation rate.
"It was wonderful to see all the people who turned out to cast their votes early, clearly understanding the urgency of this election. We want to make sure that everyone's vote is counted," Jeffries said.
Myrie, whose 20th Senate District includes Brownsville and Crown Heights, said he "knows a thing or two about democracy," as chairman of the Senate Elections Committee. He explained that elections are like school exams, in which students must wait for results.
"Now that is a four-letter word (wait) that's offensive to the current occupant of the White House," Myrie said, "because he believes we have to make declarations before every vote is counted."
Still, many people in the borough who voted overwhelmingly for Biden are feeling nervous about whether he won.
"All Brooklynites and all New Yorkers, take a deep breath," said Clarke, whose 8th Congressional District includes parts of Crown Heights, Brownsville and Midwood. "We are being antagonized by a man who will stop at nothing to steal the election."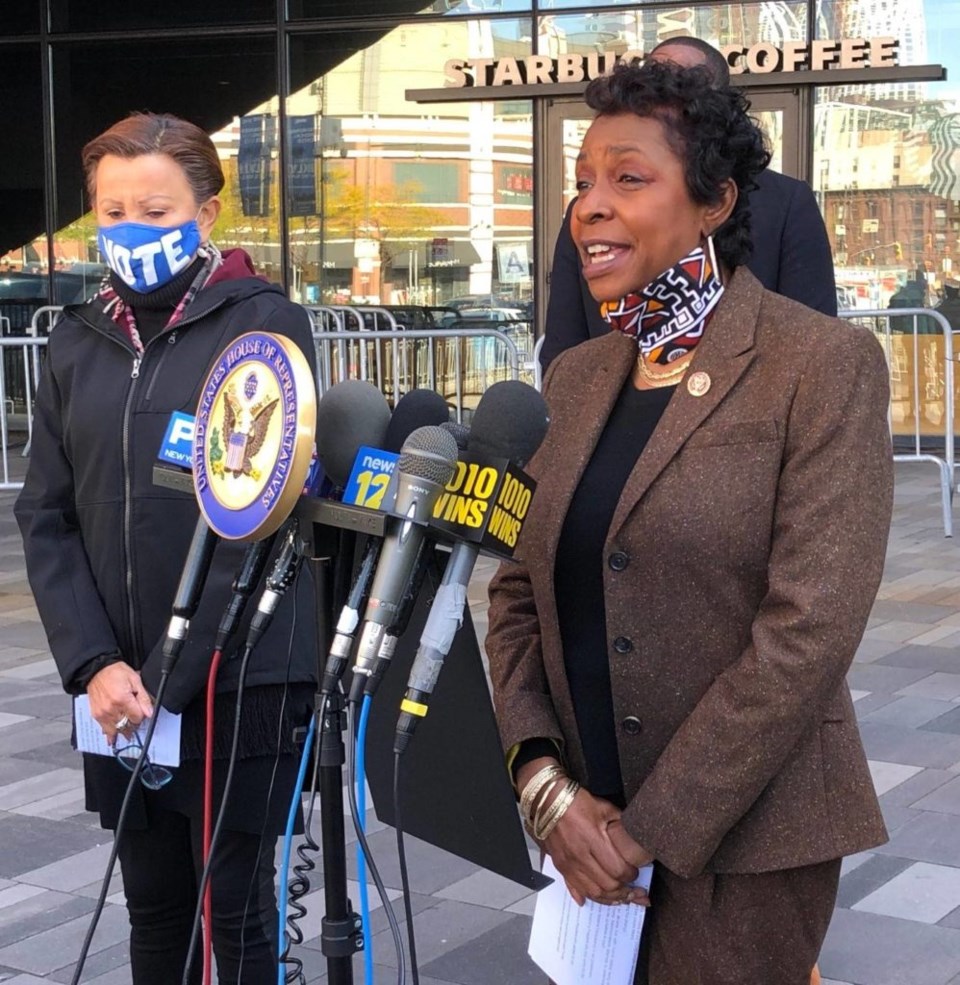 Indeed, several of the elected officials said it was Trump — not Democrats — who is using every trick in the book to win reelection.
Velazquez (Bushwick, Williamsburg, Red Hook and Sunset Park) pointed out that Trump told Cuban American voters in Florida that Biden was a socialist to win their votes.
Jeffries recalled that Trump benefited in 2016 from Russian interference in the presidential election and operationalized it. It was also Trump, he added, who was impeached for abusing his power to get Ukraine to target Biden.
"He has no credibility when it comes to claiming that someone else is trying to steal the election," Jeffries said.