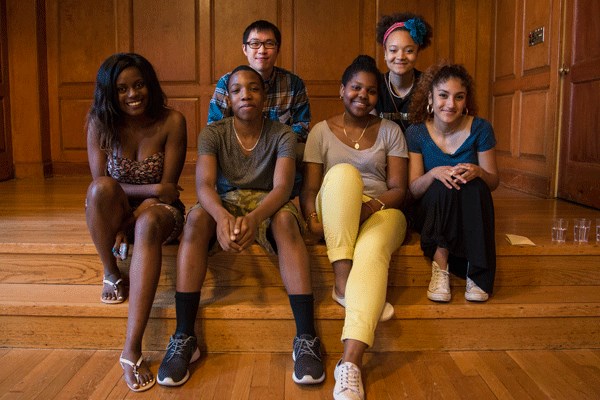 Brooklyn Community Foundation announced on Monday $2 million in grants awarded to 54 Brooklyn-based non-profit organizations whose programs support underserved youth in the borough.
The allocations were in keeping with the foundation's Invest in Youth initiative launched in May with a 10-year, $25 million commitment to improving social and economic opportunities and outcomes for 16- to 24-year-olds, particularly young people of color. Invest in Youth is the Foundation's largest competitive grant distribution,
"Right now, half a million young people are utterly disconnected from Brooklyn's growing prosperity and influence. But we can change that by elevating our most vulnerable youth and helping them realize their own potential to lead our borough forward," said Cecilia Clarke, Brooklyn Community Foundation President and CEO. "Through Invest in Youth, outstanding frontline nonprofits across Brooklyn are getting the vital support needed to bring about true change for our communities."
The Invest in Youth initiative is an outgrowth of the Foundation's Brooklyn Insights community engagement project launched in 2014, which involved conversations with nearly 1,000 Brooklynites on challenges in their communities and where they see promise for change.
Insights from that project found the top concern across neighborhoods was the future of young people, and the need to address intersecting issues including neighborhood-based opportunity, the criminal justice system, immigrant communities, and racial inequity.
"We believe that by investing heavily in Brooklyn's youth we are investing in a better future for Brooklyn—one that is vastly more equitable and offers more opportunity for all," said Clarke.
Some of the non-profit organizations receiving grants in Central and East Brooklyn include:
Active Citizen Project: $20,000 for Taking Charge/Leading Change, a youth leadership initiative in Brownsville, East New York and Crown Heights that aims to help young people improve the conditions that determine their quality of life and ability to thrive.
Black Women's Blueprint: $30,000 for Telling Your Truth: Teaching Youth Transformative Justice, a partnership with student organizers on Crown Heights campuses to pilot disciplinary alternatives.
Bridge Street Development Corporation: $30,000 for Motivated Youth Believing in All Self-Empowerment, a civic engagement and internship program for Bedford Stuyvesant, Brownsville and Fort Greene/Clinton Hill youth interested in public service, leadership development, and activism.
Footsteps: $25,000 for Youth Empowerment Program to help ultra-Orthodox Brooklyn youth access resources to assist them in their journeys beyond their communities, develop leadership skills, and connect with one another.
Girls for Gender Equity: $35,000 to advance advocacy strategies led by young people with a focus on young cis and trans women of color, gender fluid, and LGBTQI youth in the quest for justice and equity within the racial justice movement.
Ifetayo Cultural Arts Academy: $30,000 to advance programs through which Central Brooklyn youth deepen their cultural identity, build assets, save money for college, develop artistic, personal and leadership skills, and advocate for solutions to pressing social justice issues.
The Laundromat Project: $20,000 for the People's POWER Lab, a new youth-focused out-of-school initiative that engages young people of color in Central Brooklyn in creative expression, community activism, and leadership development training.
United Community Centers: $40,000 to advance youth internship programs, a pipeline of leadership opportunities for participants as they age out of programs, a new youth advisory board, and youth engagement in the City's development plan for East New York.
University Settlement Society of New York: $20,000 for Connect*Flow*Inspire, a program offering low-income youth from Fort Greene/Clinton Hill a safe space to discover a positive sense of self and community and develop leadership skills to inspire others to collaborate toward community change.
CASES: $35,000 for Brooklyn Youth Justice Programs in Downtown Brooklyn, Bedford-Stuyvesant, and Coney Island, which help young people avoid contact with the criminal justice system by providing education and employment services, behavioral health treatment, community service projects, and links to other community-based providers.
Center for Court Innovation: $30,000 for Brownsville Community Justice Center's Brownsville Leadership Project, which provides court-involved youth with educational, occupational, social, and health services designed to expand their leadership roles in the community and increase community members' sense of public safety.
Center for NuLeadership: $35,000 to advance planning for Bedford Stuyvesant Human Justice Initiative, an arrest diversion pilot program in partnership with the NYPD, 79th Precinct, and NYC Office of Probation.
Drive Change: $35,000 for a unique food service employment model for formerly incarcerated youth, which aims to build a food truck commissary/garage in Central Brooklyn through which other food trucks will hire young people out of its program.
Vernon Avenue Project/ReConnect: $30,000 for the neighborhood-based entrepreneurship program in Central Brooklyn which creates jobs for court-involved young men.
Flanbwayan Haitian Literacy Project: $20,000 to help transform the lives of Haitian newcomer youth in Crown Heights, East Flatbush and Canarsie through education and leadership development and raising awareness of immigrant education issues in the community and citywide.
To see a full list of the awards, visit BCF's website here.