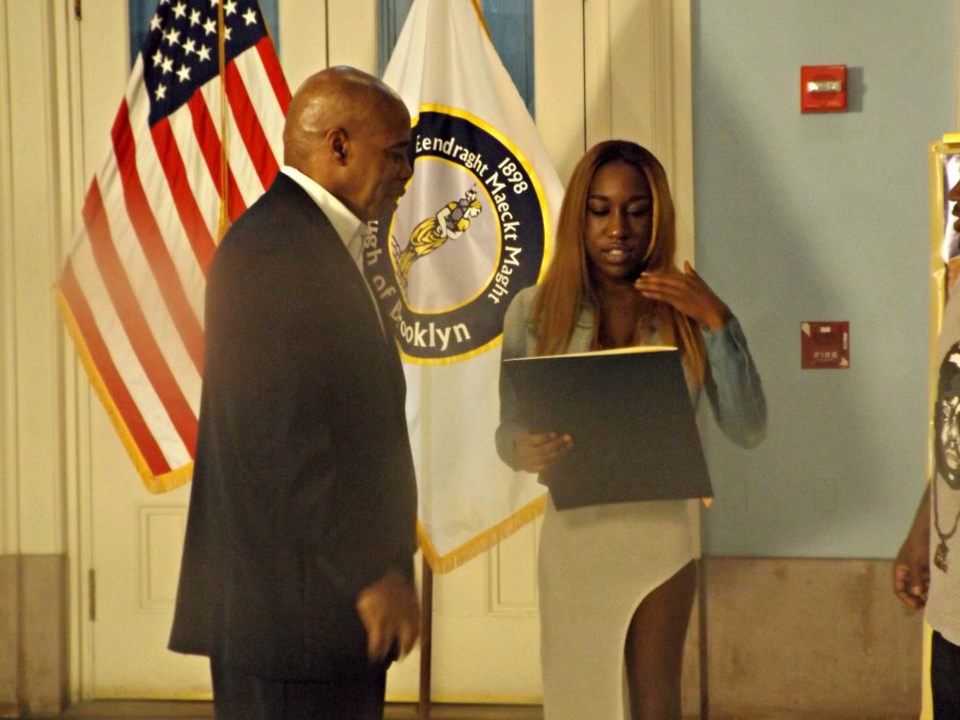 Just in time for what would have been the Bed-Stuy-native and hip hop giant's 44th birthday, Biggie Smalls just got his own day in Brooklyn.
Brooklyn Borough President Eric Adams on Thursday issued a proclamation naming May 21 "Christopher 'The Notorious B.I.G.' Wallace Day." Adams the proclamation was presented to Biggie's daughter, T'yannna Wallace, and the rapper's longtime friend, Lil' Cease.
For President Adams, this decree served as a way to recognize what Biggie did for hip hop and for Brooklyn.
"Giving this proclamation to his daughter T'yanna is just our way of saying how much your dad did for the times," Adams said. "Biggie put Brooklyn on the map. He put it in Paris, in Japan. All over the globe knows about Brooklyn because they used to see a big man with a cigar and nice cap on just kicking some nice lyrics."
For the friends and family members working to keep the Notorious B.I.G.'s legacy alive, this day was a big honor.
"For my boy, my best friend, to be straight out of Brooklyn at 24 years old, that's an accomplishment,"said Lil' Cease, who wore a gray t-shirt with Biggie's face. "Especially nineteen years later just to see the city really praise him and give him the love he deserves."
Lil' Cease said that this day of acknowledgment is only the first step in cementing Biggie's legacy. Lil' Cease, along with Christopher Wallace Way Petition founder Leroy McCarthy, are still working to get Biggie's home block of St. James Street and Fulton Street renamed Christopher Wallace Way.