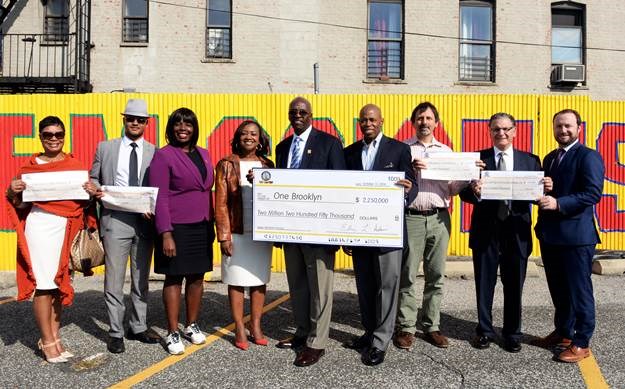 On Monday, Brooklyn Borough President Eric L. Adams announced a budget approval of more than $2 million in Fiscal Year 2017 towards the construction and preservation of hundreds of affordable housing units across Brooklyn.
The first projects, he said, will be initiated via the Faith-Based Development Initiative, a program his office started that aims to develop affordable housing options by leveraging the open spaces around houses of worship in Brooklyn, widely known as the "borough of churches."
"We want to stop the hemorrhaging of affordable housing in Brooklyn, and our dollars will go a long way when we partner with local organizations and developers," said Borough President Adams. "There are many faith-based organizations in the borough that have parking lots, or air rights, where affordable housing can be developed. What we believe is that the people who lived here before Starbucks came in should be able to stay here and buy a Starbucks after it comes in."
Calvary Intergenerational, a 154-unit mixed-use affordable housing development in Crown Heights will receive $500,000 in funding to be used for construction costs across two buildings located at 1485 St. Johns Place and 1575-1579 St. Johns Place. The project will include 11,000 square feet of ground-floor retail space and a 17,000 square-foot multi-use community facility to be operated by the Calvary Community Church.
Calvary Intergenerational will include 72 units set aside for low-income seniors between 27-47 percent of area median income (AMI) and 81 units for families with incomes between 47-97 percent of AMI, plus one super's unit.
"This is much needed. Growing up in this neighborhood,"said Assembly Member Latrice Walker. "I remember when St. Johns Place was plagued by drugs and homelessness, and even now many people are still living in transitional housing."
Additionally, Adams allocated a $500,000 for Ebenezer Plaza, a 481-unit mixed-use affordable housing development in Brownsville targeted to serve low-income families. One hundred percent of the units will be designated for renters under 60 percent AMI. Additionally, there will be more than 29,000 square feet of ground-level commercial and retail space, as well as about 39,000 total square feet to be used by the Church of God of East Flatbush as their sanctuary space.
A $250,000 investment in a mobile unit for NYC's Housing and Preservation Development aims to enhance the agency's preparedness and response to building-wide and long-term emergencies as well as provide constituents with education, information and better overall access to agency and City services.
"The mobile office will expand HPD's community outreach efforts, allowing us to answer questions, provide information about services, and offer assistance to tenants and owners in their own communities,"said HPD Commissioner Vicki Been.
Adams also provided $1 million in grants to senior housing developments to reinforce the availability of affordable options for senior residents: $500,000 was awarded to Southside United HDFC for Rheingold Senior Housing in Bushwick, providing approximately 64 units of permanently affordable housing for seniors, with rents set only as high as 60 percent of AMI.
Adams also gave $500,000 to the Fifth Avenue Committee for their Sunset Park Senior Housing and Health Clinic, a project that will provide a new health clinic and 74 new units of affordable housing at the site of the shuttered Zion Luther Church, as well as six family units from two adjacent townhomes that will be rehabilitated.
Following remarks by recipients, the borough president presented each of them with an honorary check with the seal of Brooklyn Borough Hall for their projects and one oversized check, made out to "One Brooklyn," for affordable housing throughout the borough.
"Ensuring that affordable housing in New York City is conveniently accessible for all those who need it is something that every elected official should make a priority," said Council Member Darlene Mealy. "Our city definitely needs more affordable housing."