Brooklyn Borough President Eric L. Adams announced on Thursday that more than $13 million of hisFiscal Year 2016 capital budget will go towards STEM (science, technology, engineering, and mathematics) education and technology.
The funding will go to 70 schools throughout Brooklyn, and represents the largest allocation out of his capital budget.
"The educational opportunities we create in Brooklyn should reflect the knowledge and skills necessary for the jobs of today and tomorrow in our borough, jobs which are rooted in STEM," said Adams. "Projects like mobile labs and hydroponic classrooms will foster creativity and problem solving ability needed to prepare students for high-quality career opportunities. My administration will continue to move boldly forward in education, unafraid to challenge old paradigms and try new approaches to maximize our youngest Brooklynites' full potential."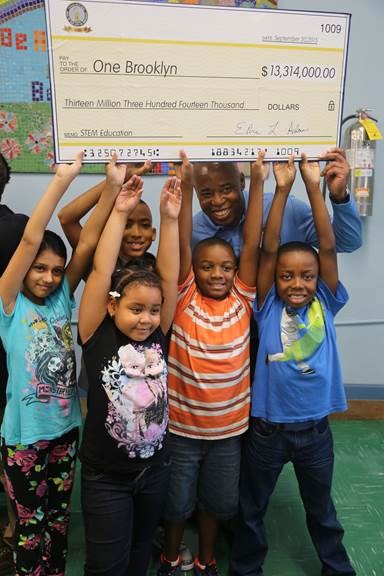 In East Flatbush, Borough President Adams funded projects at four schools: $35,000 for interactive smartboards at Kurt Hahn Expeditionary Learning School, $46,000 for a technology and engineering laboratory at MS 763 Brooklyn Science and Engineering Academy, $64,000 for interactive smartboards and whiteboards at the School for Democracy and Leadership, and $120,000 for an auditorium upgrade at International Arts Business School.
"Improving our public school system, especially in the areas of science and technology, will make a life changing impact on countless youth in our borough," said Councilmember Jumaane D. Williams, representing East Flatbush. "I applaud Borough President Adams for announcing these significant allocations in my district today, which will bring my district and the entire borough of Brooklyn one step closer to breaking down barriers to our youth's success."
Two high schools in Flatbush were supported by Borough President Adams's budget: High School for Service and Learning at Erasmus, which received $50,000 toward a library upgrade, and Midwood High School, which garnered $350,000 for auditorium seating.
"The ABCs of our schools must include more than arithmetic, biology, and chemistry: our students also need art, books, and computers," said Councilmember Mathieu Eugene, also representing parts of Flatbush. "All of our children deserve to receive a well-rounded education. Investing in our schools is the best way to ensure that our students succeed. I commend Borough President Adams for allocating funds to our schools. May it be a happy and healthy school year for students and teachers."
Adams provided grants to three East New York schools: $125,000 for a multi-sensory room at Spring Creek Community School, $130,000 for mobile STEM labs at East New York Family Academy, and $200,000 for a school library at Passages Academy — Belmont.
He proportioned capital funds to eight schools in Bedford-Stuyvesant: $52,000 to PS 44 Marcus Garvey for a mobile STEM lab, $52,000 to PS 256 Benjamin Banneker for a mobile STEM lab, $100,000 to Mott Hall IV for technology upgrades, $104,000 to MS 35 Stephen Decatur for mobile STEM labs, $158,000 to PS 373 Brooklyn Transition Center for technology upgrades, $208,000 to PS 23 Carter G. Woodson for mobile STEM labs, $350,000 to PS 40 George W. Carver for a rooftop greenhouse, and $588,000 to PS 297 Abraham Stockton for mobile STEM labs and library upgrades.
He also financed $52,000 toward a mobile STEM lab at PS 270 Johann DeKalb in Clinton Hill.
In addition, funding was given to schools in Bushwick, Williamsburg, Cypress Hills, Coney Island, Lefferts Gardens, Homecrest, Bensonhurst, Canarsie, Gravesend, Brighton Beach, Dyker Heights, Borough Park, Park Slope, Windsor Terrace, Cobble Hill, Carroll Gardens, Vinegar Hill, Greenwood Heights, Kingsborough Community College, NYU Polytechnic School of Engineering and St. Francis College in Brooklyn Heights.
Following remarks by recipients, Adams presented each of them with an honorary check made out to "One Brooklyn," for STEM education.