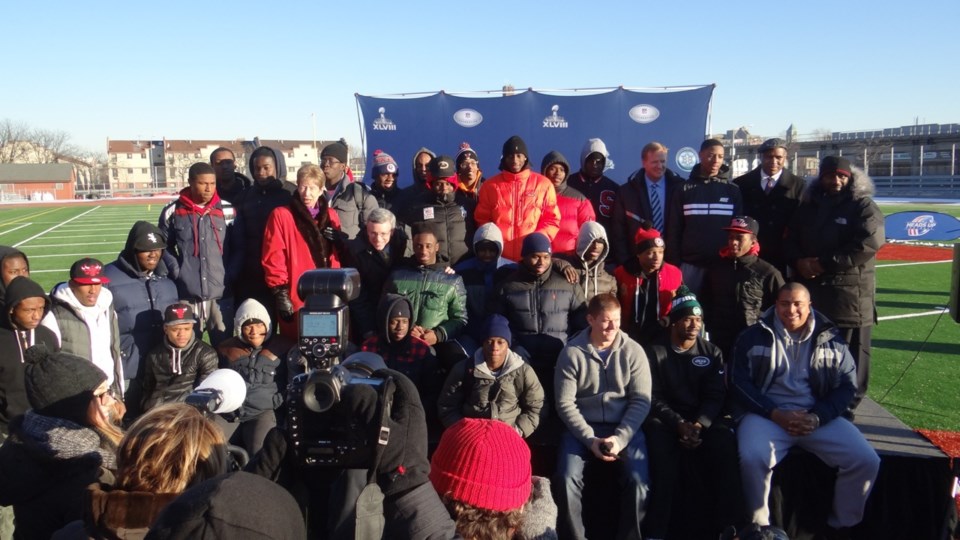 Bedford-Stuyvesant's Boys and Girls High School football team just became the luckiest in the country… Well, maybe not the entire country but, at least, the luckiest in Central Brooklyn.
On Thursday, the team was awarded the 2014 Super Bowl Legacy Grant, which included a surprise visit by Nick Folk and Jaiquawn Jarrett of the New York Jets, as well as Jonathan Martin, a former Miami Dolphin.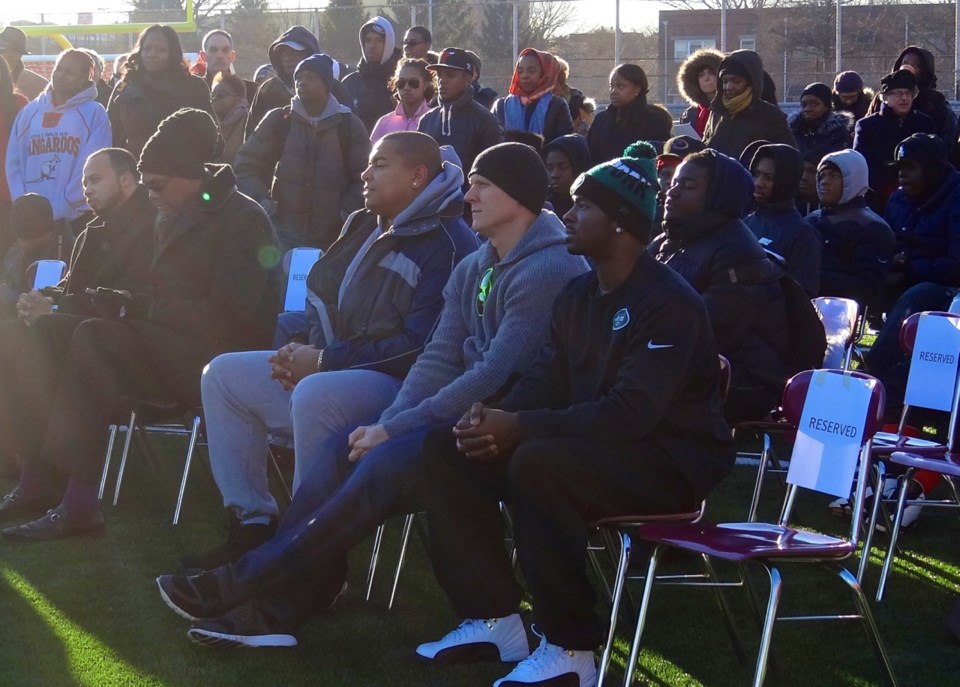 Each year, the National Football League, through its Snowflake Youth Foundation, provides as many as 50 public schools in the host city of the Super Bowl with a financial donation, matching funds towards building and improving spaces where children can be active and healthy.
This year, the NFL Foundation raised $11 million to fund charitable projects throughout the New York and New Jersey metropolitan area.
NFL Commissioner Roger Goodell braved the arctic temperatures Thursday afternoon on BGHS's football field to present the school with a grant for $250,000, along with NY/NJ Super Bowl Host Committee President and CEO Alfred Kelly, Jr., New York Jets Owner Woody Johnson, BGHS Principal Bernard Gassaway and Kathleen Graham, deputy chancellor of operations at the Department of Education.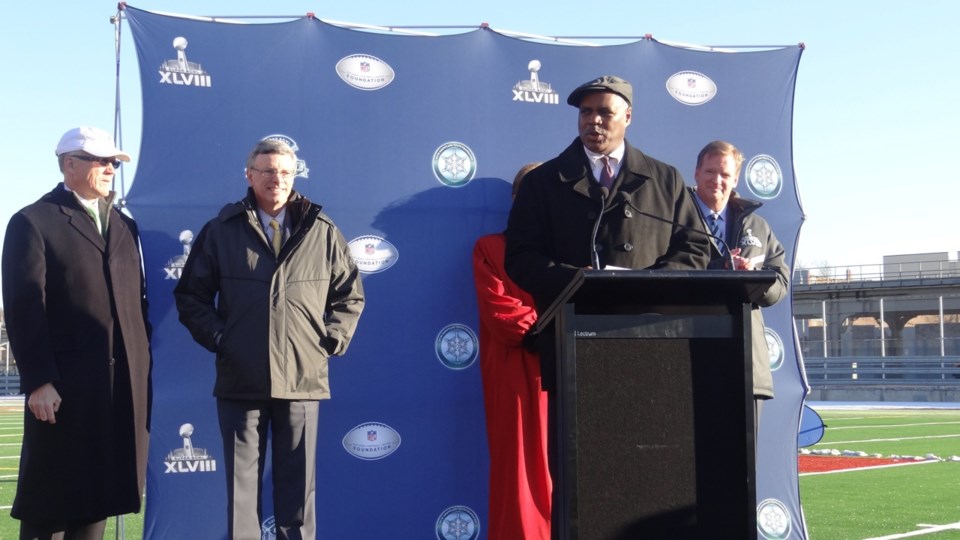 "I know all of you take great pride in this community. That's why the most gratifying work is what we're doing right here," said Goodell. "To see tangible results and tangible improvements coming from the Super Bowl, proof that's going to help the youth for years to come, that's the stuff that makes us very proud to be involved with the NFL and the Super Bowl."
BGHS became a grant recipient after NFL's partner, Local Initiatives Support Corporation, reached out to Bedford-Stuyvesant Restoration Corporation in early 2013, seeking a recommendation for a school.
"When we were contacted last February about submitting a proposal for a school field renovation, we immediately thought of Boys and Girls High School, given it is a strong sports school and an historic community school serving Bed Stuy," said Tracey Capers, vice president of programming at BSRC. "It was a pleasure to work with Principal Gassaway and Coach Harding on a proposal to LISC, the NFL's partner. "
The office of Councilmember Albert Vann provided the matching funds. BGHS used the grant to overhaul the entire football field, minus the track.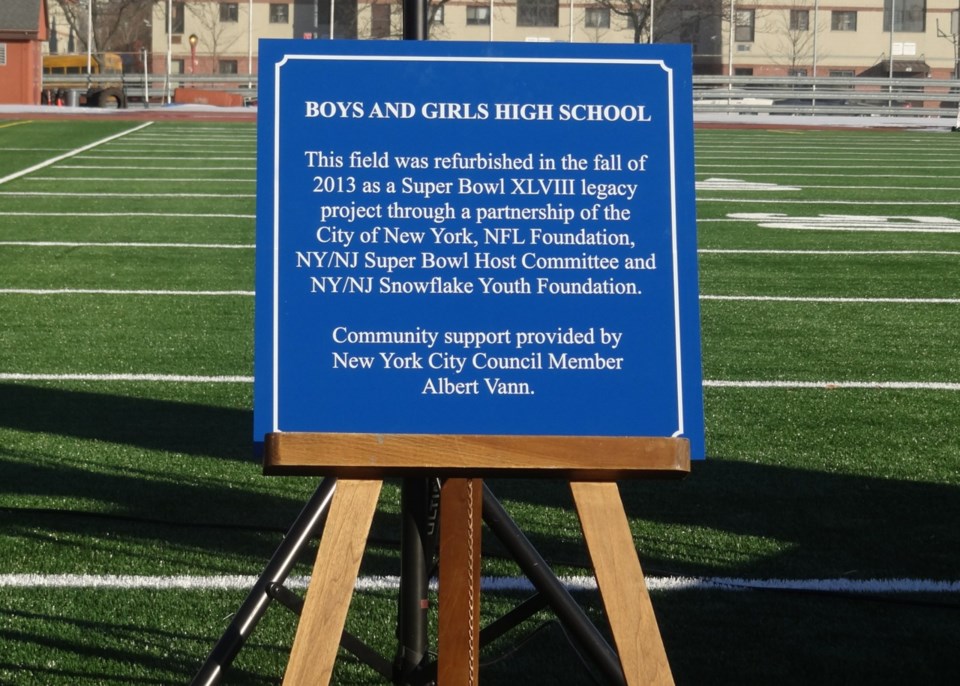 "This is a great start for us, because we want to be able to compete with other high schools around the city. And so to compete with them you've got to have a good field," said BGHS Football Coach Clive Harding. "It's the newest type of synthetic field called 'Field Turf.' I'm hoping that this is the start of attracting more athletes."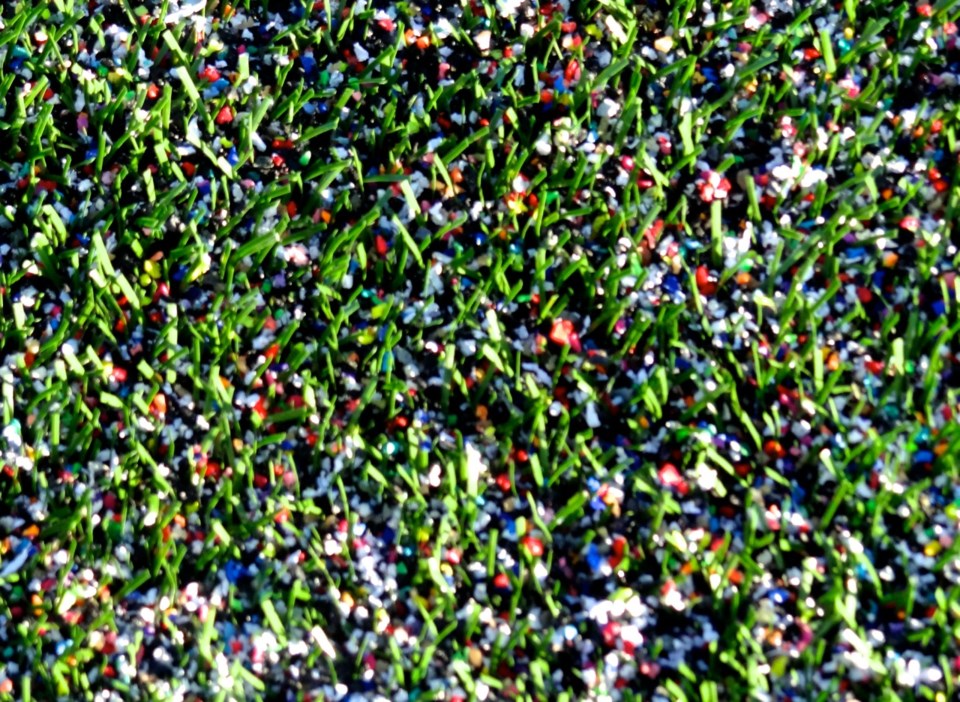 Nicholas Smith, 16, is a junior at BGHS and a middle linebacker on the football team called the new turf "a great gift," and said he looks forward to playing on it next year.
"Now, we can get more hours of play in, because we weren't practicing enough; we were practicing at another field," said Smith. "I'm very excited to see the NFL players open the field for us. This makes me feel great, more people may come to the games to support us now."
"This game will come and go, all the events; there will be an economic impact," said Goodell, of this Sunday's Super Bowl game. "But more importantly, there's the kind of impact you're seeing here today with this field that people will be able to appreciate and take advantage of for years to come.
"And that's what we're proud, being able to make a difference."