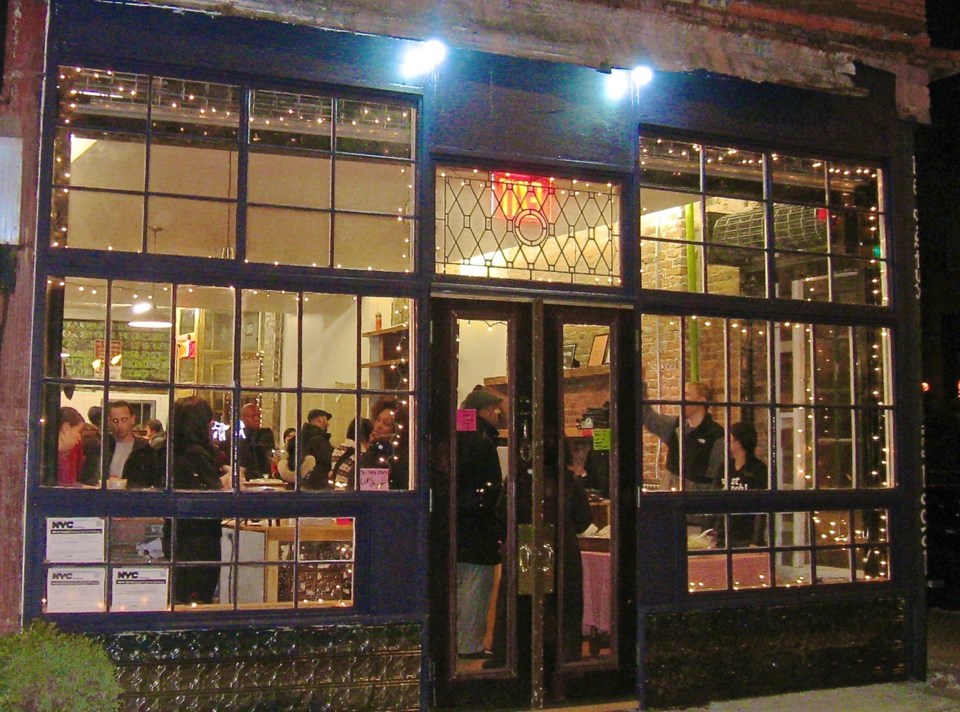 Bed-Stuy Fresh and Local, a brand-new boutique grocery store located 210 Patchen Avenue, on the corner of Macon, held its opening preview party Monday night to a packed house.
It's a testament to Bed-Stuy's growing desire for fresh food and artisanal products.
The store's two co-owners, Dylan Ricards and Sheila Akbar, had just finished construction of the store's interior, and wanted to have a little party to celebrate what they've got "in store."
"We're selling a lot of local goods, so we invited out the local vendors to come offer samples of their products," said Ricards. And the neighbors and community came out in full force. "The turnout was really positive and affirming that we're doing something good."
The store's official opening is on Monday, December 23, at 11:00am. In the meantime, Ricards and Akbar will be busy stocking their shelves, mostly with fresh produce and a handful of locally made products, including Brooklyn Brine Pickles, a line of locally made jams called Anarchy in a Jar; a locally made, Caribbean-inspired drink called Switchel, also known as haymaker's punch, made of water mixed with vinegar, ginger and cane sugar.
Ricards said the Switchel was a big hit at the party, selling out all of their cases; and a Chipotle salsa handmade by a local right up the street in Bed-Stuy.
"We really want to highlight local products," Ricards said. "We'll also be selling more common goods, but we also want to use the store as a platform; if there's someone in the neighborhood selling something and wants some shelf space, we wanna be able to offer it to those people."
We have beverage called Sitzel, a heritage drink, is basically a really tastey refreshing ginger and cane sugar beverage. They were at opening and sold out of all their cases. Chipotle salsa, lives right in the neighborhood.
If you know of a locally made product that would be a perfect fit Bed-Stuy Fresh and Local, email the store's owners at bedstuyfreshandlocal@gmail.com.