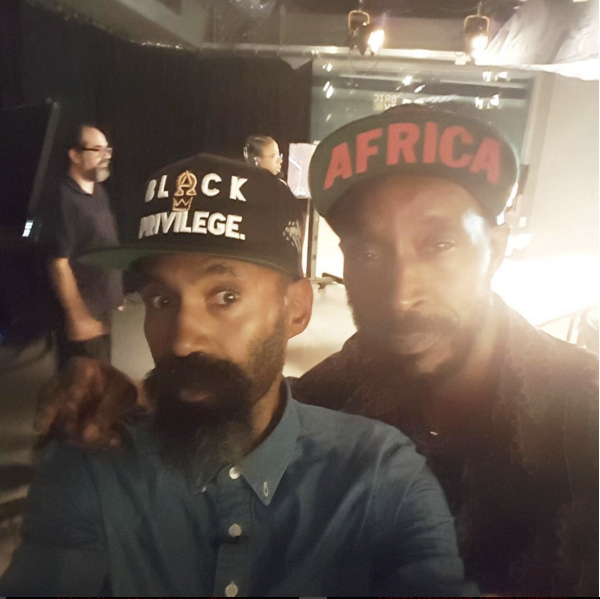 I recently had one of those moments that I've been analyzing over and over, simply questioning my spontaneous reaction to a situation, and to be honest, it's still bugging me.
I have recently been rocking a black snapback, from Canvas Design Shop, which says "Black Privilege" and it's literally been the blackest thing in the room, everywhere I've gone. I first rocked it on the Dick & Dave segment of BK Live, on BRIC TV, where we give the lowdown on fun things to do with your Brooklyn Weekend. The actor Rob Morgan (Luke Cage, Daredevil, Stranger Things, etc) was on the segment before us, and when he walked in the door of the building, wearing his Africa fitted, and looked at my Black Privilege cap, he thought it was THE blackest thing he had seen recently. So of course, I got him a hat as well!
I like black. I like causing a conversation when that conversation is about blackness. About being black in America. About being black in America, while America dehumanizes blackness.
Such as dying because of blackness. Be that an unarmed black shot by a police officer or that impoverished, short-life-expectancy type of black.
Maybe the can't-hail-a-taxi black, so Uber is a necessity and not an option black. Or it could be white-lady-clutch-the-pearls-in-an-elevator black, or the good ole followed-around-by-department-store-security black.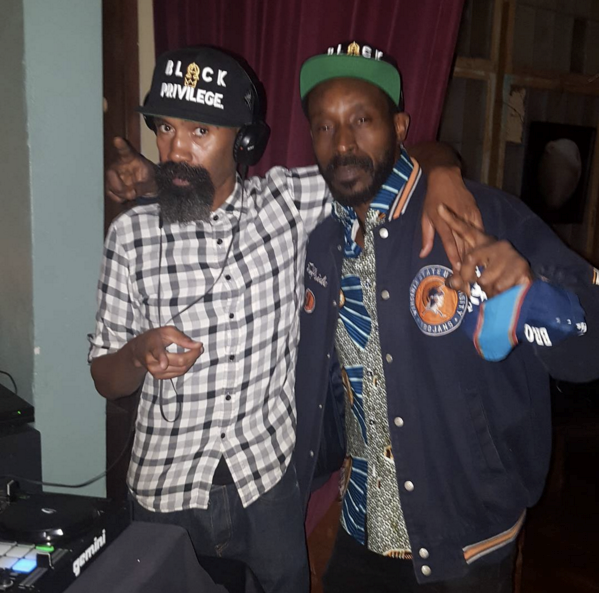 I wore it to a Vice Magazine party at Industria Super Studios in Williamsburg, and while walking there, down Bedford, black people were literally following me in stores, asking where I got the hat. When I got to the party, which was for Vice's photo issue and full of artists, the reaction was notable as well. A few white ladies kinda audibly scoffed at it, in that under-toned, under breath sort of way. Like they had a visceral reaction and couldn't hold it in, like a sneeze.
I also struck up several conversations with artists in the photo show, which were spurred by the hat, and since my friend Mark Fahrer was doing the catering, the cocktails were super on point and hence some of the convo were between slightly inebriated artist types. I got looks on trains. I wore one in a shared ride Lyft and when the white lady got in, she was uncomfortable af, and immediately started pecking away on her iPhone.
I also wore it to the 30-year anniversary of Nells, which was a ball of fun. I went with my good friend, and his girlfriend's father, who he was meeting for the first time. The dad is an 80's Reggae lover, so when Stretch Armstrong and Soul Finger Sam were rocking joints from that Wayne Smith, Yellowman, Shabba playlist, it was perfect! He was visiting from overseas and my buddy really wanted to show him a good time, so we traipsed around Manhattan, hitting up several parties, drinking Mezcal and Whiskey, dancing and having a ball, and me rocking my Black Privilege hat the whole time.
We ended the night with some food at Employees Only, the cocktail bar and restaurant on Hudson Street in the West Village, which is when things got weird. As we were being led to our table, the waitress gives us the menu and then asks me to please take off my hat. My initial thought was that it was one of those "no hats in the restaurant" kind of establishment, but as I looked around, I could see that several men had on hats. When I asked the waitress why she wanted me to take my hat off, she told me that the hat was "too political".
Now, I was wearing the hat all night, and had lost sight that I was wearing something so black. Like, Ester Rolle in a dashiki black. Like Colin Kaepernick with his afro out, doing one arm pushups while reading Ralph Ellison's "Invisible Man" black. I had never considered that I would be asked to take the hat off. It simply didn't dawn on me that the threat level of all that black would result in a removal request. I then gave in, instead of getting turnt up, as some of my friends said they would do if in that same situation. I found the middle spot and decided to turn my hat to the back
I'm disappointed that I compromised by turning my hat to the back, which worked out for them since our table was against a wall. I felt immediate pangs of disappointment, like I put enjoying the moment and not making a stir, over my blackness. I was also disappointed that my friend and his girlfriend's dad didn't have a problem with it. I justified compromising, and not walking out, because our whole reason for being out was to show the dad a great time, and I didn't want to be the one to ruin that; but on further review, I should have walked out.
I did end up putting the hat on the table for people to see and demonstratively pointing to it and blah blah blah, but I shoulda took no shorts on the issue. I now know that I need to be unwavering in certain moments, not looking for a easy way out, but embracing the opportunities where I can be my own best example on how to get down with the anti-brown.