East Williamsburg's neighborhood staple La Marqueta, also known as the Moore Street Market, will receive a $2.7 million makeover, city officials announced on Tuesday.
Established in 1941, La Marqueta is one of Brooklyn's oldest public markets and a beloved retail and shopping destination in North Brooklyn. Councilmember Antonio Reynoso and Brooklyn Borough President Eric Adams are allocating the funds to give the market much-needed upgrades that will include new street-level windows as well as repairs to the roof and the heating and cooling system.
For Reynoso, who was born and raised in Williamsburg and who has been going to La Marqueta for as long as he can remember, the market holds a special place.
"When you wanted to get your tortilla, your yucca, your food that you're accustomed to from the Dominican Republic or Puerto Rico, La Marqueta was where you came," said Reynoso. "And you didn't just come here to get the food, but you came here for the environment; the music they're playing while everybody was bustling and bumping into each other. In a city full of tall glass buildings, to have this institution that sold your food and understood your culture, that was a breath of fresh air."
Managed by the New York City Economic Development Corporation (NYCEDC), the 15,000-square-foot facility is a one-stop-shop that fulfills all essential needs of the local community. La Marqueta is currently home to 15 small businesses and vendors, some of which have been offering their goods and services for more than three decades, and more are expected to set up shop in the coming months.
Aside from selling products that reflect and preserve the unique culture of the neighborhood like fresh produce and seafood, specialty foods, craft items and books -- and even barber and tailor services -- La Marqueta has long been a space for the community to gather, an institution that deserves to be protected especially in gentrifying neighborhoods like Bushwick and Williamsburg, said Adams.
"As the community is holding on to its voice, we need to respect those who have been here long before Starbucks understood that this community existed," said Adams. "Markets are so significant. They're not only places where you buy products, but they provide a safe space for neighbors to come together. Brick-and-mortar stores come and go, but the memories of the people and their institutions remain forever."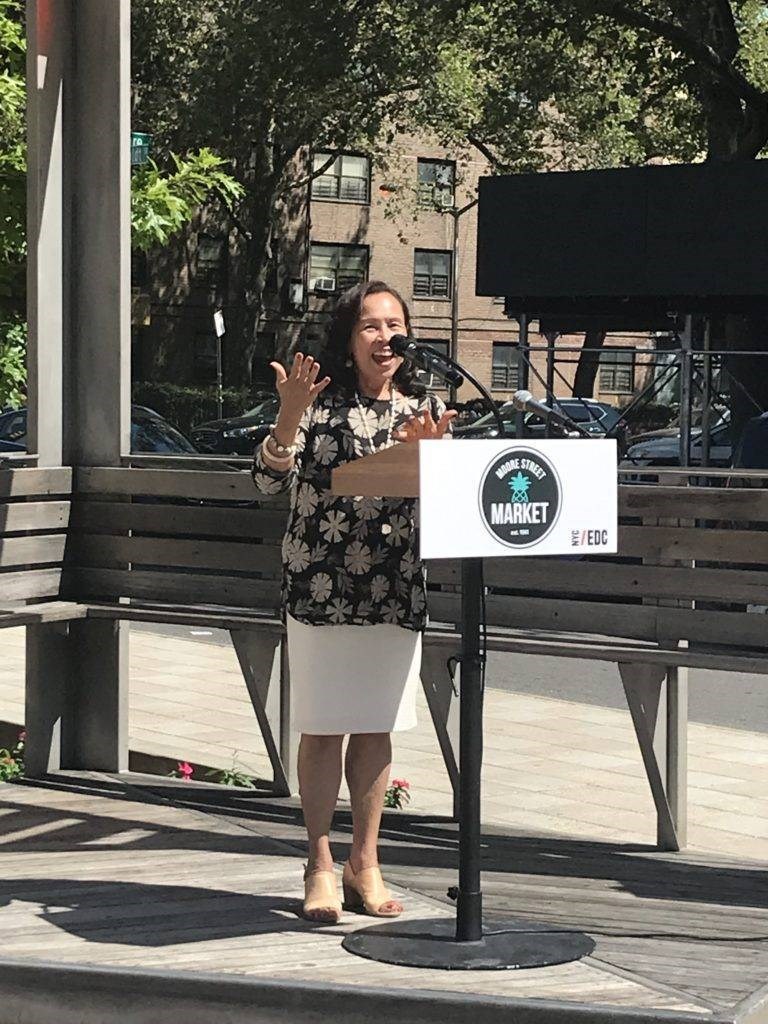 El Puente de Williamsburg, a nonprofit dedicated to local community development and preservation, has been spearheading year-round programming inside the market that range from healthy cooking classes and small business workshops to cultural program and holiday celebrations. The new funding, as well as a newly-formed partnership with NYCEDC, will support the organization's continued efforts which include plans for a new mural for the market, as well as creating more pop-up and seasonal events, said El Puente's Co-Founder and Executive Director Dr. Frances Lucerna.
"We have been working with La Marqueta as a cultural partner for several years," said Lucerna. "Thanks to the funding and the NYCEDC, we are now the anchor organization for the coming year. This allows us to really be part of a strategy that provides a bridge between the market and the local community through our arts and cultural programming."
In the fall, NYCEDC will contract a designer to begin a master planning process for the scope of these upcoming renovations as well as future upgrades to the facility; this first planning phase is expected to be completed by next year, officials said.
If you haven't stopped by at La Marqueta, take a look at our photos for a first virtual tour. (Photo credit: A. Leonhardt for BK Reader)