Bedford Stuyvesant Restoration Corporation announced on Monday the appointment of Blondel Pinnock as its new president and CEO, becoming the organization's first new president in 20 years and the first woman to serve in the role since its founding in 1967.
Joining Restoration from Greater Jamaica Development Corporation, where she served as Chief Operations Officer, Blondel brings 25 years of serving communities of color in NYC to the role as Restoration pursues its mission to reduce the widening racial wealth gap in Central Brooklyn and the re-envisioning of Restoration Plaza.
Pinnock will assume her new role on July 1, 2022, following more than two decades of exemplary leadership by Restoration's longtime CEO, Colvin W. Grannum, whose resilience and vision have been critical to the organization's growth and evolution.
Grannum arrived at Restoration at a time when the organization was in crisis. He stabilized Restoration and returned it to a leading position in community, economic development both locally and nationally.
Grannum will transition from the role of CEO and continue to support Restoration in developing the Restoration Innovation Campus, Restoration Breakthrough Technology Fellowship, and a more inclusive innovation corridor on Fulton Street.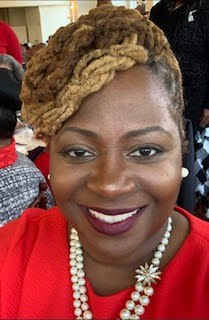 "I'm humbled by the opportunity to lead Restoration at a pivotal moment. Colvin has done so much to realize the potential of this organization over the past 20 years, and I intend to continue his legacy of forward-thinking leadership," Pinnock said. "In many ways our mission to reduce the racial wealth gap and achieve equitable economic growth in Central Brooklyn has only become more urgent over the past two years, as Black and Brown neighborhoods have borne the brunt of the Covid-19 crisis.
"As Bed-Stuy responds to the challenges of inequality and displacement, I look forward to leveraging Restoration's convening power to drive collaboration between the private and public sectors and enhance the infrastructure we need for sustained, shared prosperity."
Pinnock's decades of experience supporting responsible development in communities of color made her the standout candidate in the months-long search for Restoration's next leader.
Prior to GJDC, Pinnock worked at Carver Federal Savings Bank where she rose through the ranks to become Chief Lending Officer. She previously was a Senior Vice President at Bank of America for nearly a decade and before that a Deputy Director at the NYC Department of Housing Preservation and Development. Pinnock serves on the Board of Directors of numerous organizations including the NYC Economic Development Corporation and Harlem YMCA.
"Restoration's commitment to health and prosperity offers a model for our community development and economic recovery work in Central Brooklyn and across the city, and I look forward to working with Blondel Pinnock and her team to continue this work and deliver a stronger, more equitable city," said New York City Mayor Eric Adams.
Pinnock's leadership will be crucial as Restoration gears up to execute its master plan for a new Innovation Campus. The new campus will create an ecosystem that comprises innovative economic mobility programs alongside major industry anchors and community and cultural organizations.
"As a native son of Bedford Stuyvesant, serving Restoration and advancing its mission to realize a vision for community development that is responsive to the needs of local residents has been the honor of my life," said Grannum. "Blondel is an excellent choice to carry the mantle, and I look forward to collaborating with Blondel to bring Restoration's Innovation Campus to fruition as a national model for equitable community revitalization that can be replicated across the country."