The Bed-Vyne family of hospitality and libations based establishments is having a big day of celebration, on Saturday, October 15th, from 1pm-8pm, when it will present the Bedford Stuyvesant Fourth Annual Oktoberfest, while also celebrating it's five year business anniversary. It will be a day of craft beer, food vendors and DJs, in a vacant lot on Greene Avenue, and in true Bed-Vyne style, they've also partnered with the Bedford YMCA and Bed-Stuy Campaign Against Hunger, to call attention to the needs of the community.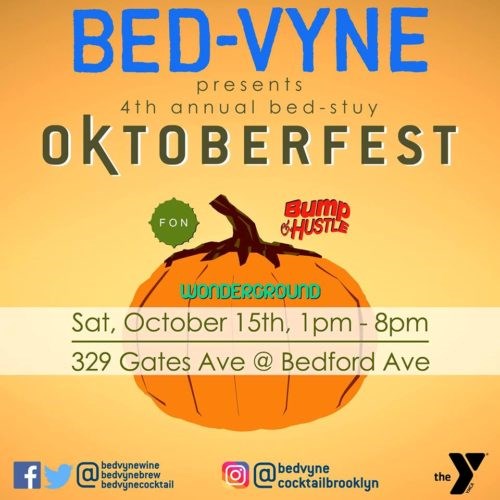 Bed-Stuy Oktoberfest will feature 8 Breweries serving more than 20 craft beers, in addition to a artisinal selection of wine. Confirmed breweries include local favorites and global brands such as Brooklyn Brewery(Black Chocolate Stout), Sam Adams (Winter Lager), 1911 (Pumpkin Hard Cider), Coney Island(Mermaid Pilsner), Two Roads (Ok2berfest), Ballast Point (Dead Ringer), New Belgium (Citradelic-Tangerine IPA) and 21 Amendment (Brew Free or Die).
Delicious food will be on sale from fav local food merchant Khem of the famed Jerk Shop, as well as the always popular Shrimpy's and Vino Tapas. Music will be provided by three of Bed-Stuy's favorite DJ crews: DJ JeremyFromTheBlock & DJ G-Rock, FON SoundSystem and Wonderground. Food and drinks will be available for purchase.
Partnering with the Bedford YMCA and Bed-Stuy Campaign Against Hunger, to call attention to the needs of the community, is in line with the Bed Vyne ethos, as they have been very pro-people off the rip. "[perfectpullquote align="left" cite="" link="" color="" class="" size=""]Bed-Vyne has been about the community since its inception, so we are very proud to work with the Bedford Y and BSCAH in their efforts to strengthen this place that we love dearly," says Rotimi Akinnuoye, a Bed-Vyne Partner.[/perfectpullquote]
Both organizations will be present at the event to share what they are doing to support the children and families living in Bed-Stuy.
"Oktoberfest has evolved into a celebration of some of the world's best tasting beer, as well as beer culture, and Bed Vyne adds an authentic, Bed-Stuy flavor to the worldwide celebration," adds Michael Brooks, Bed-Vyne Partner. Twenty bucks will get you five tickets for any five pints that your brew loving heart desires, which is perfect way to enjoy a brisk fall day, right before we crack open that back closet, to pull out the bubble goose and pea coats.
Word is there will also be a fire pit, so if you see me, those will definitely be s'mores in my pocket, even if I am happy to see you. After-Party celebrating Bed-Vyne Wine 5th anniversary following Oktoberfest will be held at Bed-Vyne Cocktail and Bed-Vyne Brew.