When M.S. 267 Math, Science and Technology students return to school this week, the future will look much brighter -- and greener -- thanks to the brand-new solar panel system the city installed last month on the school's roof.
The new solar panel system is part of Mayor Bill de Blasio's One City, Built to Last Initiative he launched in 2014 to reduce greenhouse gas emissions 80 percent (from 2005 levels) by 2050 across city-owned buildings.
"New York City is leading the way when it comes to fighting climate change by tackling our largest emissions source — buildings," de Blasio said at a press conference this April. "Our retrofit programs are already reducing emissions, making our air cleaner, our residents healthier and our city fairer for all."
A primary component of the ongoing program includes reconfiguring existing city-owned buildings to improve their quality and decrease their carbon footprint. The NYC Solar Partnership announced in February it will work alongside Nehemiah Economic Development Inc. and Brownsville community leaders to design a program which provides group discounts to qualifying residents for solar panels that can also power Brownsville with affordable, clean energy, as part of the Solarize NYC campaign.
"As a newly elected representative of Brownsville, I am pleased to work with the Mayor on his NYC Solar partnership," Council Member Alicka Ampry-Samuel said in a press conference. "This initiative will provide clean energy to Brownsville addressing while healthcare disparities related to carbon emissions. I look forward to the continued expansion of solarizing Brownsville."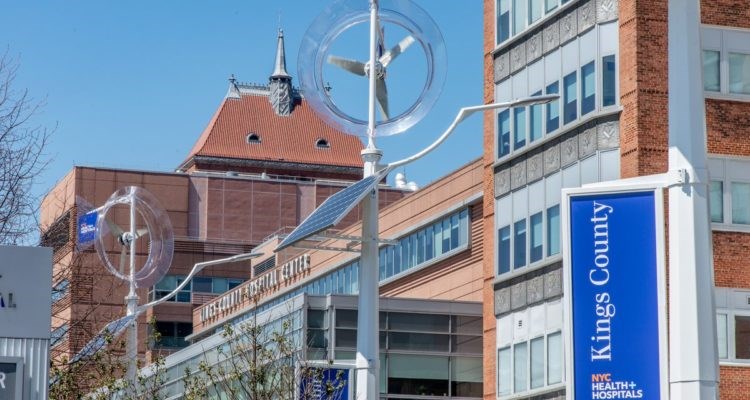 These eco-updates don't just stop at buildings. Just last month, DEM installed hybrid streetlights in East Flatbush that are entirely off the electric grid. They run on solar, wind and battery power for the area surrounding the Kings County Hospital, according to their Twitter.
The city government predicted the efficiency programs would reduce GHG emissions by approximately 3.4 million metric tons of carbon dioxide equivalent, create about 3,500 construction-related jobs, and generate $1.4 billion in annual cost savings for New Yorkers over the next 50 years.
"With this work, we can make our homes more affordable, improve the quality of our air, and create a thriving market for energy efficiency and renewable energy—with new jobs and new businesses," de Blasio wrote in his program introduction.
DCAS Energy Management, the energy efficiency division of the City of New York, tweeted this update on August 24:
"Check out one of our solar projects #inBrooklyn: a 120.8 kW system at M.S. 267 in #BedStuy! This installation offsets almost 48 metric tons in annual GHG emissions & advances NYC's goal of installing 100 MW of solar by 2025."