Monday marked the grand opening of the second location of Bed-Stuy juice bar and restaurant, Bklyn Blend.
Despite unforeseen delays and difficulties due to COVID-19, owner Keishon Warren and his team were able to bring their infectious atmosphere and delicious menu to East New York.
Located at 601 Livonia Ave, the tall windows of Bklyn Blend's modern exterior allow for passersby to snag a glimpse of the action indoors. Equipped with wraparound bar seating, as well as a takeout counter, the crew has made the most of limited space.
Rustic touches like the wooden ceiling beams serve as an ode to their Tompkins Ave flagship, which was built using recycled materials by Warren and his father Ralph, who is affectionately known as "Pops."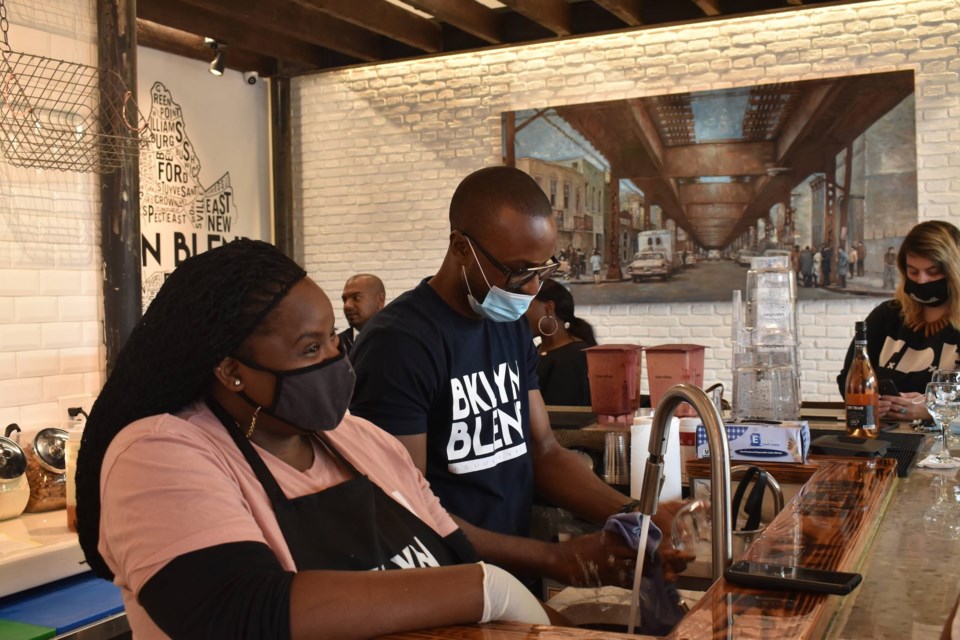 "Our main goal is to be there for communities that need us," said Warren regarding the decision to open in East New York, a neighborhood that he refers to as a food desert. Having worked there for ten years, he was all too familiar with the struggle of having to leave the neighborhood for healthy options.
Now, members of their new community will be able to enjoy all of their favorite menu items, such as the Canarsie Cranberry smoothie or the Park Slope Salmon sandwich served on turmeric bread made fresh in house.
There is one key addition to the East New York menu, however: Customers will now be able to enjoy beverages from Mason Noir Wines, an Oregon winery founded by Andre Mack, the first Black man to be named Best Young Sommelier in America.
This selection fits in with the ethos of Bklyn Blend, where every decision is made with a purpose. Here, the cooking area has been designed specifically to serve as a "learning kitchen," where small cooking classes can be taught to the community in the post-pandemic future.
Last week, they were giving out smoothies in Brownsville, and this Wednesday chef and co-owner Ed Cooper will be doing a virtual food demonstration as part of Borough President Eric Adams' Wellness Wednesdays.
"Obviously we are a business and have to survive, but we want to stay heavily involved in the community," said Warren.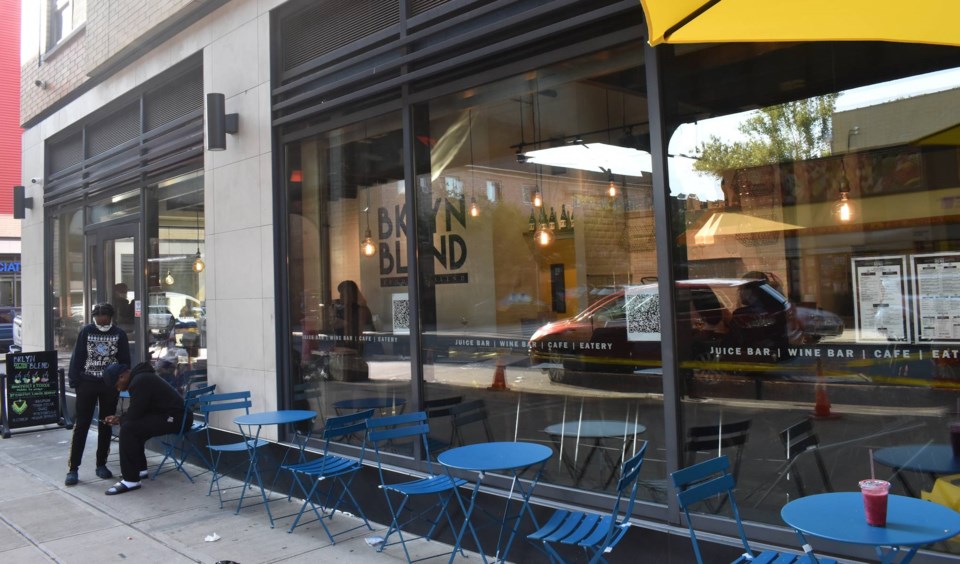 Surviving has not been easy over the last six months for businesses like Bklyn Blend. "We all got hit," said Warren, who estimated a 60-70 percent decrease in March and April.
Still, Warren said, his focus is on the safety of his employees and of those on the frontlines of the crisis.
In April, they started a Gofundme for their "We Love You Like Cooked Food" program, which provided fresh boxes of food to healthcare workers and first responders.
Adapting has been key to Bklyn Blend's perseverance, said Warren, who points to takeout, outdoor seating, and good weather as saving graces.
"Great staff, great team," is the real secret to their success he said, "Thank God for that."