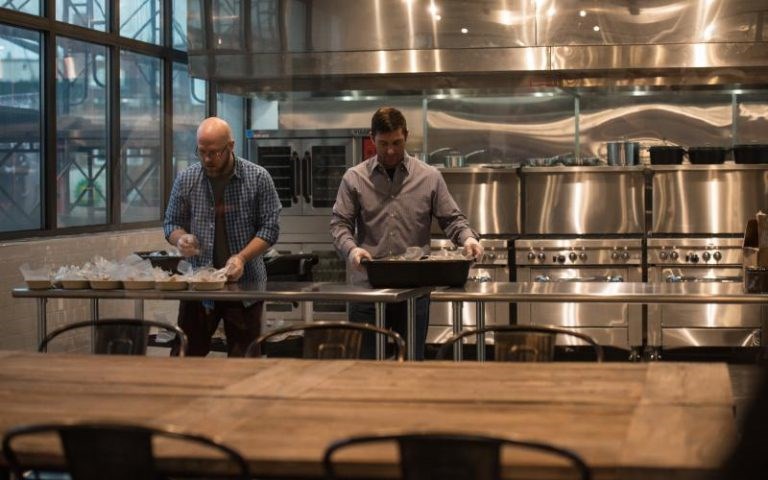 Brooklyn Foodworks, a culinary incubator which opened its doors 2016 in Bedford-Stuyvesant, aims to help local, food-focused entrepreneurs to become viable businesses, reports CivilEats. Located at 630 Flushing Avenue, the majority of tenants of the former Pfizer chemical plant produce, distribute or grow food; Brooklyn FoodWorks is the only culinary incubator.
"It could have been condos," New York City Councilmember Stephen Levin said. "They made the policy decision for New York City that we're going to support small business, small manufacturing. The city needs to be doing more of this. We need to have good jobs and support emerging industries," added Levin.
Brooklyn FoodWorks was founded by Drew Barrett and Brian Bordainick, co-founders of the Dinner Lab, Inc., after they won a $1.3 million grant from the Brooklyn Borough president's office, coordinated through the New York City Economic Development Corporation (NYCEDC). The year before, Barrett and Bordainick's submitted a winning proposal for a culinary incubator to NYCEDC - and Brooklyn FoodWorks was born.
Brooklyn FoodWorks' founders and several city officials have positioned the kitchen incubator as both a boost to diverse local business owners and a source of jobs. The incubator's initial grant included a provision to facilitate access for entrepreneurs facing economic barriers: $100,000 of the startup money was earmarked for applicants who met a fixed low-income threshold. Of that, $20,000 was reserved for New York City Housing Authority residents and Section 8 voucher holders.
Managing Director Edie Feinstein is looking to bring more under-resourced participants into the program through the remaining scholarship money.
"We're looking to do info sessions. We'd like to get into the community a bit more and suss those people out," said Feinstein.
The space of FoodWorkds, currently used by about 100 small-business owners, has a large commercial kitchen with several stations and features specialized equipment for pastry and ice cream. Members can use a co-working space for meetings, administration and collaboration. Mentors circle through and lead business-development workshops. Alongside the production kitchen, the facility also has a fully equipped test kitchen which it rents out for occasional private events.
"Everything is done very manually here, which is ultra unscalable," Feinstein said. "This is the perfect place to come and prove your concept, create samples, get it into the hands of as many people as possible. And then, once you have demand and need to be producing more, that's when you start to look for the next step."