Bed-Vyne came from small beginnings... 250 square feet to be precise.
Bed-Vyne Wine wine store first opened in 2011 in a tiny 250 square foot space near the busy corner of Tompkins Avenue and Putnam Avenue in Bed-Stuy.
"When we first opened, we did wine tasting for free," Ayo Akinnuoye tells BK Reader. "We just had people come in just to drink and taste the wine."
Akinnuoye is one of Bed-Vyne's four owners, including his brother Rotimi Akinnuoye, and friends Michael Brooks and Peter Medford.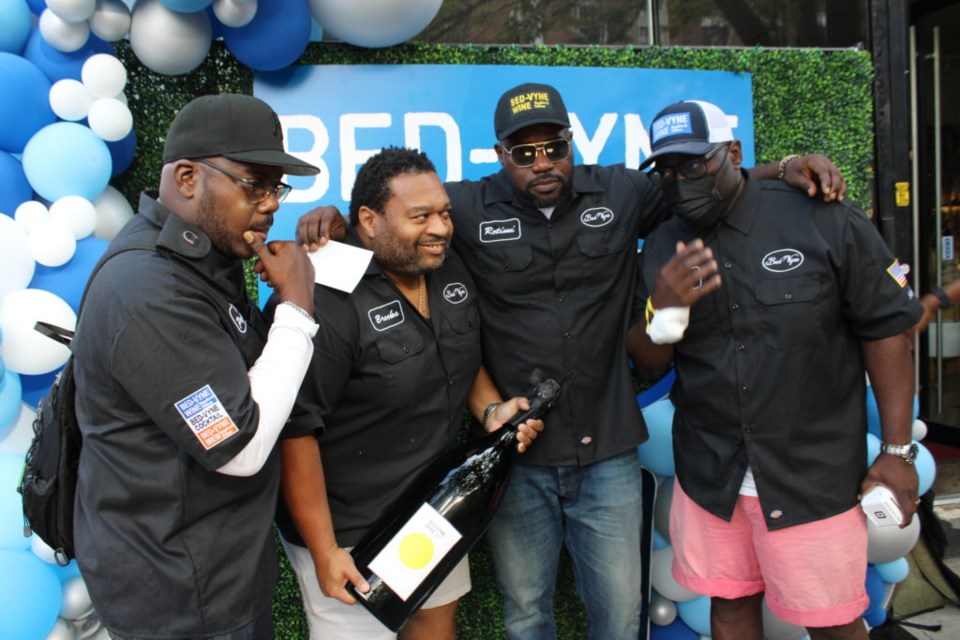 Brooks was inspired to open a wine store in the area when he moved to the "dynamic" Bed-Stuy from Manhattan. "I was like 'Wow, this place is completely underserved, this is like a gem,'" Brooks tells BK Reader.
At the time Brooks was working in the pharmaceutical industry, at the same company as Rotimi Akinnuoye. The Akinnuoye brothers owned three commercial spaces in the neighborhood.
"I said to him [Rotimi], one of these days we're gonna do something with these commercial spaces. And he's like, 'Yeah, whatever,'" Brooks said.
Soon after Bed-Vyne Wine opened, patrons started asking for a place where they could drink. The first bar, Bed-Vyne Brew, was opened in 2013 in the larger space in front of the wine shop. It was an instant hit.
"Once the neighborhood knows that you care, they want to support you because they want you to do well," Rotimi Akinnuoye said.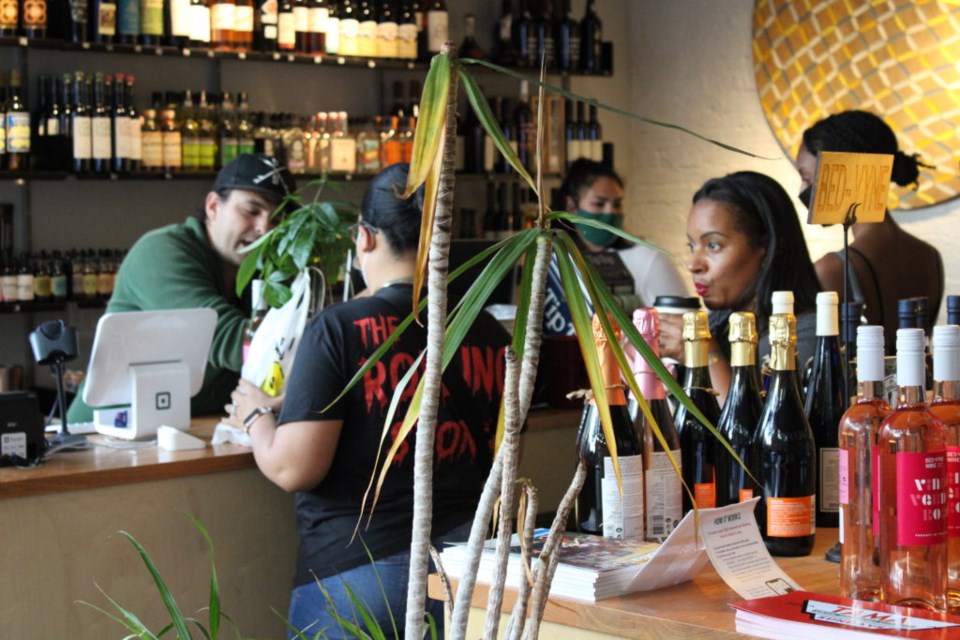 Bed-Vyne Wine then became Bed-Vyne Wine & Spirits and relocated across the street. Then in 2015, the group expanded again with a cocktail bar on nearby Halsey Street.
Bed-Vyne's owners attribute their success to their embrace of the community.
"Our goal was that we weren't going to just like, be here and then go home at night. We were going to be in the community," Ayo Akinnuoye says.
"If you provide space for the community to gather, if you donate products to community events, for small fundraisers, for not-for-profits, for schools, if you're involved in the community, then the community will show you love."
But even businesses loved by the community don't always last. Bed-Vyne is in the middle of a rapidly gentrifying neighborhood. "10 years ago, Bed-Stuy wasn't what it is now," Ayo Akinnuoye says.
Then there's the pandemic, which forced the permanent closure of thousands of businesses in New York City. "The businesses that were able to thrive and sustain through the pandemic were businesses that had diversified the way they operate," Brooks adds.
The owners of Bed-Vyne celebrated their 10th Anniversary among their community Sunday afternoon on the Open Streets of Bed-Stuy.
Things kicked off around 1:00pm, with Bed-Vyne devotees drifting between stores and posing for photos outside the shops. Festivities continued inside Brew well into the evening.
Sunday's celebration took place in tandem with TAMA Sundays, a weekly block party featuring street vendors, live music and activities, including yoga and arts and crafts.
The event is hosted by the Tompkins Avenue Merchant Association, of which Bed-Vyne's Brooks is the vice president. Sunday marked the grand finale of TAMA Sundays, the last of 22 weeks of gatherings.
Local officials including Assemblymember Stefani Zinerman and City Councilmember-elect Chi Ossé made appearances, with Ossé playing a DJ set around 3:30pm. "This has become a global destination," Zinerman said of the thriving neighborhood.
Bed-Vyne's owners remain humbled by their continued success. "We've seen a lot of businesses come and go," Medford says.
"We want to be a part of a great community, and I think we're getting there."