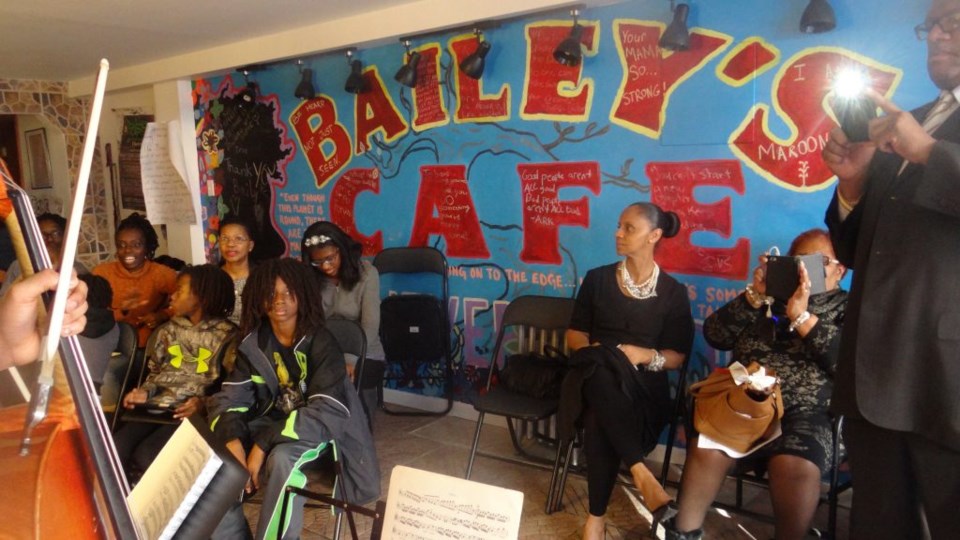 On Sunday, if you happen to be walking past 324 Malcolm X Blvd. in Bed-Stuy at around 2:00 in the afternoon, then you were lucky enough to catch the lovely sounds of Vivaldi wafting down the street. Playing were two young cellists, Julian Beckford and Ezekiel McGhee, who were giving a mini-practice/performance to a small group of family and community members in preparation for their college auditions.
The small performance was the first in a series of monthly neighborhood concerts, taking place at Bailey's Café. No, it's not a new coffeehouse. Bailey's Café is a non-profit community meeting space located in the southern section of Bed-Stuy.
"We're not a restaurant; we are resource for the community," said Stefanie Siegel, founder and executive director of Bailey's Café.
For 13 years, Bailey's Café has long served as one of Central Brooklyn's best kept secrets. In the first 12 years of existence, it was program with no specific home, run by a team of teachers, performers and volunteers who would visit spaces—primarily schools—to bring music and arts programming and community service projects to elementary and high school students throughout Central Brooklyn.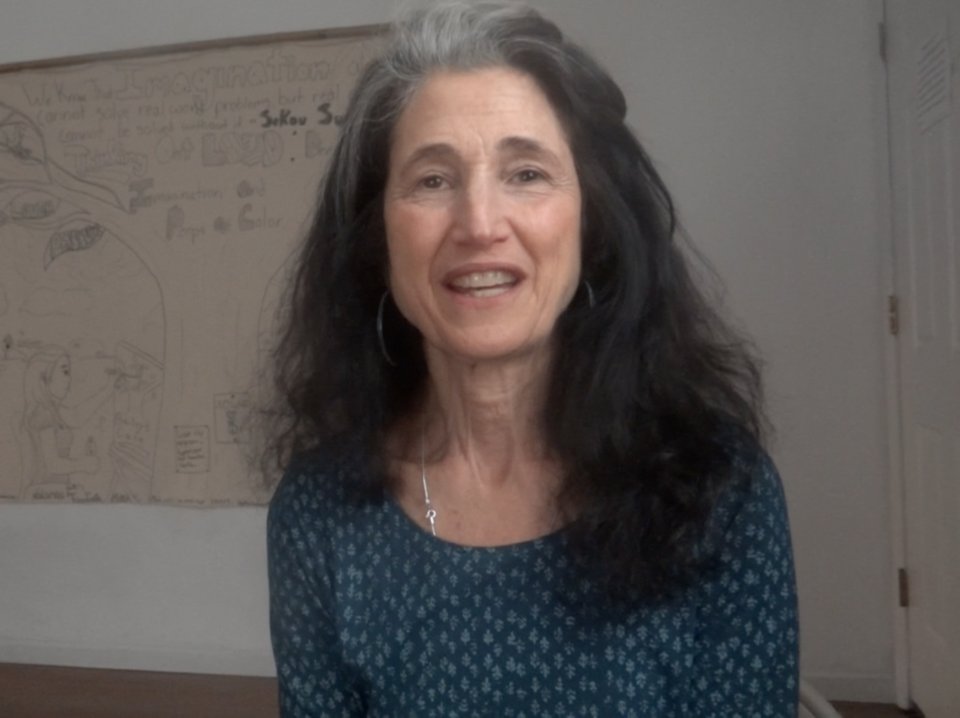 In April 2015, the group found a permanent home on Malcolm X Blvd (between Decatur and Bainbridge streets), a former barber shop they then converted into a meeting space for community members to hold workshops, take music and dance lessons, perform, cook and find solace.
"Now, it's not just a program, it's a place," said Siegel smiling widely, "offering people an opportunity to explore the arts, leadership and character development, community service, intergenerational mentoring..."
As a former teacher for 25 years in the New York City Public School system, Siegel eventually left teaching because, "I really liked working with young people, but I hated the classroom; I hated the relationship of evaluation that's constantly going on that I feel gets in the way of real communication sometimes."
So she left and with a team of parents, students and other community members, started a community service program championing food justice and healthy eating. The program grew as the volunteers grew, along with the groups widening skill sets until eventually, the program evolved to include music, dance and the arts.
Siegel named the non-profit program Bailey's Café taken from author Gloria Naylor's book The Women of Brewster Place. In Naylor's book, Bailey's Café was, a place to convene when the book's characters felt they were at the "edge of the world" and needed a place of solace.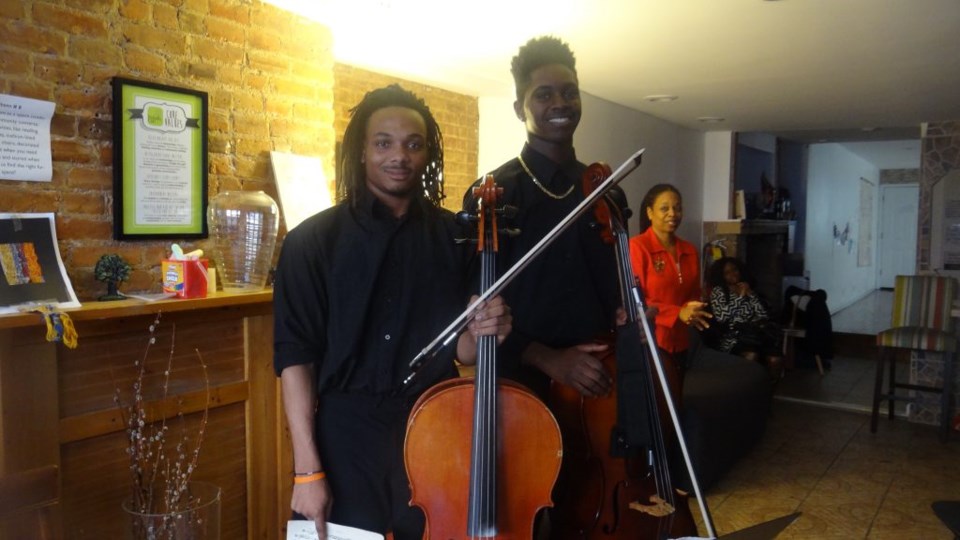 Now, 13 years later, as an actually meeting space, Bailey's Café has indeed become an oasis in Bed-Stuy, providing such programs as Music for the People. Led by Nioka Workman, Music for the People offers music lessons to the community at affordable prices. The neighborhood concerts are part of Music for the People, a once-a-month feature on Sundays-- a chance to highlight and support the work and development of up-and-coming musicians in the community.
On Thursday, February 12, from 5:30-7:30, Bailey's Café will kick off another monthly series called "Community Sings," where community members are invited to come sing in front of an audience.
On the second Tuesday of each month, from 7:00pm — 9:00pm they hold a "Strategy Lounge," a community dinner where residents come together to either discuss issues in the community or build strategy on a project.
Bailey's Café also holds a very popular summer program for 8- to 19-year-olds where participants choose an artistic area of focus and receive lessons while also mentoring each other.
To check out Bailey's Café calendar of events, visit their website.
"We're also asking the community to come to us and tell us what you want. We're very interested in ideas of what the community would like to see happen in the space," said Siegel. "Come in and help us get it organized and get the word out. We'd love to see more elders in our space as well so that they can build positive reciprocal relationships with the youth."
CORRECTION: "Bailey's Café" is the actual name of the book by Gloria Naylor, who is also the author of "The Women of Brewster Place."