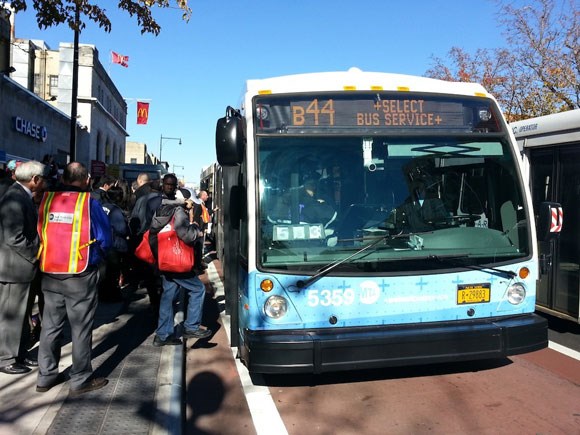 The NYPIRG Straphangers Campaign and Transportation Alternatives on Thursday gave out their annual awards for the worst, the slowest and least reliable bus services across the five boroughs.
The B44, which runs north-south through Bedford-Stuyvesant and Crown Heights, took home a "Schleppie Award" for being one of the city's least reliable buses and is based on official transit statistics, which measure how well buses keep to scheduled intervals.
The Schleppie is comprised of golden lumbering elephants on a pedestal.
The most unreliable bus routes in each borough with more than 20 percent of buses bunched together or big gaps in service are:
| | |
| --- | --- |
| B44 | 25.1% unreliable btwn Sheepshead Bay and Williamsburg Bridge |
| Bx55 | 28.3% unreliable btwn Williamsbridge and the Hub on Webster Avenue4 |
| M101/2/3 | 31.6% unreliable btwn Washington Heights and East Village on 3rd and Lexington Aves |
| Q85 | 21.0% unreliable btwn Jamaica, Queens and Valley Stream, Nassau County |
| S74 | 25.8% unreliable btwn St. George Ferry Terminal and Bricktown Mall |
Thankfully, none of the buses of Central Brooklyn placed for the "Pokey Award," designated for slowest local bus route in New York City.
The uncoveted Pokey award is a golden snail on a pedestal and is based on the speed of rides taken by Straphangers Campaign staff and volunteers on 34 routes.
Two lines tied for the "winner" of the 2013 Pokey Award: the M42 and M50 which both had the slowest bus speed at 3.4 miles per hour as clocked at 12 noon on a weekday.
According to the transportation group, at 3.5 miles per hour, an average wooden row boat can travel faster in still water without wind, than this year's winners of the Pokey Award!
According to the group, the slowest bus routes in each borough are:
| | | |
| --- | --- | --- |
| B41LTD | 5.7 mph | btwn Downtown Brooklyn and Kings Plaza/Bergen Beach |
| Bx19 | 4.9 mph | btwn NY Botanical Garden in the Bronx and Harlem |
| M42 | 3.4 mph | Crosstown on 42nd Street in Manhattan |
| M50 | 3.4 mph | Crosstown on 49th and 50th Streets in Manhattan |
| Q58 | 7.0 mph | btwn Ridgewood, Queens and Flushing Main Street |
| S48 | 7.7 mph | btwn Mariners Harbor and St. George Ferry Terminal, Staten Island |
The B41 Limited which travels between downtown Brooklyn through the neighborhood of Flatbush to Kings Plaza clocked in at 5.7 miles per hour, a pretty slow rate.
But some good news: The MTA has implemented six faster and more reliable "Select Bus Service" routes, and so far, they seem to be living up to its promise. For example,the SBS on the M15 increased bus speeds by nearly 28 percent over the M15 local. The M15 local was clocked by our surveyors at 5.5 mph. But the M15 SBS traveled at 7.0 mph, 28 percent faster than the M15 local.
The "Schleppie Award"-winner B44 has an SBS. And maybe, this is precisely why!