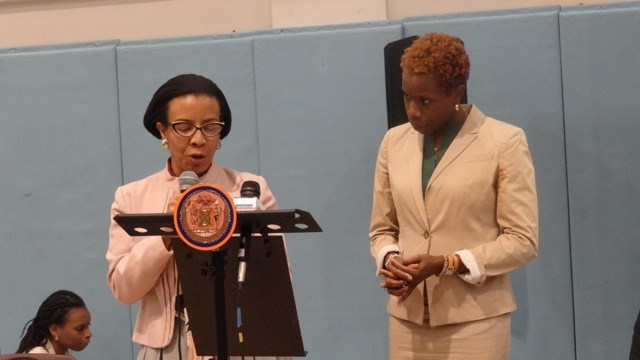 More security cameras, improved follow up on repair requests and increased collaboration were just a a few of the topics presented to the New York City Housing Authority by City Councilwoman Laurie Cumbo at a town hall meeting on Monday in Fort Greene.
The meeting was held at the Whitman Ingersoll Community Center with NYCHA's newly appointed commissioner, Shola Olatoye. Cumbo asked some tough questions while Olatoye met most of the questions head-on.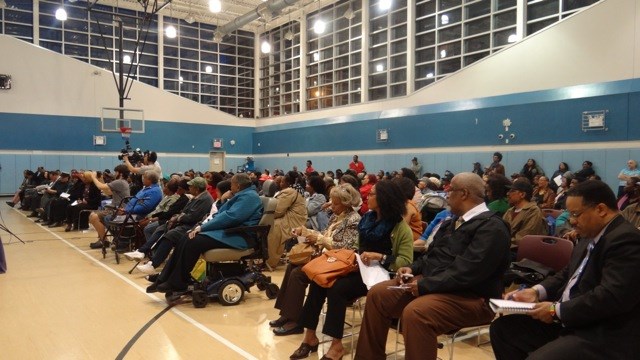 About 300 residents across six public housing development in Cumbo's 35th District attended the meeting.
"It's a new day," Cumbo said, referring to renewed energy in the City Council around addressing the needs of public housing residents.
She mentioned how earlier in the day, the Public Housing Committee, led by Ritchie Torres of the Bronx, held a hearing to discuss what he refers to as the "scandal" of the underfunding of the New York City Housing Authority."
Because of Torres's advocacy, boilers in the housing developments affected by Hurricane Sandy that had broken down were restored. Also, recently, another council member was able to secure $4 million to increase lighting in his developments out in Queens, Cumbo said.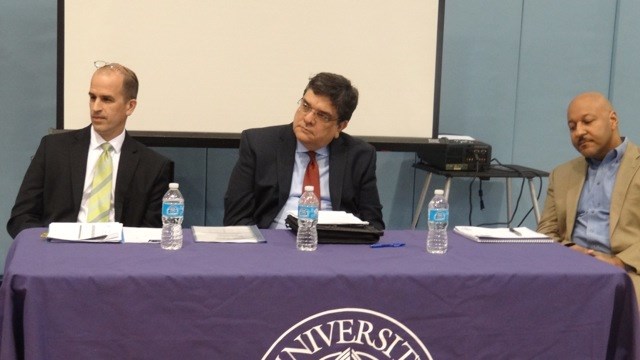 "And of course when I'm seeing all of this, I'm like, we've got to be a part of this renovation and rejuvenation right here in the 35th Council District," said Cumbo.
Olatoye acknowledged that the challenges NYCHA residents faced were real. But that there were challenges NYCHA faced that were also real:
"We have huge capital needs, money from Washington that is not at the same level it has been in year's past, an aging infrastructure and services that our young people need," said Olatoye.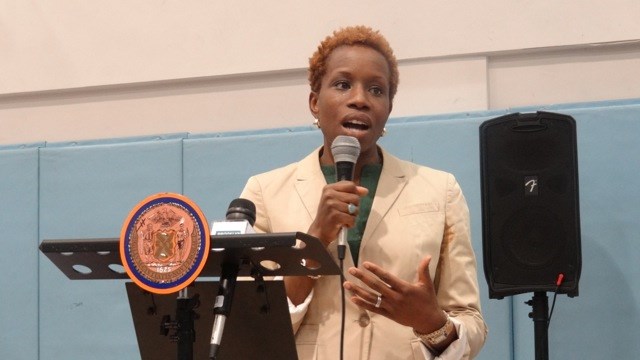 "But the mayor has asked me to push pause and reset the relationships that we have with our key stakeholders, residents, elected officials and community partners."
Cumbo asked about talks of closing down several of the senior centers and community centers within some of the NYCHA developments.
Olatoye said they have already put in a request for additional resources to keep the centers open across the city.
"Are you saying that at the end of June your request for funding will allow these centers to stay open," Cumbo asked?
"We have submitted a request to keep the centers open," answered Olatoye flatly. NYCHA issued a request for proposals to fill the center positions, but got very few answers, she added.
"But my understanding is that very few people know about these RFPs,"said Cumbo. She requested that NYCHA reissue the RFP.
On the issue of safety, Cumbo asked if a comprehensive plan could be developed for increased lighting and security cameras across all of the NYCHA developments citywide, so that resources would not have to be requested and allocated in a piecemeal fashion.
"Because all of our residents need to feel safe, they need to understand that they have a safe security system that's in all of the housing developments across the city," said Cumbo.
The town hall meeting brought out a number of other issues, such as the need for "right-sizing" apartment units to fit the needs of a family size; improved follow up on repair requests and the ability for residents to issue complaints and know their voices would be heard.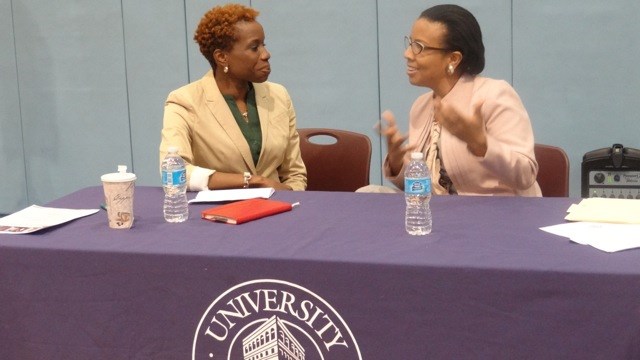 "Hopefully one of the things you will see with this new administration is a change in openness and transparency," said Olatoye. "It's going to take time. But despite the challenges, I am optimistic, and I believe we can come up with a plan for NYCHA and all of its residents."