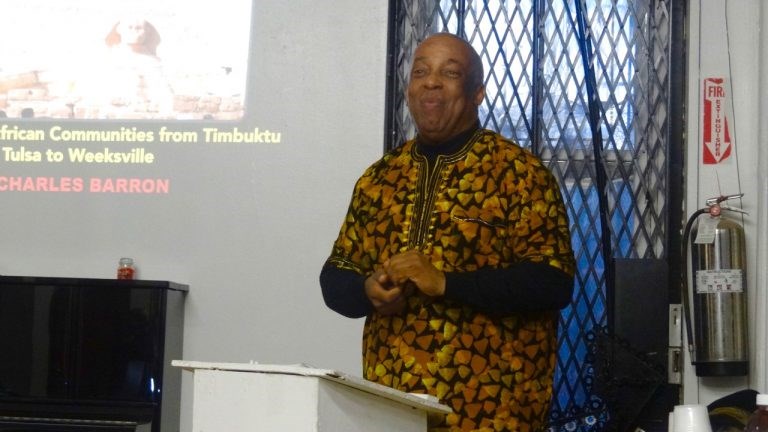 If there's one thing Assemblymember Charles Barron never has done-- and likely never will do- is censor his views, insights or opinion, particularly as it relates to black people or black history.
On Sunday, Barron, the assemblyman, became Barron, the professor, serving as a keynote presenter at a Black History Month event at Magnolia Tree Earth Center in Bed-Stuy, where he gave a valuable lesson on black civilization and the history of black resistance:
"I want to start by reminding folks that black history didn't start with slavery," said Barron. "I think we should learn the history of slavery, but you can't camp there. You can't just stop there. So the first thing I want to do is show you how in history we fought back. Not everybody took this thing lying down."
Barron gave a slide show presentation to a room of about 40 people entitled, "We are Mighty Builders," the first of a two-part presentation he gave at the annual Black and Latino Caucus Convention the previous weekend in Albany. The second part of the presentation is entitled, "We Fought Back." The event was hosted by 500 Men Making a Difference.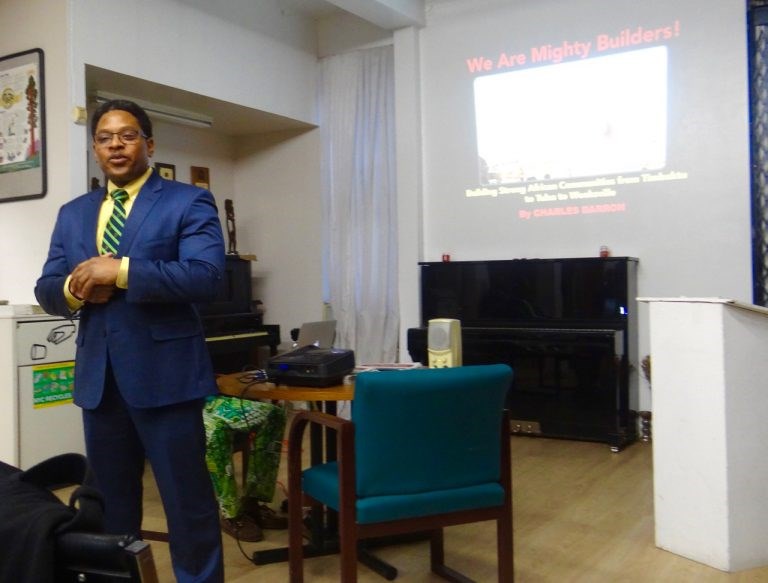 "I was interested in doing something positive for Black History Month, because I just haven't seen enough of it this year," said Wayne Devonish, founder of 500 Men Making a Difference. "I was searching for different events, and I happened to see him do this presentation in Albany. And I thought, 'Oh this is great; let's bring it back to Bed-Stuy.'"
Former NY City Councilman Barron has been a community activist and outspoken champion for civil rights for more than 45 years. In 1969, he joined the Harlem branch of the Black Panther Party. Shortly after, he enrolled in and attended NY City Technical College and Hunter College, obtaining a bachelor's degree in sociology with a minor in elementary education.
In 1970, Barron joined the United Black Front where he eventually became the chairman of the organization's Harlem chapter. For the next 20 years, he traveled as a speaker and organizer for social justice. In 2001, he was elected to the NY City Council where he represented the communities of Brownsville and East New York. Barron in no time gained a representation in the Council as someone who's opinions were often radical and almost always controversial. But he was described by some as "the conscious of the City Council." He continued to serve on the City Council until 2014 when he was elected to the New York State Assembly.
Opening Sunday's Black History Month gathering was Kezembe Batts, an educator at LaGuardia Community College, who shared three books as recommended reading: The Condemnation of Blackness by Khalil Gibran Muhammad; Waiting 'Till the Midnight Hour by Dr. Peniel E. Joseph; and Philosophy and Opinions of Marcus Garvey edited by Amy Jacques-Garvey.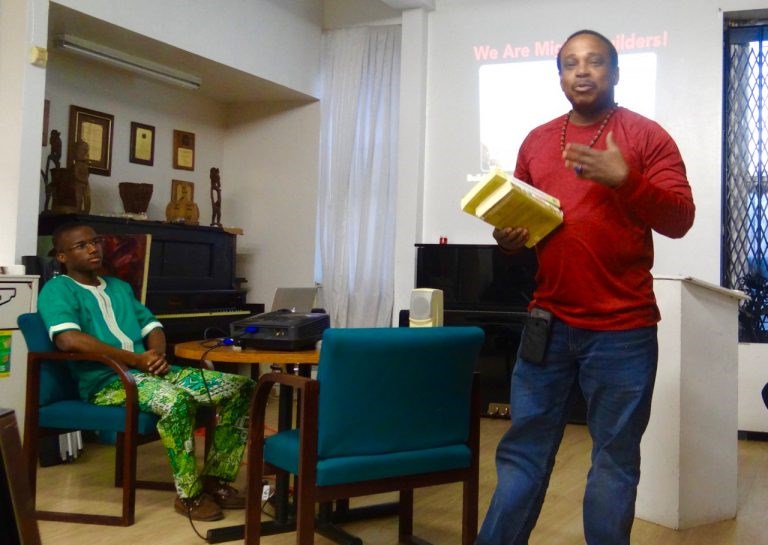 "Everybody's fighting Trump and all of the white people are upset. Some of the Democrats are more militant than I am now," said Barron, laughing. "But still, 62 million Americans voted for him. If Hilary would have won, y'all would have been quiet. Immigrants still would have been deported. Medicaid and Medicare still would have been cut. But you would have been quiet, just like how you were quiet under Obama.
"I hope that we as black people use this as an opportunity to organize. Maybe Trump will help us bring the revolution real soon. Because if you don't get it now, I don't know when you will.
"But you can't just be about resisting," Barron continued. "You gotta have a vision; you gotta some plans for building strong community. We have a history of that. And that's what I'm trying to show you here today."