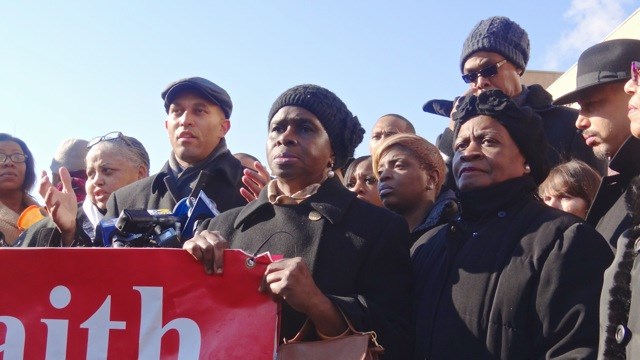 It appears Interfaith's fate has been re-written. Again.
If you recall, ten days ago, Interfaith advocates were outraged when the state threatened to withhold from the hospital the $3.5 million in funding it promised, unless it turned over its clinics to Kingsborough Jewish Medical Center.
In response, residents, hospital workers and elected officials representing a half-dozen neighborhoods aligned in heated protest, demanding from the state "Show me the money!"
And as recent as Monday, Mayor Bill de Blasio and Gov. Andrew Cuomo both issued a plea to the federal government for a speedy reprieve surrounding Brooklyn's hospital crisis at their first joint press event since de Blasio was inaugurated:
The two leaders called on the federal government to approve a $10 billion Medicaid waiver that would help the state improve its outpatient care services and rely less on pricier hospital-based care.
Well, the ailing Bed-Stuy medical center was extended another olive branch on Monday when a bankruptcy court approved the $7.5 million-- $3.5 million it was promised previously by the state, along with another $4 million in Vital Access Provider (VAT) funds-- needed to keep the hospital operational through the middle of February.
But it's almost February, you say?
And then what? After February 15, will the hospital be back to square-one?
City Councilmember Robert Cornegy, who has been a lead advocated for saving Interfaith, said the Medicare waiver money, if approved, is something that will provide the hospital long-term sustainability.
In addition, he said, a coalition of elected officials and health care professionals are working now on a plan to take the hospital through the year and beyond.
More money "is on the table if parties can agree to terms" by February 10, according to a joint statement from the New York State Nurses Association (NYSNA) and SEIU 1199.
"But devising something that's sustainable is tricky and can take a while, because it has to include behavioral health," Cornegy said. "Best-case scenario, we receive the waiver soon, before the middle of February.
"Worst-case scenario is we're back in court."
CORRECTION 11:42am: An Interfaith spokesperson has confirmed that the $7.5 million will keep the hospital operational through mid-March, not mid-February as previously reported.