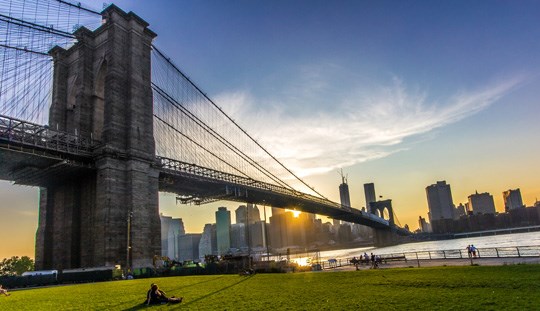 This past week, I had three friends from The Netherlands visiting me. Charlotte, Ilona, and Naomi. It was such a treat for me and it felt great to hang out with people from my home country in the flesh.
It is not even so much what we talk about, but it's more how we talk about the things that matter to us (or things that don't matter at all).
You know that feeling when you talk to someone from your own culture -- there is an immediate understanding and less explaining to do. We talk about the same topics that I would normally do with my American friends. It's not so much the content though, but more the intonations, the subtle jokes and references to things inherent to the Dutch culture.
During their stay, I started to notice that they were surprised by certain situations here in Brooklyn and New York. Observation they did of certain events and encounters that they were not accustomed to and that I consider so normal now.
I was wondering if after more than eight years living and working in New York, I was becoming more American than Dutch and whether I had lost touch with my own culture. I decided to put it to the test and subjected them to an interview on their experiences here.
The interview evolved around one main question: What surprises you during your stay here? One thing I have to say about the Dutch, they do know how to have an opinion. I was in excellent company and Charlotte, Ilona, and Naomi had much to share. I will highlight a couple of categories:
Transportation
"Subway turnstiles are way too narrow. That will never fit if you are big sized. Same with some of the escalators."
"Everyone drives enormous cars here; many of them are full of rust and seem dangerous. Taxi's look like playmobil toy cars though."
"Everything is far in New York. You really need to plan out your day and choose where to go. Decide what to wear and bring, because you cannot always go home to change in between."
"The subways are so dirty and they smell like urine."
People in General
"Brooklyn is very multi-cultural. You see all kind of people in the street. Also lots of children and young people."
"Bedford Stuyvesant feels safe and welcoming, and everyone is very helpful. When I was lost for a minute, a young man came up to me asking if he could help me find my way."
"People do not interfere in other people's business and seem to respect one another."
"Manhattan is fake, Brooklyn is real."
"Everyone is enthusiastic when they hear we are from The Netherlands. Or they have been there or know someone that lives there. They have heard about the Melkweg or Paradiso in Amsterdam. Oddly enough they do not ask so much about the "coffee shops" anymore. A couple of years ago that was different and all that The Netherlands was known for."
"New York is a city for all ages. As opposed to London for example, where you can forget to build a career when you are over the age of 30."
Sanitation
"People sorting garbage at residential buildings. There is all kinds of nasty trash in there that they would have to sift through. For example female hygiene products. Why don't residents sort it themselves in separate containers?
"This is particularly strange since in Central Park, everyone seems to stick to the rules and neatly places garbage in the containers."
"Toilet paper is too thin! Everywhere you go, you need half a roll to take care of business."
Dining and Drinking
"Waiters are so friendly here and the food is so much better than in The Netherlands." (This last bit was very surprising for me. I came here to the United States and my first impression of the food was terrible compared to The Netherlands. Perhaps it got better over the years or food in The Netherlands got worse).
"Meals are not at certain times it seems. You can have breakfast all day!"
"Americans are very assertive when it comes to food -- sending food back if they don't like the taste of it." (Don't try that in The Netherlands, since customer service sucks over there. You might run the risk that the cook spits in your food).
"Why can't you have a drink in the streets?" At one of the bars, my friend Charlotte who did not know this yet, took her drink cocktail outside as she would do in The Netherlands. The owner of the bar followed and observed, but for some reason did not mention anything. Perhaps he was hoping that she got arrested.
It was good to find out that I could still relate to most of what my dear friends were observing. Although I must say that not everything has remained the same in The Netherlands.
I think that a lot of immigrants deal with this phenomenon. You still remember your culture the way it was when you left, but cultures evolve and change over time. And even though it was only eight and a half years ago that I left The Netherlands, I realize that I was not part of the cultural evolution during those recent years.
Am I a cultural hybrid now? Sounds kind of cool. I don't mind.
Yako