In lieu of the ongoing NYCHA heating crisis, Adams urged to better utilize city resources, expedite the bureaucratic processes, as well as increase real-time communication with residents on the progress of repairs.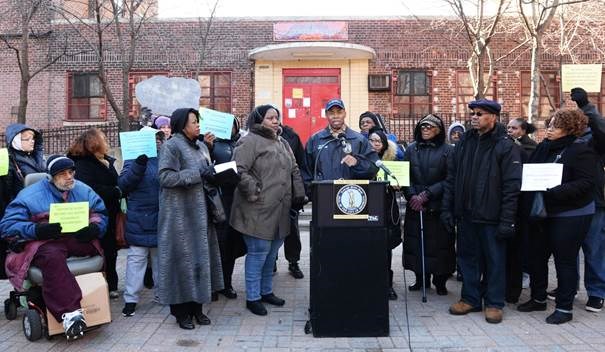 On Monday, joined by dozens of NYCHA tenants, Brooklyn Borough President Eric L. Adams called on NYCHA to address the citywide heating crisis by spending its fuel cost savings on emergency boiler repairs and replacements.
"We would not tolerate residents in private co-ops and luxury apartments going through what NYCHA residents are going through," said Adams. "They are paying rent like every other tenant and they deserve the same protection. These are not strangers; these are our family members who have been the staples and mainstays of this entire city."
According to Adams, his office alone has been made aware of at least 19 developments facing heating issues, leaving possibly 40,000 Brooklyn residents in the cold this winter. Central Brooklyn developments such as Sumner Houses and Tompkins Houses in Bedford Stuyvesant; Samuel J. Tilden Houses and Van Dyke Houses in Brownsville; Rutland Towers in East Flatbush; Atlantic Terminal, Farragut Houses and Ingersoll Houses in Fort Greene are among the impacted NYCHA sites.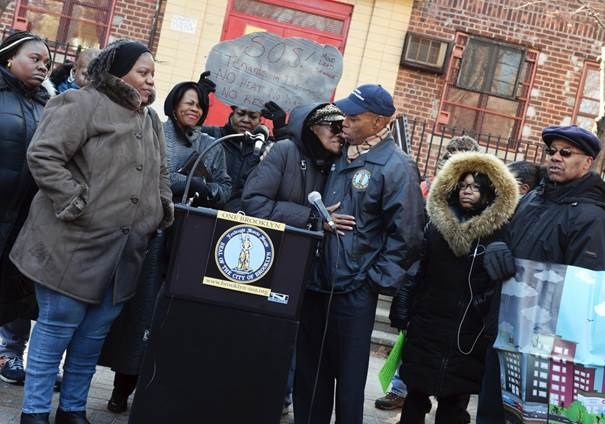 Adams recommended efforts to better utilize existing city resources, expedite the bureaucratic procurement process, as well as increase real-time communication and transparency with residents on the progress of development repairs.
Adams commended the city as the only government entity to take any responsibility for addressing emergency repairs and its infrastructure backlog; the city recently allocated $200 million in funding to replace boilers and upgrade heating systems at a couple dozen NYCHA developments. Yet, this financial injection only covers 0.8 percent of NYCHA's projected capital funding deficit of $25 billion, according to an analysis by the Citizens Budget Commission (CBC).
According to a different CBC study, NYCHA utility costs fell by $48 million from 2013 to 2016, largely due to lower natural gas prices as buildings were converted from oil to natural gas heating systems. The borough president urged NYCHA to reinvest the savings toward more conversions and related weatherization efforts.
In addition to calling on NYCHA to formulate an "emergency declaration," Adams also urged Governor Andrew Cuomo and NY State legislators to pass "design-build" legislation to fast-track project implementations; this legislation would allow one contractor to design, build, and install necessary infrastructure, shaving months off the process.
Adams further proposed the creation of a publicly-accessible NYCHA capital project dashboard, a dynamic map to publicly track repair and replacement projects to empower tenants with real-time information on the status of infrastructure and quality of life matters in their developments.
"I've been living in Gowanus Houses since the development opened up in 1948," said Stephen Henry, a resident of Gowanus Houses. "The tenants have a contract with NYCHA. The residents take care of their apartment, and NYCHA fulfills their obligations on that contract by providing essential services such as heat and hot water. If a resident has boiler problems, you do not wait until December or January to get it fixed. I ask NYCHA to fulfill their end of the contract with residents."