In response to recent revelations that Brooklyn's poorest residents in areas like Brownsville and East New York are served by some of the city's oldest buses, Brooklyn Borough President Eric Adams called on Monday for oversight hearings to investigate how the MTA allocates its busses.
Adams was joined by Councilmember Rafael Espinal, representatives from Councilmember Alicka Ampry-Samuel and members of the New York League of Conservation Voters, Transportation Alternatives and the Tri-State Transportation Campaign at a press conference in front of NYC's Transit Authority headquarters in Downtown Brooklyn.
"It appears the MTA used race and wealth as part of the factors to determine which areas in Brooklyn should receive clean bus options," said Borough President Adams. "These oversight hearings must determine whether this is true, and if so, appropriate action must be taken to the individual or individuals responsible."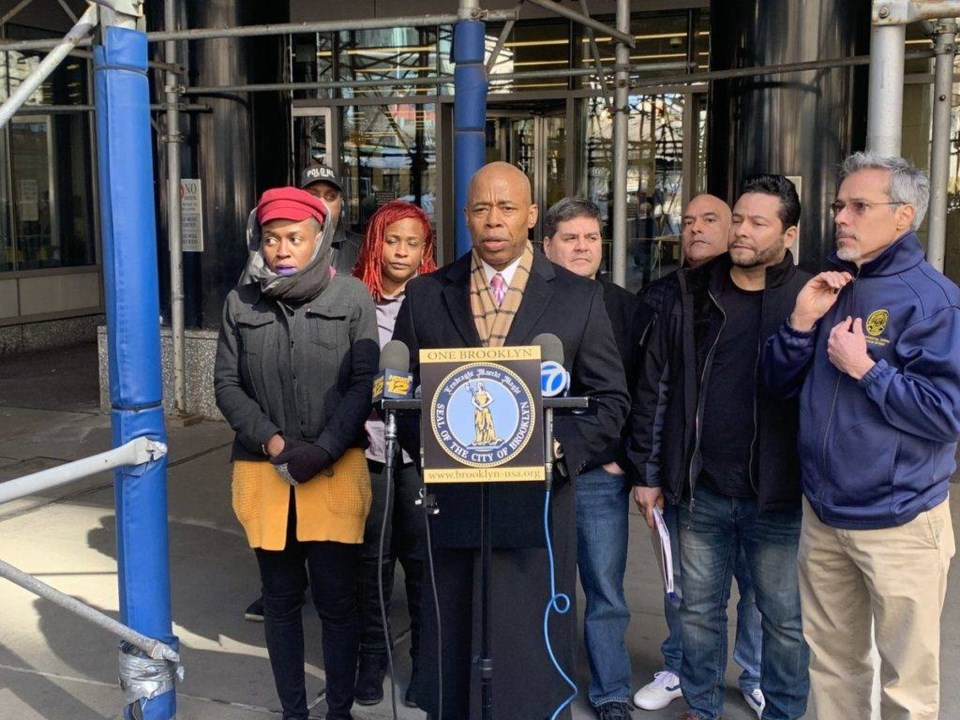 Neighborhoods like Brownsville and East New York, areas with a median annual household income under $40,000, are more likely to be served by 21-year-old diesel buses than the borough's wealthier neighborhoods, reported the NY Daily News on Sunday.
"It's no surprise that the MTA placed the worst buses in Brooklyn's poorest neighborhoods," said Brownsville Councilmember Ampry-Samuel. "Old diesel-burning buses in Brownsville contribute to many health risks. Our communities are constantly disrespected with inadequate, low-quality services."
Brownsville and East New York are served by 17 bus routes. The average age of the vehicles running on nine of these routes is more than ten years. The borough's most affluent neighborhoods like Park Slope, Williamsburg and Greenpoint also are served by 17 bus routes. Yet, in these neighborhoods, where the average income is twice of what East Brooklyn residents make, only three routes use buses ten years old or older.
"I'm urging the MTA to not only expedite their switch to electric buses but to prioritize these neighborhoods that have been stuck with diesel buses," said East New York Councilmember Espinal, an ardent proponent of electric buses. "I believe the City Council should hold an oversight hearing, and I'm going to call on the Chair of Transportation Ydanis Rodriguez to put something together as soon as possible."
Adams also called on the NY State Legislature to fully fund the MTA's Fast Forward Plan, a 10-year blueprint for revitalizing subway, bus and accessibility services.
"NYS Legislature must fully fund the FastForward Plan to deploy clean, electric buses to all corners of New York City immediately," said Adams. "Brownsville and East New York deserve equal access to clean transportation options especially since asthma rates in these communities surpass those of wealthier neighbors."