Phara Souffrant Forrest is passionate. That is not up for debate.
The 31-year-old maternal health nurse, daughter of Haitian immigrants, and lifelong Crown Heights resident has been an activist since she was a teen. In 2017, at age 28, Forrest founded the tenant's association in her building to protest the conversion of the buildings units into luxury condos.
And she has not stopped fighting for tenants' rights since.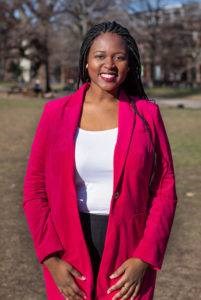 Now she is taking that fight to the State Assembly, running for 57th District seat against incumbent Walter Mosley, who has held the position since 2012. The district includes Fort Greene, Clinton Hill, Prospect Heights and parts of Bedford Stuyvesant and Crown Heights.
Forrest, a Democratic Socialist, said her decision to run came last year when she was arrested in Albany, along with 60 other activists, for protesting in support of tenants' rights bills, and only one elected official, Sen. Dianna Richardson, stood up for the protestors.
"That was when I got very vocal about it and decided, 'Hey, we can't just have one person stepping up.' There has to be more representation," she said.
As a registered nurse, Forrest said she is acutely aware of how the Government's failures are severely affecting hospital staff, patients and the entire community during the COVID-19 pandemic, and she wants to hold leaders accountable. Forrest does home visits as a maternal health nurse, and said she sees the daily effects of systematic failures on our communities, with families living in dire conditions that badly affect their health.
"When we talk about having a healthy community, which is what a lot of legislators talk about, they cannot separate these categories," she said. "When we talk about health justice, we have to make sure we have criminal justice, housing justice, racial justice, economic justice; all of these have to come together."
Forrest supports the NY Health Act and Good Cause Eviction Bill. The two bills fight for universal rent control and Medicare for all.
Before COVID-19, Forrest and her team knocked on more than 21,000 doors. She said she was really feeling the support of the community--and the pandemic has only made her resolve stronger. She said the massive mutual aids forming in response to the crisis shows how communities know they cannot wait for the government, and are beginning to take each other's health and wellbeing into their own hands.
"We have a community that is aware and is woke," she said. "We already know if we don't do it for ourselves nobody's going to come and save us: not a Trump; not a Cuomo; not a De Blasio."
Forrest said she would continue to agitate the way she had always done and use her voice to push issues through Brooklyn and beyond, saying "we need to let grassroots groups all over New York State know it's our turn."
The elections for the New York State Legislature are scheduled for June, 2020.