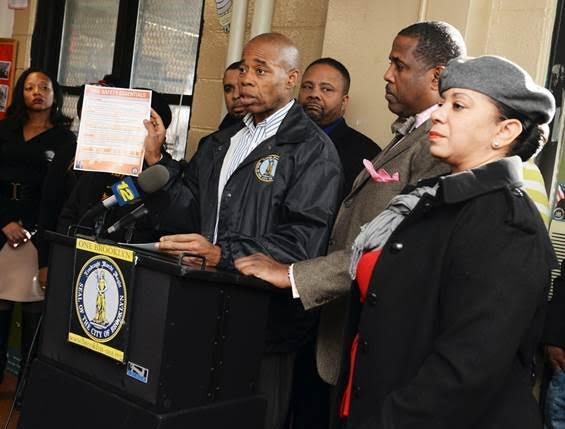 Following the recent fire in Brownsville's Howard Houses that claimed two lives and injured six others, BP Eric Adams is making another plea for a locally based burn unit to respond to fire emergencies.
Noting that Brooklyn had 8,518 structural fires last year — 31 percent of the citywide total-- Adams, along with State Sen. Kevin S. Parker today renewed an urgent call to the city for the creation of Brooklyn's first burn unit to save lives when time is a critical factor.
Adams made the announcement after speaking to residents of Brownsville's Howard Houses on Friday where a five-alarm fire claimed the lives of one-year-old Ivan Paez and his aunt, 40-year-old Alexandra Ortiz.
Ortiz was one of six who suffered injuries from the blaze, including smoke inhalation that would have been treatable at a burn center.
"The proximity of a burn unit translates into health care access that can mean the difference between life and death," said Adams. "We have the capability to invest in medical services that would keep families together and whole amid tragedies big and small. Now, we must turn pain into purpose and make a Brooklyn burn center a reality."
A burn center's response goes beyond the traditional hospital care for burn victims as it provides all four phases of treatment for burns, specific treatments for surgery, closing wounds, interventions to prevent shock, rehabilitation services, and reconstructive surgery.
Currently, burn victims in New York City are either sent to Columbia-Presbyterian Hospital in Manhattan, Jacobi Hospital in the Bronx, and Staten Island University Hospital North. Fire victims in Brooklyn with obvious burn damage are sent to one of those three locations, while those with burns that are not evident get treated initially at local hospitals, and are only then transported to other boroughs to receive care for their burns.
"Commuting fire victims outside of our borough for treatment is unacceptable," said Parker. "We can save more lives by having a burn unit in our borough to see that victims receive immediate care."
Borough President Adams has committed $4.15 million from his Fiscal Year 2016 (FY16) capital budget to go toward the construction of a burn center in Brooklyn. Additionally, State Senator Parker has previously introduced State legislation to advance this effort. Both elected officials are now spearheading a borough-wide campaign requesting that Governor Andrew Cuomo allocate $10.44 million in the upcoming 2017-18 Executive Budget to make a burn center in Brooklyn possible.