Crime is up 19 percent for the week of January 6 — 12, 2014, in the 81st Precinct, covering the eastern end of Bedford-Stuyvesant.
According to CompStat, there were 31 total reported incidents in the 81st precinct, compared to 26 incidents during this same week last year. For the 28-day cycle, crime is up seven percent, with 120 reported incidents, compared to 112 incidents during this same time period in 2013.
And year to date, crime is up 28 percent, with 51 reported incidents, compared to 40 during this same time period last year.
Year to date, there have been zero reported murders, the same number as last year at this time. The biggest drop in crime so far is seen in the number of felony assaults, a 62 percent decrease, with five reported year to date, compared to 13 in 2013. And the biggest jump is in the number of robberies, 60 percent increase, with 16 reported so far this year, compared to 10 last year.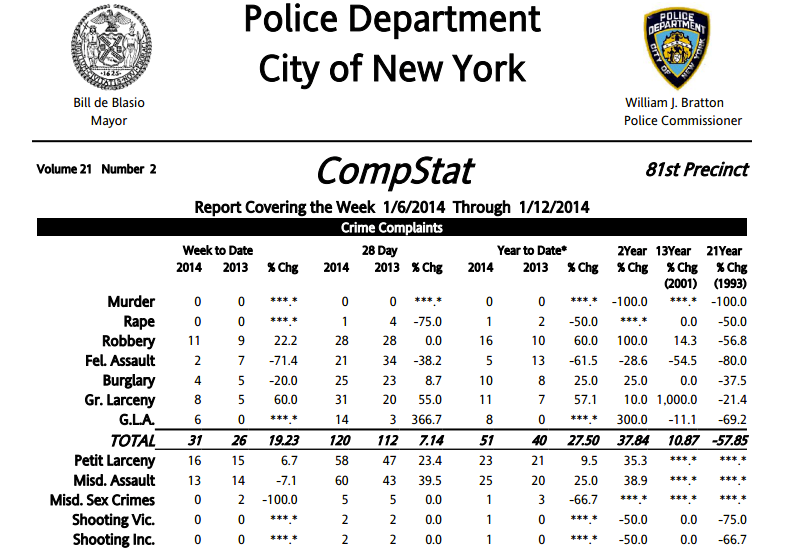 Incidents:
On January 17, at approximately 2:17am, police report there was an armed commercial robbery and a rape at a tattoo parlor, located at 118 Ralph Avenue (between Jefferson and Hancock). At the time of the robbery, five employees were inside—four men and one woman. According to police reports, an unknown woman approached the locked door and requested entry. The woman was buzzed in at which time two men entered with her. One displayed a silver firearm, the other man brandished a knife. They then forced everyone into the back room where they took everyone's wallet, cell phones and keys.
One of the males then proceeded to remove the females clothes and rape her before the trio fled the location None of the victims were able to identify the perpetrators. Police canvassed the area with no results. The incident is still under investigation.
On January 18, at approximately 12:53 am, a man was stabbed and killed in front of 309 Hart Street (between Marcus Garvey Blvd and Lewis Ave). Immediately following the incident, a taxi driver noticed the victim lying on the ground in front of the location. Police arrived to find the man unconscious, bleeding heavily from multiple stab wounds to his upper back. The victim, later identified as Cherry Mario, 37, of Lewis Avenue, was taken to Woodhull Hospital where he was pronounced dead at 1:23. No weapons were recovered from the scene. Detectives are currently working the case. No arrests have been made.
Anyone with information surrounding this incident is asked to call Crime Stoppers at 1-800-577-TIPS (8477). The public can also submit tips at the Crime Stoppers website, or by texting their tips to 274637 (CRIMES) then enter TIP577.