Crime is down 7 percent for the week of August 4 - August 10, 2014, in the 71st Precinct, covering the southern end of Crown Heights.
According to CompStat, there were 28 total reported incidents in the 71st precinct, compared to 30 incidents during this same week last year. For the 28-day cycle, crime is down 6 percent, with 135 reported incidents, compared to 143 incidents during this same time period in 2013.
And year to date, crime is down 11 percent, with 892 reported incidents, compared to 1,005 during this same time period last year.
Year to date, there have been two reported murder, compared to six at this same time last year.
The biggest percentage drop in crime so far is seen in the number of murders, down 67 percent. And the biggest percentage jump is in the number of rapes, an 17 percent increase, with 14 reported so far this year, compared to 12 last year.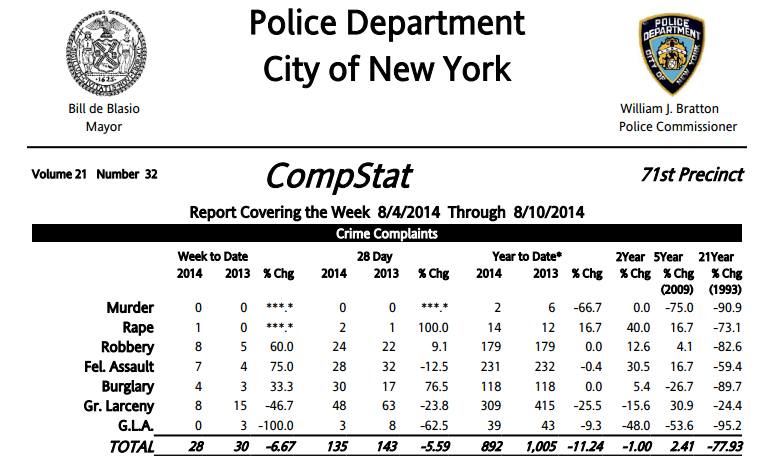 Robbery
On Sunday, August 17, 71st Pct police arrested a man suspected of stealing a Lubavitch religious from Kingston Avenue and Park Place at around 3:30pm. The man was charged with grand larceny and criminal possession of stolen property.
Auto Thefts and Break-ins
71st Pct. Police are warning of a recent increase in the number of cargo van break-ins in the area. They are advising to please remember to safe guard all vehicles. Lock all doors, and do not leave any items visible inside your vehicle, i.e. loose change, GPS device, iPods, phone chargers, clothing, etc.
Also, the last few days, the 71 Precinct has had two Ford Econoline vans stolen and a third attempt on one. If you own one of these vans please make sure they are properly locked and alarmed. Any suspicious behavior around a parked Econoline van should be reported.
Anyone with information about these crimes please call the 71 Precinct Detectives at 718-735-0501.