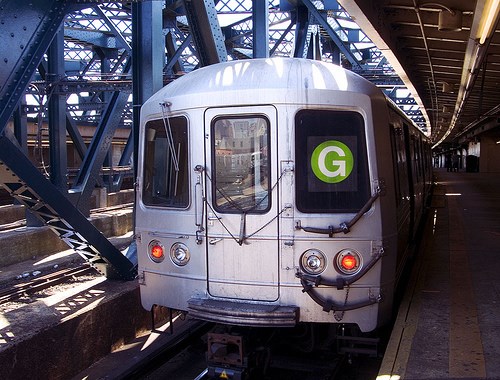 Have you heard?
The G Train, which runs through parts of Bed-Stuy and Fort Greene, will be shutting down for five weeks, beginning July 28, 2014, due to ongoing repair work on the Greenpoint Tube.
Yes, it's true: Power cables in the Greenpoint Tube that were immersed in salt water during Hurricane Sandy are corroding, raising the potential for short circuits.
According to MTA spokeswoman Marisa Baldeo, the maintenance work was scheduled during this time period because it's the weeks when the G line has the lowest ridership.
So no trains will run between between Nassau Avenue and Long Island City for five weeks this summer while the MTA works on restoring the cable system to its pre-Sandy condition.
On Thursday, April 3, at 6:00pm, State Senator Daniel Squadron and local elected officials will convene a town hall with community members and representatives from the MTA, City DOT, EDC, and the NYPD on solutions to the 5-week suspension of the G train.
The town hall will take place at Polish & Slavic Center, 176 Java St, Brooklyn (Between McGuinness & Manhattan Ave) and will be an opportunity to raise concerns and suggest solutions to ensure riders are not stranded.