Two district attorney positions are currently open (for Brooklyn and Manhattan), with seven candidates running for Brooklyn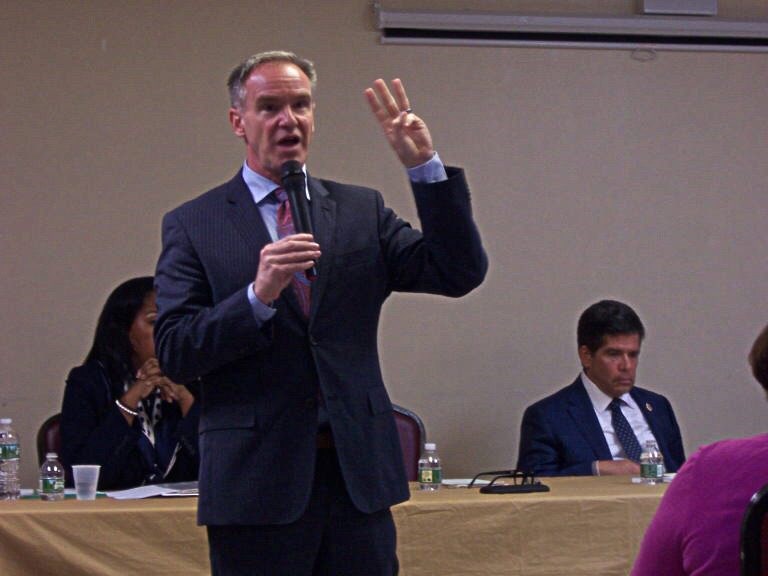 As the citywide elections draw near, the candidates running for Brooklyn District Attorney presented their proposals on how to crack down on police brutality, to end broken window policing and to shrink the prison population pending the closure of Rikers Island at a forum at Clarendon Church in East Flatbush on Monday.
The forum was hosted by the Ernest Skinner Political Association and Councilman Jumaane D. Williams, and joined by current acting District Attorney Eric Gonzales and candidates Marc Fliedner, Ama Dwimoh, Anne Swern and Councilman Vincent Gentile.
Addressing Police Brutality in Court
The candidates discussed the case of Peter Liang, a police officer who shot and killed Akai Gurley, an unarmed black man, in East New York in 2014. Liang was given five years probation and 800 hours of community service, instead of receiving a prison sentence. Gonzalez's challengers criticized his implication in Thompson's decision who decided not to sentence Liang.
"I believe jail was appropriate for him," said Marc Fliedner, a civil rights lawyer and the first openly gay candidate running for D.A. "A person who was convicted of the same offense who wasn't a police officer would have been subjected to jail."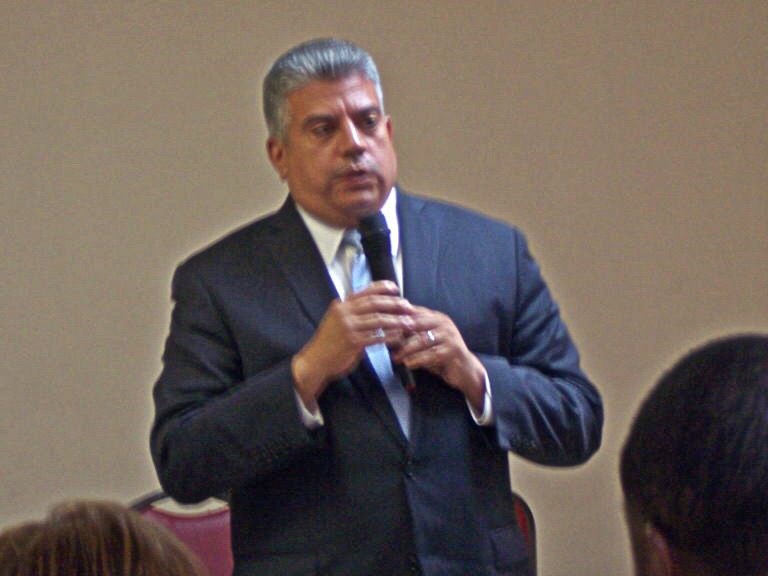 Gonzalez retorted by faulting the standards to which juries are held in cases where a police officer shoots a civilian. Jurors are told to view the situation from the police officer's perspective and not simply through common sense lenses of right and wrong, if the officer alleges that his life was in danger.
"This is the one area of the law where the jury is told not to look at it in an objective way," he said. Gonzalez failed to mention how he would rectify the issue if re-elected, simply labeling it "a huge problem."
The one candidate to float a solution was Ama Dwimoh, who served as executive assistant district attorney under former DA Charles Haynes. "When an officer discharges his weapon and kills or hurts an unarmed person, I believe that those cases should go to a special prosecutor not within the DA's office," she said.
Cracking Down on the 'Prison Industrial Complex'
The candidates enthused over the De Blasio administration's 10-year plan to shutter Rikers Island and to reduce the daily prison population by 25 percent over the next five years. They unanimously decried the cash bail system, billing it "the criminalization of poverty," particularly in the case of Rikers where 85 percent of the detainees are simply awaiting trial because they cannot afford bail.
The DA should not even demand bail for so-called "quality of life" offenses such as turnstile jumping or vandalism, said Dwimoh. "If this is a low-level crime, a misdemeanor, the most [jail time] you can do is a year, but you've got to wait more than a year in Rikers."
Fliedner was equally emphatic, stating: "It is not in the sense of a fair criminal justice system to start punishing and warehousing somebody before he has been convicted of a criminal offense."
Ending Broken Windows Policing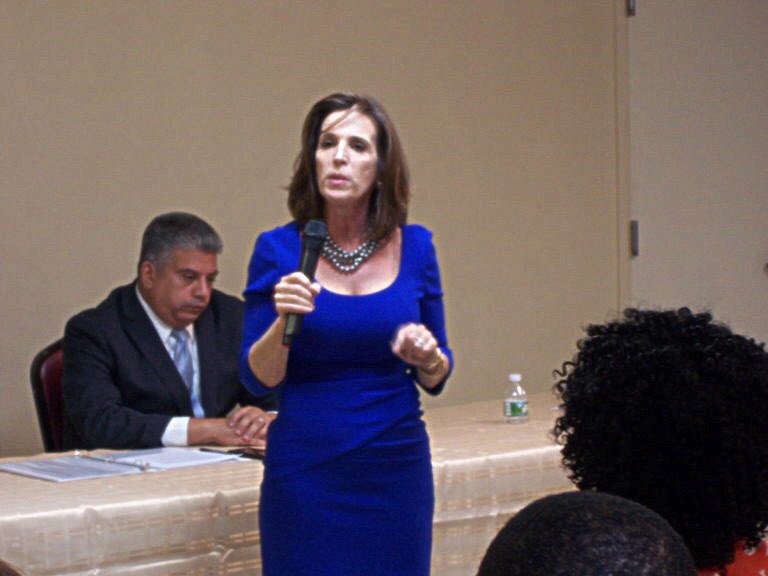 Prosecuting minor offenses in criminal court also known as 'broken windows policing' is an approach designed to deter heftier crimes such as homicides. But continuing to enforce this will only increase the number of non-convicts awaiting trial, serving to fill jail cells and not to empty them, the candidates agreed.
Offenses like littering and graffiti don't belong in a criminal court, said Anne Swern, the managing counsel for Brooklyn Defenders Services. "That's the job of the DA, to make sure that if these cases come to her door, that she stops them and says no, that they never get across the threshold of a courthouse."
Gonzalez asserted that under the leadership of former Kings County D.A. Ken Thompson, who passed away last October, the DA's office decided not to prosecute low-level possession of marijuana (under 25 grams) in a bid to defray the 13,000 pending marijuana cases at the time - which disproportionately affected the Black and Hispanic community.
City Councilman Vincent Gentile also jumped at the chance to prove his opposition to broken windows policing. Last year, Gentile helped pass the Community Justice Reform Act, which reconstitutes offenses like drinking alcohol in public or loitering in parks after closing time as civil penalties rather than criminal offenses.
"The individual still has a penalty to pay and that addresses the quality of life infraction that they committed," Gentile said. "But that penalty for that infraction does not cause that person to have a criminal record hung around their neck for 10, 20, 30 years down the road."
The new legislation, he estimated, would result in 50,000 fewer criminal summons and 10,000 fewer bench warrants this year for those who fail to show up in court.
Two district attorney positions currently are open (for Brooklyn and Manhattan), with seven candidates - all of them Democrats - running for Brooklyn, in addition to incumbent Manhattan D.A. Cy Vance, who is running unchallenged.
There will be dozens of races on the ballot for the primaries on September 12, and the general election on November 7.