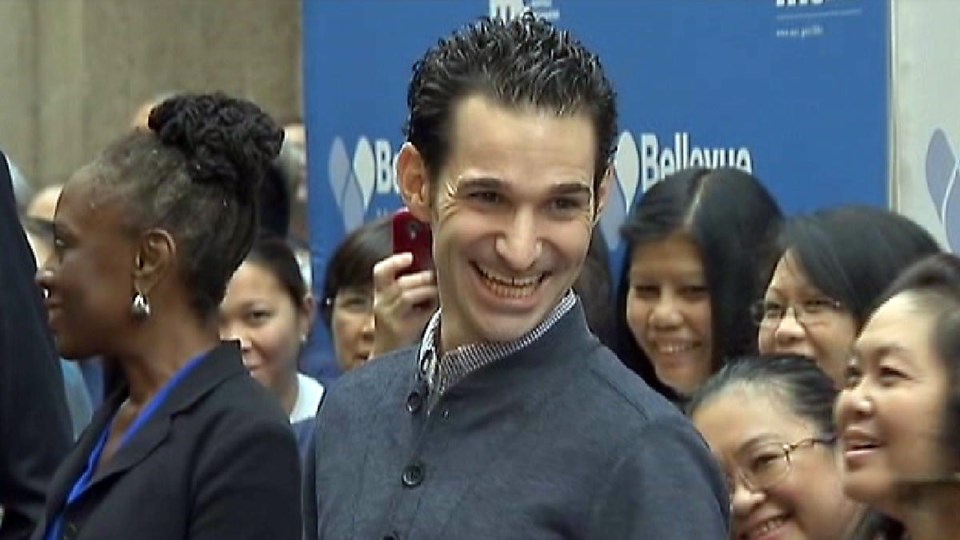 "Hello, my name is Craig Spencer," the first Ebola patient in New York City said Tuesday at a press conference. He looked pale but fit as he made his public debut. "Today I am healthy and no longer infectious."
Spencer returned home Tuesday afternoon after 19 days of treatment. Doctors at Bellevue Hospital deemed him virus-free, reported The New York Times.
Seventy percent of Ebola cases in West Africa are fatal, but eight of the nine people treated in the United States have recovered. One of the doctors treating Spencer said a key reason was the labor-intensive job of managing body fluids and replenishing lost blood, allowing the body's own defenses to kill the virus. Plus, as a doctor who had treated other Ebola patients, Spencer consulted on his on treatment.
Mayor Bill de Blasio welcomed him "back to his normal life" on behalf of all New Yorkers. Then, turned to his wife, Chirlane McCray, at the Bellevue news conference and asked, "Would you like to administer the first hug, First Lady?"
No one that Spencer came in contact with has fallen ill, and on Tuesday, the mayor pre-empted any questions about the doctor's clean bill of health by saying that he "did everything right" and had "followed the protocol to the letter" by reporting his fever immediately.
A tight hug for Spencer at the press conference from the mayor, his wife and a slew of doctors, supporters and nurses was enough to reinforce in the public's mind, Dr. Craig Spencer was in fact disease-free.