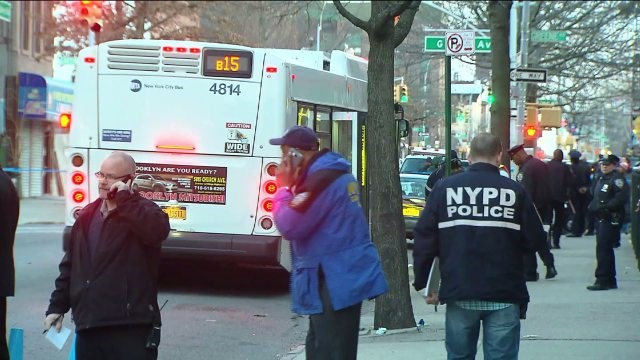 A 14-year-old gunman has been taken into custody for shooting and killing an innocent passenger on a bus in Bed-Stuy Thursday night, reported The New York Daily News.
On Thursday, at around 6:20pm, Kahton Anderson shot passenger Angel Rojas, 39, on aB15 bound for JFK. According to reports, Anderson and some other teens were at the back of the bus when an apparent rival boarded the bus and started walking toward them, sources said.
Anderson responded by shooting at the rival, hitting Rojas in the back of the head. The incident occurred near the intersection of Lafayette Avenue and Marcus Garvey Boulevard in Bedford-Stuyvesant.
Members of the Bedford-Stuyvesant Volunteer Ambulance Corps rushed Rojas, who still had a pulse, to Woodhull Hospital in critical condition. But he died at about 7:50 p.m
Emergency Police took the teen, identified by relatives as Kahton Anderson, into custody and recovered a gun and six shells, cops said.
The victim was a husband and the father of a 12-year-old son and 8-year-old daughter.