This year's theme addresses rewriting the narrative and image of the Black and Latino male
In its Final Report to the Chancellor in 2005, a task force within Medgar Evers College listed as its first recommendation that the City University of New York - as the nation's largest urban public university - take on the public responsibility of providing leadership around the challenges facing Black and Latino men by mobilizing efforts to achieve social and educational equity.
With the launch of year-round, university-wide initiatives focused on increasing matriculation, retention and graduation rates of underrepresented students, particularly men of color, and an annual conference, the CUNY Black Male Initiative Task Force, has set out to raise societal awareness of the challenges facing underrepresented students, while developing concrete strategies designed to increase their chances of pursuing higher education.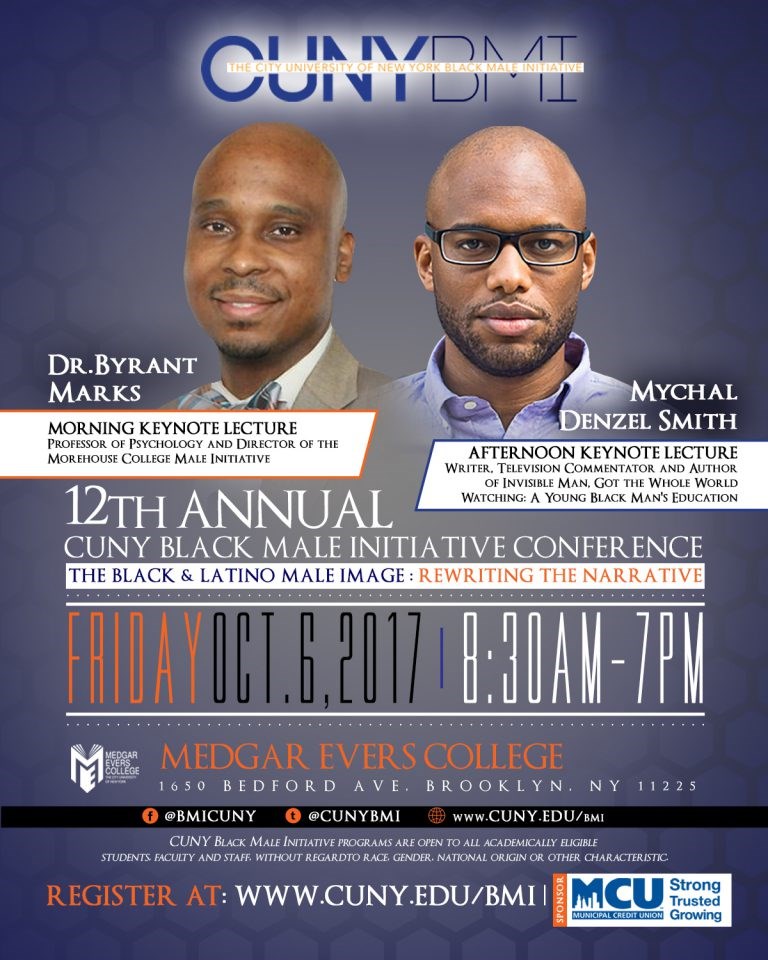 On Friday, October 6, the CUNY BMI will hold its 12th annual conference entitled, "The Black & Latino Male Image: Rewriting the Narrative," featuring a series of dynamic and inspiring workshops and discussions.
The events take place at various locations on the Medgar Evers campus, located at 1650 Bedford Avenue in the Crown Heights section of Brooklyn.
Conference topics this year range from mentoring relationships; gun violence, shaping laws and policies; creating wealth. The morning keynote lecture will be given by Dr. Bryant Marks, professor of Psychology and Director of the Morehouse College Male Initiative. The afternoon keynote address will be given by Mychal Denzel Smith, a writer and TV commentator and the author of "Invisible Man, Got the Whole World Watching: A Young Black Man's Education."
For a full event lineup go here. To register for the conference, go here.