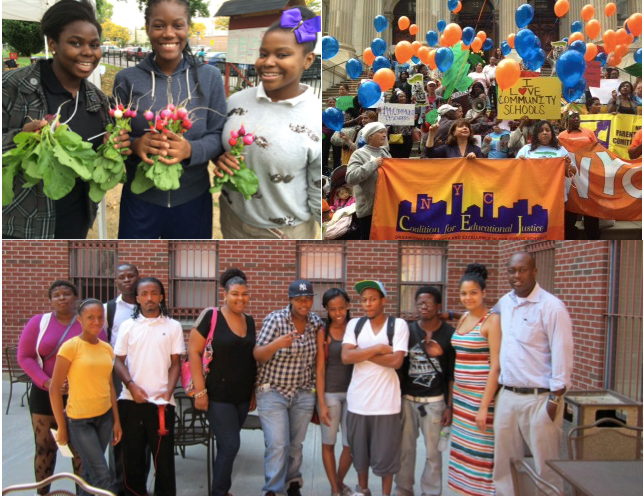 Brooklyn Community Foundation has announced 11 resident-led projects in Crown Heights that will receive $100,000 collectively through the Foundation's new Neighborhood Strength initiative.
Individual grants ranging from $5,000 to $15,000 were awarded to organizations that bolster the work of neighborhood residents, nonprofits, and community groups addressing critical local concerns across one of four areas: Housing Rights, Cross-Cultural Relationships, Youth Opportunities and Policing.
This is the Foundation's first resident-led grantmaking program designed to bring together a diverse committee of neighborhood residents and community leaders to discuss local challenges, identify areas for funding, and recommend support for projects through a competitive grant program.
"We want to applaud the outstanding work of our Crown Heights Advisory Council who have taught us so much about the importance of empowering communities to decide how and where local investments should be made," said Brooklyn Community Foundation President and CEO Cecilia Clarke.
"Change must be led and sustained by those closest to the challenge. Thanks to residents' efforts, we are setting an important example for how philanthropies and communities can come together to make a lasting difference."
This year's Neighborhood Strength 2015-16 Crown Heights grant recipients are:
The Brooklyn Clergy Action Network, established with the goal of mobilizing faith leaders and the community to end gun violence in low and moderate-income communities in Brooklyn. A $10,000 grant will be used to establish a mentorship program for 12 to 17-year-old males designed to reduce and prevent violence by training them in methods of communication as an alternative to violence.
Brooklyn Hi-Art! Machine, a collaborative public art project that explores art-making as a community-building tool. A $5,000 grant will be used to create and distribute an accessible guide to tenants' rights to assist long-time residents being pushed out of their homes.
The Brooklyn Movement Center, a Black-led organizing nonprofit, trains and mobilizes Central Brooklynites to lead local and city-wide policy campaigns to end abusive policing. A $15,000 grant will be used for police accountability organizing and legislative advocacy in Crown Heights that mobilizes local stakeholders, creates alternative community safety approaches, and conducts know-your-rights and leadership trainings.
Global Kids's mission is to educate and inspire underserved youth to become successful students, global citizens, and community leaders. A $10,000 grant will be used for the Human Rights Activist Project in three Crown Heights public schools to empower youth to advocate for community and global issues through interactive workshops on community organizing, social action, digital and social media, policy, and root causes.
NYC Coalition for Educational Justice, a parent-led movement that seeks to affect policy change and create a more equitable educational system. A $10,000 grant will support local parent engagement around the Department of Education's Community Schools Initiative, which will bring over a million dollars in new resources to three Crown Heights schools.
Progress Playbook designs customized learning experiences for entrepreneurs so that they can accomplish their business goals. A $5,000 grant will provide 10 Crown Heights youth with a three-month entrepreneur training program, through which each will develop a comprehensive business plan. Three plans selected by community members will receive financial and technical assistance to launch or expand their business within Crown Heights.
Resident Simone Leigh is receiving a $5,000 grant to support an innovative series of drumming classes and workshops for black women and girls in Crown Heights, which seeks to build bridges across cultures and communities and provide a nurturing environment where participants can relax, learn new skills, exercise, and connect in a non-competitive way.
UHAB organizes tenants to fight poor living conditions in buildings neglected or abandoned by landlords; in 2013, three UHAB-organized tenant associations formed the Crown Heights Tenants Union. A $15,000 grant will support their focus on ending bad living conditions, illegal displacement, and loss of rent-regulated housing in Crown Heights by bolstering tenant and neighborhood power.
Weeksville Heritage Center, an historic site museum and community cultural center that preserves the legacy of the original Weeksville community founded in 1838 — one of the first and most prolific free African American communities in the United States. A $10,000 grant will support a performance project featuring new oral histories and collaborations with local performing artists and teens to mark the 25th anniversary of the 1991 Crown Heights Riots. Weeksville will also host a community dinner for residents of its immediate vicinity.
Young Movement provides research, advocacy, and partnerships on socio-economic issues like financial literacy and employment alternatives for young adults. A $5,000 grant will support the Weeksville Entrepreneurship Project to train 10 young adults from the Weeksville section of Crown Heights in tools to find and create sustainable solutions to employment, financial, and health disparities in Weeksville.
The Youth Farm, a one-acre farm on the Wingate Campus that grows approximately 15,000 pounds of fresh, culturally relevant crops for the Crown Heights community each year. A $10,000 grant will support a year-round youth program, an advanced organic farming training program for adults, and a paid summer youth employment program.