A new 12-story 100% affordable housing development will bring 179 permanently affordable apartments to extremely low and low-income families in Brownsville.
The Van Dyke III building, part of New York City Housing Authority's (NYCHA) 23 building Van Dyke housing complex, was officially opened this month by Trinity Financial, NYCHA, the Department of Housing Preservation and Development, the Housing Development Corporation (HDC), elected officials and a group of business, nonprofit, and community leaders.
The building will set aside 31 apartments for NYCHA residents. 54 supportive housing units for formerly homeless people, and one superintendent's unit, and it will include an early childhood educational center that can cater to 118 children, an urgent care clinic with pharmacy and a wellness center operated by BMS Family Health and Wellness Centers. Supportive services will be provided by the nonprofit organization CAMBA.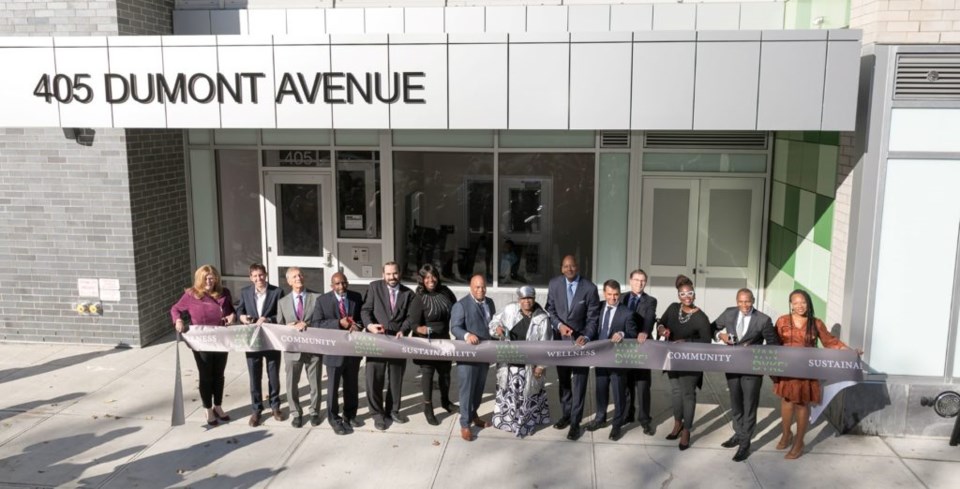 The development was built on underutilized land at NYCHA's Van Dyke campus on Dumont Avenue between Mother Gaston Boulevard and Powell Street with funding from HDC, the New York City Department of Housing Preservation and Development (HPD), Goldman Sachs Asset Management's Urban Investment Group and Citi Community Capital.
NYCHA Chair and CEO Greg Russ said NYCHA was committed to fostering public-private partnerships capable of bringing high-quality residential apartments and amenities to places where they were needed most.
"The collection of resources, facilities, and affordable housing represented in the Van Dyke III project will benefit this neighborhood for generations to come," Russ said.
Van Dyke III will also include a computer lab, a fitness room, a tenant lounge, a community room, an accessible roof deck, a children's playroom, package delivery room, and a ground floor outdoor recreational area with a new mural showcasing the faces of notable Brownsville activists, community leaders, celebrities, and more.
The project also included site improvements to the Van Dyke campus, including a new barbecue area, new benches, game tables and a Skelly court. The newly updated basketball court features artwork designed by Sophia Dawson and painted by residents and other community members.
Thomas Brown, vice president of development at Trinity Financial, said it was "incredibly rewarding" for his company and its partners to work with NYCHA, the Van Dyke Residents and "the greater Brownsville community to successfully develop such a transformational project providing much-needed affordable and supportive housing in addition to ground floor community space."