By Sara Bass 
LACK OF CRITICAL REFLECTION
Days after a group of fifth graders' mural was hung in their Park Slope school's cafeteria, it was removed and destroyed by direction of its neighboring middle school's principal, with the support of the elementary school's own principal and the district superintendent.
Informed by the leading questions, "What is the future we want to create?" and, "What else is possible?" the six muralists in collaboration with the Black-led community arts organization Groundswell imagined a world through paint that believed in saving the turtles, civic participation, food security, healthcare, environmentalism, and that Black Trans Lives Matter. The words "equity" and "safety" floated between drawings of playful hopes for a better world, like flying hover boards and make-believe animals, and alongside Audre Lorde's quote "Your silence will not protect you."
The infraction – in February deemed in violation of Chancellor's Regulation A-830 by the Office of Equal Opportunity & Diversity Management – occurred in July 2021 when the muralists and most of the faculty were on summer vacation. "Here we are in progressive Brooklyn and we're still shutting down in some ways a sweet, innocent youth project and in other ways a bold expression of young people's freedom dreams," said CUNY's professor of Urban Education Michelle Fine. 
For the past couple years, discussions of educational reform have been mostly tied to the pandemic; but Dr. David Kirkland of ForwardED – a consulting agency for advancing culturally responsive sustaining education (CRSE) – acknowledges we won't be in Covid forever, and we also need plans to address issues of racial inequity, kids living in precarious housing, and the widening wealth divide that have persisted long before Covid-19.
An emphasis on matters apart from Covid emergency response plans are also prominent in Chancellor David Banks' vision for New York City public schools that endeavors to "provide meaningful academic experiences that are safe, fun and engaging [for] all students. ..."
He includes culturally responsive reading material in his plan's first pillar to reimagining the student experience, uplifts a school-community overlap that engages "families in policy creation and implementation procedures at all levels," and looks to rebuild the DOE to support social-emotional leaders to "truly innovate and not be derailed by traditional bureaucracy."
Even with the Chancellor's culturally responsive commitments, several researchers are unable to predict how and whether schools will become more culturally responsive because many more than just the two in Park Slope lack the awareness or drive from leadership to do so. 
FAILURE TO ADVOCATE FOR COMMUNITY-BASED ISSUES
Soon after the community's uproar in protest of its school leaders' act of quiet censorship, the DOE launched a special investigation into discrimination charges for the mural takedown from the cafeteria housed in the building PS 295 and MS 443 New Voices share.
Both PS 295 Principal Lisa Pagano and New Voices Principal Frank Giordano leaned on the active investigation as excuse not to comment, but even with its completion on February 17, neither has taken responsibility nor divulged the full series of events to staff or families. They also have not directly apologized to the muralists. 
A teacher at PS 295 said six days after spring recess, just after the investigation's closure, Principal Pagano held a meeting during which she said, "'We need to move on. I know people are upset with what happened with the mural, but that was in July.
And it is now March.'" PS 295 fifth-grade teacher Doug Hecklinger calls it a "war against accountability to the school community," and it shows up as the elephant in the room. "Elephant is the right word. We're talking about huge, can't see around, can't get 
over until we deal with it." And it too swallowed any culturally responsive school leadership that might have been.
PS 295 parent Clayton Patrie reported about 20 families and two teachers with plans of leaving if administration doesn't change. The former parent coordinator and one of the school's social workers have already resigned due to the administration's inaction and stifling hostility that came next. Considering the elementary school's 22% drop in enrollment over the past year, wavering commitment from at least 20 more families is worrisome.
"Civil war," is widely used to characterize the current school environment. New Voices PTA President Angie Sheldon's words – circulated amongst New Voices families in an email – solidify the feud within the school community and elucidate the fragility and comfort of whom is being protected, "... middle school kids ... are being forced to choose between standing up for the principal they know and love or agreeing that he is [a] racist and homophobic figure." 
OSTRACIZING: A DEPRIVED MINORITY IN A DOMINANT CULTURE
One of District 15 Superintendent Anita Skop's worries upon seeing the mural was its degree of representation. A NYT article reported Groundswell's Sarah Katz responding to Pagano's early request to broaden the mural's message of Black Trans Lives with an email stating, "We believe that naming and supporting communities most impacted by oppressive systems is essential to cultivating authentic inclusion."
With its destruction, this specificity that meant to center a "historically undervalued [community] to move closer to justice," as Katz wrote, has been manipulated to ostracize it from a larger one.
An ethic of mutual exclusivity has come to dominate discussions about moving forward, where a majority continually wins out. During the October New Voices Town Hall, PTA President Sheldon said in reference to the muralists, "I really feel like we need to move on and that their pain shouldn't impede a safe, educational space for [New Voices] children. I was pretty much told that what's happening with them kind of supersedes our community, which to me is not okay."
Later in the meeting, a parent said in defense of Principal Giordano, "If you take away our principal, what does that do to us? How do we heal? How do our children heal? How would they be affected? Does anybody care about that? There's other children. What about them? Are they not important?" 
During the September Town Hall hosted by the Mural Justice Project (MJP) – a PS 295 parent- and teacher-founded non-profit for antiracism and accountability in New York public schools – former PS 295 teacher Joan Radigan recounted her experience witnessing the initial outrage over the finished mural.
Careful with her words, she said, "the mural was deemed 'not inclusive, unwelcoming, divisive.'" Fifth- grade teacher Hecklinger wants to ask of those in support of the principals, "'So, you're comfortable with the idea that we can label certain identities as divisive? And those identities happen to be minorities?'" 
A PS 295 teacher recalled his conversation with Pagano just following the meeting she assembled in light of the investigation's conclusion to inform staff she would never speak about the mural.
He said her decision was to honor the big group of staff who would prefer not to speak about it. "Here's the weirdest thing to me," he raised, "throughout this process, there's been this message of 'people need to forgive.' Anyone who is for student expression, valuing, honoring DEI work is not confrontational, is not loud at meetings. About 30% of staff are for DEI work and see this as an attack.
The [other] 70% yell and scream at meetings. When has there ever been a time when the majority has been the one to want what would bring about equity from the beginning?" 
Dr. Kirkland believes in plurality, "When you're in the minority, then what does democracy mean to you? Equity is not about designing a system that makes everyone equal, but designing many systems that make access points to be sustained by infrastructure we've created."
FURTHER OSTRACIZING: FAILURE TO COUNTER HISTORICALLY OPPRESSIVE STRUCTURES
Something else that shoves focus off the historically undervalued communities uplifted by the mural are concerns of political intent behind the project. During an early meeting in August, Superintendent Skop and Pagano addressed PS 295 committees, during which they admitted worry that Groundswell's teaching artist introduced Audre Lorde's quote, "Your silence will not protect you."
They suggested this was a form of top-down instruction and the working of a political agenda. Groundswell's Executive Director Robyne Walker Murphy said, "I wish I could have been the one to teach these kids about racism" as opposed to them learning it through their own experiences.
Quickly, the blame on politics grew girth enough to largely justify the mural's removal and is represented in the September 21 New Voices PTA meeting minutes that read, "Schools are to be inclusive and welcoming, schools are not political entities. We keep our politics at the door, we are a public school." 
CUNY Professor Michelle Fine says curriculum, texts, and assessments inherently carry a kind of politics depending on what is included or silenced. "Politics are present if we present families as mother/father/children; if we write history from the perspective of the 'victors;' if we fail to give a detailed history of enslavement or Native American genocide; if we teach largely white, European authors, or if we don't teach about climate change," she wrote in an email.
She considers an inquiry-based approach to learning that opens the imagination to think hard and together about constructing a "world not yet" a worthier ambition for the classroom. 
Associations with cancel culture have also decentered those most afflicted, qualifying the issue as a political problem rather than human. Sheldon said, "in this cancel culture moment, the most important thing we can teach our children is that you can make a mistake and be forgiven."
As Hecklinger said, the greatest pressure applied by administrators and those in support of the principals has been on the need to forgive, where the comfort of the least impacted is centered and those oppressed are assumed responsible for action in a way that is doubly punitive. An ACLU interview acknowledges his observation on the national scale. ACLU staff attorney Emerson Sykes said in regard to racial history curriculum restrictions, "we've seen ... this narrative around protecting white students from ... guilt, anguish, or discomfort. And so we think that that is very directly at the expense of students of color."
Dr. Jacqueline Simmons represents the pressing question that plays out at Park Slope's neighborhood scale, "when we talk about students' best interests, which students?" 
Parent of one of the muralists Jae Gellieau said at the MJP Town Hall, "this isn't about politics for kids and families who are different. This is about safety, equity, about freedom of expression. These attempts to silence our kids hurt not just the kids and their parents, but also the community."
THE LITTLE SCHOOL THAT COULD
Including professional development with the Peace Institute and Project Respect, the DOE has facilitated a couple interventions to support healing within PS 295. New Voices staff has also begun regular trainings with the Peace Institute and recently invited students onto the DEI Committee through which they are encouraged to develop their own initiatives.
Skop has also mandated that beginning next school year all District 15 schools' equity committees be comprised of staff and parents working collaboratively, according to the District 15 DEI Committee. This is a big change from the one school of which they know that's committee currently has this composition. Both Hecklinger and New Voices SLT parent representative Agnes Laird, though, mention the omission of the intentions behind measures taken.
If there is a correlation between them and the mural, it has been lost on much of staff, as reflected in Sheldon's email from late March, "[New Voices] teachers had nothing to do with the mural.... the work they are doing ... has not changed course because of the mural. [They are] carrying it out as they have done for years." In this same email, Sheldon refused comment on the behalves of staff and Giordano.  
During the MJP Town Hall, CEC District 14 President Tajh Sutton lays bare the plain issue the school faces in its response: "We really need to think about the fabric of our schools, the ways that we perform diversity as opposed to really creating the conditions for safety for diverse communities."
During their February meeting, a member of the District 15 DEI Committee spoke of the uncertainty of navigating DEI at the school level: "It seems like every school in District 15 is expected to simply have an equity team and it's up to the individual school to make of it what it wants. In some ways it's great to have that freedom but in other ways, it's like 'well, what do we do?'" In the absence of protocol that distinguishes between performance and real creation of safety, MJP ascended as the "little school that could," in MJP Executive Director Elton Dodson's words, rise above discrimination.
SCHOOL-COMMUNITY OVERLAP AND CRITICALLY REFLECTIVE LEADERSHIP ARE FOUNDATIONAL TO CULTURALLY RESPONSIVE SUSTAINING EDUCATION
MJP has hosted a Freedom to Dream celebration to encourage student expression, has been strategic in building a coalition across District 15 to resist discrimination, and has kept up conversation with the district superintendents to sustain pressure on demands they hope will result in what Dodson calls the "30,000-foot mission" – safe, equitable spaces for kids to freely imagine. In the classrooms at ACE Academy for Scholars, Principal José Jimenez notices bringing diversity "creates an opening" for these spaces to form and is a product of his original goal for the school, "for kids to bring what they bring be the focus of how we teach."
Hecklinger acknowledges a similar impact of representing diversity in his fifth-grade classroom, "students feel freer in my room to explore ideas than they would if we didn't have that approach. I just call it responsible teaching or hearing from as many voices as possible," he said. "In literacy, we'll read a book like George, and when you start the book, the students in discussions will talk about George as a boy who thinks he's a girl, and as you get to Chapter 2 or 3, students will shift and start talking about this girl who everybody thinks is a boy. That's unbelievably amazing."
Unfortunately, without culturally responsive school leadership, the degree of a student's social-emotional learning is up to chance, and instruction like Hecklinger's is not pervasive throughout the elementary school. PS 295 parent Patrie mentioned many parents at the school worry that next year when their kids enter third grade, their children won't be placed with the widely favored teacher, known to better practice cultural responsiveness, over the teacher unsympathetic to the grief from the mural takedown.
And Stefanie Albaeck, parent of student muralist Hollis Albaeck, similarly spoke about her son's chance experience at PS 295, crediting families and teachers with their positive time. [I]t's amazing to me that with such a weak administration, that can actually hold the entire school up." 
Executive Director of the Metropolitan Center for Research on Equity and the Transformation of Schools Dr. Fabienne Doucet attributes the presence of diversity to school-community overlap. In an email, she wrote, "valuing what families bring to the [child's education] necessarily includes valuing the fullness of who they are and the many identities they carry – racially, ethnically, linguistically, socioeconomically, their neurodiversity and dimensions of disability and ability, their gender identities and sexual orientations, and so on."
Through MJP's lens, school-community overlap manifests as accountability applied from outside the DOE bureaucracy and is "the drum [they] beat," as Dodson puts it. Without this oversight that values a focus on kids bringing what they bring to class in all its diversity, Dodson says, their broken trust in leadership's ability to provide safety for their kids cannot mend. 
Dr. Doucet also flags the role of the individual in school-community overlap, suggesting neither can exist without the other. She wrote community involvement "also requires educators to examine their own identities and how those inform their assumptions, expectations, and experiences." A 2016 report outlines a few core indices of a culturally proficient educational leader, including demonstrating "the ability ... to understand, address and even advocate for community-based issues;" "helping each student understand
himself or herself as a unique, competent, and valued member of a diverse cultural community rather than a deprived minority in a dominant culture;" having a "principled, moral responsibility to counter ... historically oppressive structures" and ensuring cultural responsiveness "is a priority for individual teachers in their instruction as well in the overall school culture."
The report notably determines critical reflection as being "foundational and actually preced[ing] any actions in leadership." In an email addressing New Voices parents following the middle school's town hall, Sheldon mapped the progression of school leadership that chooses censorship over accountability and self-reflection to school-community fracture: "One of the primary causes of the misinformation and character assassination is the absence of teacher led conversations about what happened with the mural. ... If our faculty [does not] have candid conversations ... then the students and families are left to make conclusions from whatever information is available to them." 
DEI IN PRACTICE
Principal Jimenez delights in the influence an individual has on the practice of CRSE because he says the pillars of the model arrived in his inbox from the DOE is the end of the effort. "The beginning has to be with the individuals. The degree of inclusivity of the school leader is felt when you step into the school." At the same time, he is not ignorant to the easy mismanagement human initiative allows.
By his own directive, Jimenez has created an environment within his building wherein students are center stage, take initiative, are part of a community, take risks, have space to fail, are seen through an asset-based lens, and are treated as the "balls of creative potential that is all they are." This environment originates with the school's vision and mission developed collaboratively between teachers and parents over the first seven months Jimenez was principal.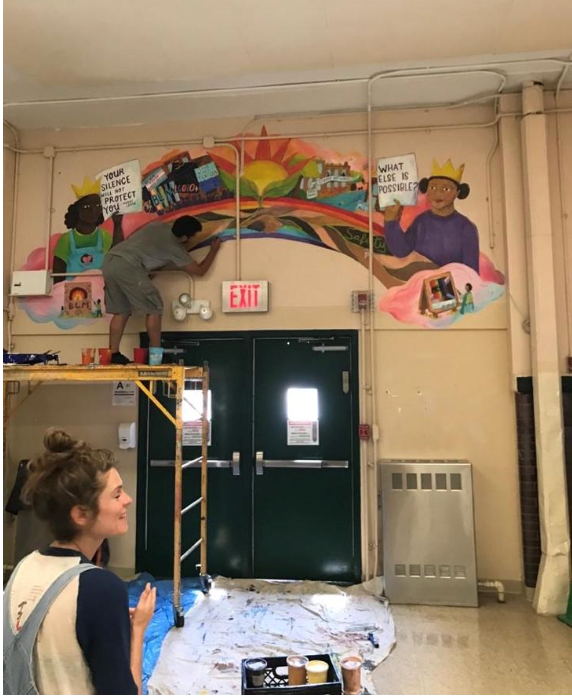 He attributes their aliveness to the intention and collaborative aspect behind them that elicited deliberation over questions of why any of them show up to school and made pervasive an ethic of developing the whole child. 
Jimenez has also been working with staff to improve the Core social studies curriculum to provide fuller context to each culture taught and thereby create continuity. In his curriculum, first graders learn about Africa; second graders learn about Ancient Rome, Ancient Greece, the Vikings; and third graders learn about Asia. "In fourth grade, we call [the unit] 'Three Worlds Meet.' So, by the time they get to fourth grade, they know that African people had rich cultures before that.
And if we didn't do that, they wouldn't know anything about Africa." He reads the poster pinned above his desk, "Know history, know self. No history, no self." He critiques the heroes and holidays celebrations many schools incorporate, saying elementary-aged kids lack the temporal awareness to create chronology, and if a disparate culture is celebrated each month without context, students' education is fragmented and they remain without belonging. 
At ACE Academy for Scholars, it isn't a reprimand to visit the principal's office. Another metric of the success of Jimenez's leadership and teachers' social-emotional consciousness is reflected in instances of students petitioning Jimenez for changes in the school.
A few weeks back, a student approached him asking for broader Egyptian representation in the social studies curriculum. She wanted it intentionally taught rather than passively available in the library. He attests to students bringing him ideas like this all the time. And for any behavior in which Jimenez can recognize students' comfort and engagement, he gives credit to the emotional depth between the teacher and students wherein community is fostered. 
He too shares about a first-grader, who a few days ago went to the nurse's office to treat a gash on his head from tripping on pavement. Jimenez said it started with a couple kids crying, and soon it became the whole class sobbing. While sitting with them in tears, he taught them this is what empathy looks like, and we need more of it.
PROGRESS
Jimenez warns against the unrealistic expectation for our systems to be preventative. Considering they are human created and operated, there are bound to be ruptures.
In their 2016 report, Khalifa and his colleagues also note the importance of the school leaders' "willingness to learn on the job." Kirkland defines education as teaching and learning, a concept represented in inquiry-based classrooms by teachers and students playing both actors and recipients. In many ways, the individuals aching from the mural takedown have felt administrators have ignored the opportunity of treating this as a "teaching and learning" moment that might indicate progress.
Rather, this grassroots coalition – The Mural Justice Project – that has been forging the way in its elementary and middle schools toward CRSE, with its demands summed as school-community overlap and critically aware school leaders, is the progress.
More prominent than the group's verbal demands, though, is its self-imposition into a school-community relationship in spite of the "huge, can't see around, can't get over" failure of school leadership to act with cultural responsiveness, which rendered this relationship improbable. And, undoubtedly as a product of this persistence, Pagano announced her resignation on May 17.
Dodson emphasizes, though, even this is still just the beginning of creating safety for the school's children, and the hard part is still ahead. In Fine's words, "what seems painfully naïve or complicit is [administrators] thought educators and parents would comply and the beautiful thing about Brooklyn is that they said, 'No. We believe in a world not yet'" that centers historically undervalued communities. 
"Student marginalization is often historic, normalized, and 'invisiblized' in most educational contexts," and even in "progressive Brooklyn," where outspokenness about anti-CRT doesn't necessarily show up loudly at school board meetings, quiet forms of discrimination can as easily perpetuate erasure. Such instances are more common in Brooklyn than people feel safe to speak out.
Countering them with conditions that truly create safety for historically undervalued communities in individual schools demands much more complex consideration and internal transformation than appears simple in a DOE statement.
Sara Bass is an emerging journalist most interested in stories of education, gender equity, and climate change. She is a Southern California native, and in the fall, she will attend Aarhus University to study journalism in hopes of becoming a local reporter for a US-based radio station. Most of her work can be found on Radio Free Brooklyn's website.