After I left college in the 1970s, I beat a fast track to Las Vegas, auditioned and was hired as a singer/dancer for the afore-mentioned show which was being installed at the spanking new MGM Grand Hotel in Reno. Sadly, these Follies-styled shows, which originated in Paris and were made famous in America in the early 1900s by Florenz Ziegfeld, are already joining a long list of items lumbering towards 21st-century obsolescence.
But these revues were once, if not as American as apple pie, pretty close to. In the 1950s and '60s, Lucille Ball and Carol Burnett could spoof elaborately costumed showgirls struggling to balance enormous feathered headdresses — while doing the iconic, close-crossed ankle showgirl walk — and not a single television viewer had a question as to the source material. I'm not sure the same could be said now.
These were not gyrating, naked pole dancers, leering at the audience. Absolument pas! Madame Bluebell, longtime manager of the Lido Paris and world-famous procurer of Vegas showgirl beauty once said, "I want them tall with long necks to show off the costumes and long legs because they show up better and ballet training which is essential to do the Ziegfeld walk. I made my reputation on elegance and class."
When I entered the grand ballroom at the old MGM Hotel for this 40th reunion, I was half expecting some sad, real-life version of Sondheim's dark musical Follies. Nothing could have been further from the truth.
Three hundred of us had materialized from every corner of the world. Men and women were dressed to the nines (and tens and elevens)! Hair had been done, makeup carefully applied. I imagined Spanx had done a windfall business in the weeks prior to our get-together.
There was a heartbreaking "In Memoriam" board, filled mostly by photographs of young men who died during the height of the AIDS plague in the mid-to-late 1980s. Amongst us, there was an older and still beautiful showgirl on a walker, several others creeping along with canes. There were male ex-dancers with securely sprayed comb-overs.
Few of us had allowed any significant number of white hairs a foothold on our heads with help from Clairol. Our group's collective resistance to the passage of time had, by and large, paid off well. Sure, there was evidence of recently performed Botox and unnaturally tightened skin signifying a surgeon's craft. Most of us had gained weight and walked a bit less sprightly than when we danced on that stage, but we all looked damn good.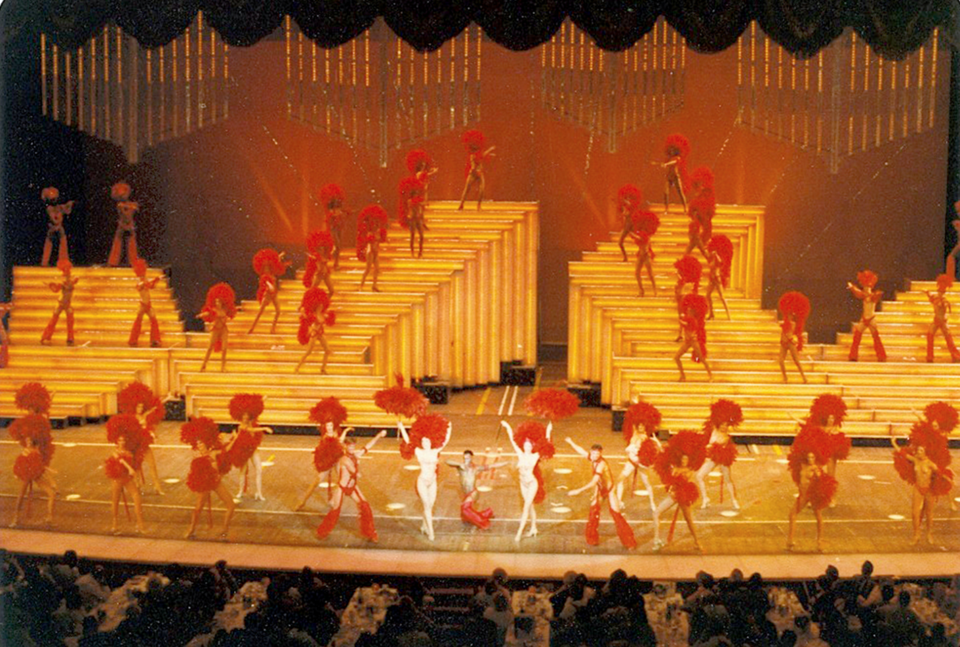 And that stage had been a lot to maneuver; it covered a full acre with elevators descending down three levels, hauling back neon-sit staircases, a full-sized 727 airliner, a 1906 San Francisco ballroom, a galactic palace and a fantastical circus which ended, appropriately, with a live lion — the symbol of the MGM film studio — roaring at the audience.
For all of that, there was something present the night of our reunion I didn't remember from my days performing in the show: joy. Buckets of joy. A veritable sea of joy. There was a tacit understanding amongst us that we most likely would never again see one another en masse looking enough like our old selves to be still recognizable, and we made the most of this moment.
I believed we now more clearly saw life's ultimate writing on the wall and behaved with compassion and appreciation towards one another; we delivered air kisses that really connected. We rushed about, hoping to speak with everyone, not wanting to miss a single greeting. Four of us rose from our table at the opening of the reunion and sang a barbershop quartet version of our show's opening number.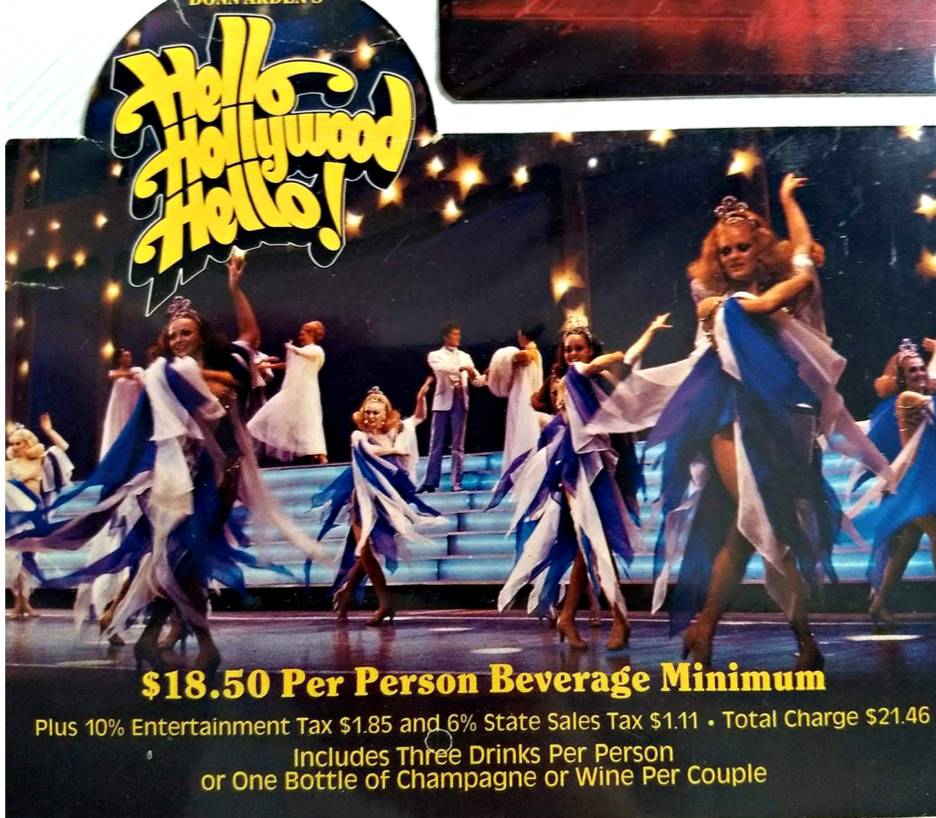 Hello Hollywood hello,

We're calling just to say hello

Arrived in Reno, the town's a gem

We're heading right away for MGM!
The room erupted after our last note. We applauded...for what? Feathers and big sets and dignified choreography? Yes. But we also applauded who we had all become. We applauded our courage, all these once youthful beauties, to simply show up in that ballroom, warts, wrinkles, baldness, impotence, stretch marks and all. And we applauded a time when we were—at least in our own minds—truly great.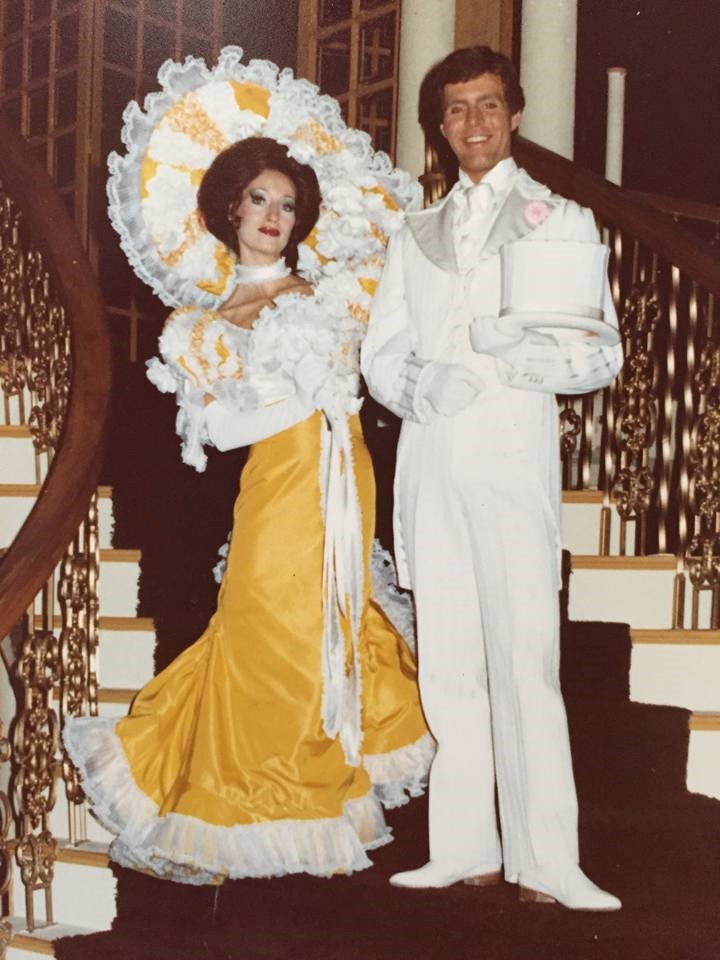 This may seem an insignificant greatness to outsiders but let's face it: Much in life is ultimately insignificant. We had been a strange little curio in the cabinet of American culture and we were glad for it.
These revues served as a sort of paean to the mid-20th century American Dream (or, better now, the American Illusion); beautiful women and handsome men undulating with grace across a polished stage while stupendous set-pieces rose magically into view. The music, mostly standards from the Great American Songbook, once promised our doe-eyed parents and their parents' generations a lifetime of eternal romance, music and lyrics now discarded by Love's more pragmatic millennial and x-gen friends.
The American landscape has changed radically since the 20th century's embodiment of dreams in the music, dance and costumes of Ziegfeld-type revues. Nowadays, dreams are more nightmarish as we toss and turn towards some renewed hope for sanity in our nation's capital. And, admittedly, our revues didn't realistically represent the gestalt of their times; maybe for some, but restlessness has lurked beneath the American Dream for decades.
I doubt when our president beckons us to "Make America Great Again" that he fully grasps that there are many benign, similarly quirky corners of sweet, if somewhat misguided, nostalgia that lives amongst us.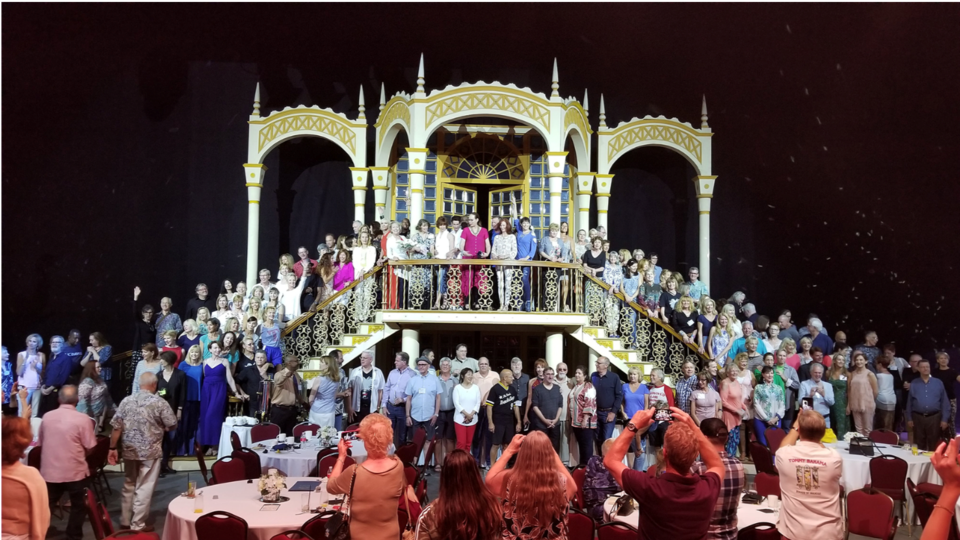 Not a yearning for segregation or the marginalizing of gays or a reaching back to an ugly time when a woman's body was not her own, but a hankering, in my case, at least, for something as corny as our old show, something truly quite innocent and lovely, made all the more so in light of today's easy access to online pornography which promises to gratify any and all appetites, yet never quite does.
At the reunion, a healthier gratification was stage center; we re-told our stories and re-lived our glory days, days when our bodies worked so much better, our voices sounded so much lighter, our necks and backs were so much straighter. Whatever veils time has ripped away from the American Dream, our celebration was made of the real stuff of dreams.
"Hello Hollywood, Hello!," a piece of fluff, had brought us together. Our reunited spirits now did the rest.