By Angeli Rasbury
In his Flatbush apartment, Chicago-born Bob Gore prepares for an upcoming exhibit and promotes his latest book "Know Justice, Know Peace: Black Lives Matter (BLM) New York City Protest Photos 2020."
In 1964 as a teen, Gore participated in a demonstration organized by ministerial leaders of Chicago's Westside Warren Avenue Congregational Church for Michael Schwerner, James Chaney, and Andrew Goodman. The three men had been working with the Freedom Summer Project to register African Americans to vote when they were murdered by Ku Klux Klan members in Neshoba County, Mississippi.
As the church's youth group president, Gore attended a retreat where the guest speaker was Rev. Dr. Martin Luther King, Jr.
"I'd read about Dr. King and the Civil Rights Movement in Jet magazines and Black newspapers before delivering them," he said.
After hearing Dr. King, he joined the Chicago Freedom Movement to organize and empower Chicago's Blacks living in sub-standard housing and to push for open housing. Those days Gore, now 75, couldn't afford a camera.
"I knew it was important but couldn't record it," he said.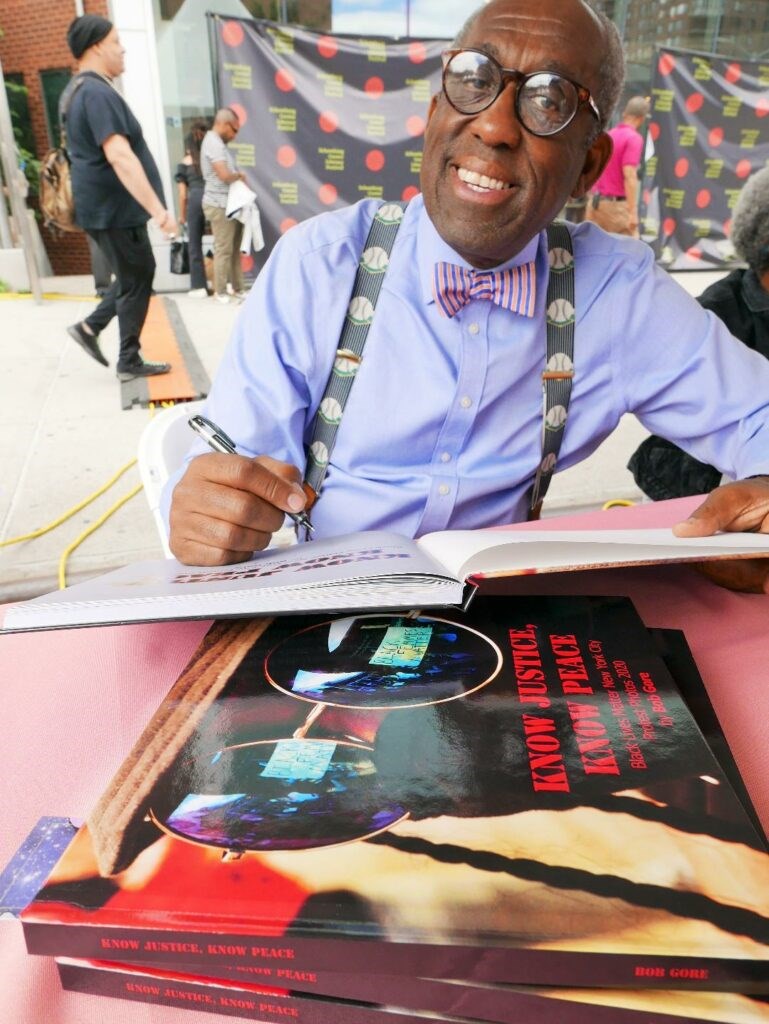 He promised himself he'd document "our stuff" if he ever got his hands on a camera. In 1969 Gore acquired his first camera and began to record people and events. His goal was to document the diasporic Black experience and train others to do the same. Arturo Schoumburg whose collection of over 10,000 items of Black literature, slave narratives, other works and artifacts was purchased by the New York Public Library was an inspiration.
After George Floyd, a Black man, was killed in May 2020 in Minneapolis by white police officer Derek Chauvin, Black Lives Matter protests took over New York City streets a few months into the Covid pandemic. Gore grabbed his cameras. Civilian work in lieu of military service had taken him to Buffalo and Boston for media work before he settled in New York City in 1979,
"Simply put," he said, "I was revisiting my youth. I hadn't been in protests and movements like that since my Chicago Freedom Movement days." There was another draw for Gore.
"Young people's energy is infectious."
Gore's work is archived at Brooklyn Public Library, the Schomburg, and the New York Historical Society. Days he's not reviewing photographs for an upcoming exhibit or archiving or shooting an event, he may be baking cookies. Decades ago the photographer realized food bonds people and opens doors. And food and baking are vital to movements, feeding those organizing and protesting and funding the work.
Gore's upcoming exhibit "Witnessing Faith" opens Jan. 28, at the Interchurch Center, 61 Claremont Ave. at 120th St. He sells "Know Justice, Know Peace" and shares part of his archives at his website.
Bob Gore's cookies:
Most requested: Anything that includes guava
Most robust: Oatmeal fruit bar (which has three kinds of raisins, figs and maybe nuts)
Most frequently gifted: Chocolate Chip
The opinions, content and/or information in this article are those of the author and are independent of BK Reader.