"The Art of Seeing"
---
This is my last column for 2019, and as I cast back over the happenings of the year, I am drawn again and again to the memory of my fiftieth high school reunion. I know for many of you this seems like an impossibly distant event in your own lives; I thought that, too, even as recently as a decade ago.
Allow me to assure you that your own fiftieth high school reunion will arrive, and perhaps some of my observations will ring true for you at that point in your lives, or, perhaps even register in your heart right now.
In mid-September, I flew out to San Jose, California for the gettogether. I was happy to see so many faces from the really not-so-distant past, happy to see how well those faces had weathered the past five decades, happy to see that we were--most all one hundred and fifty of us-- still self-propelled.
The evening was also tinged with bitter-sweetness. I knew even as we were shouting our merry first "hellos," in too few years we will sigh out our final "good byes."
And now that we all have more years behind us than ahead of us, I feel I am comfortable enough to confess something that has bothered me from that evening.
Let me begin by saying that I have a long history of being coy whenever the subject of my age comes up in conversation. I have justified my evasions of the true number on the grounds that society has many negative preconceptions around age--any age, really-- but mostly around the post-fifty-ish ages. I have thrown in, "My youthful outlook doesn't square with my real year number;" Or, "Age is just a state of mind." (Tell my knees that!) Or, "If my real birth year is known, I will be unfairly prejudged, boxed up and shelved in some dusty, forgotten corner."
And whatever rationales I came up with, there was also vanity mixed in with a dash of wishful thinking.
I had a vision of myself when I was in high school, that I was a sort of enfant terrible, filled with unspeakable drive and bizarre and innovative passions. I imagined I was somehow different from everyone else, my dreams still-undefined yet immensely powerful. But then, somewhere around thirty years of age, I felt as though perhaps I hadn't been terrible enough.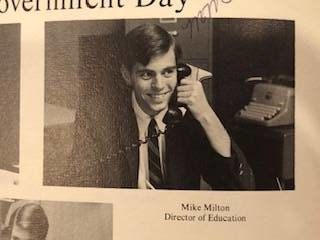 So many of those early dreams were still untouched. Where was the BMW? Where was the mansion in Bel Air? Where was the Pulitzer? Was it altogether unreasonable that I decided to begin cheating backwards in time to allow the manifestation of those dreams to catch up to my fast-forwarding real age?
Yes, it was unreasonable. And it was untruthful.
I was aided in this perverse plan by being the inheritor of my mother's seemingly ageless genes. At thirty, I could still pass for twenty. At forty I was clicking back the clock to thirty without so much as a raised eyebrow.
Still, by the time I was sixty, I realized the gig was almost up.
Sadly, I wasn't prompted by a desire to tell the truth, even though at sixty--on a good day with plenty of Ambien-inspired sleep, a sweaty TRX workout, a facial and a tasteful amount of hair color--I could still cheat down a few years.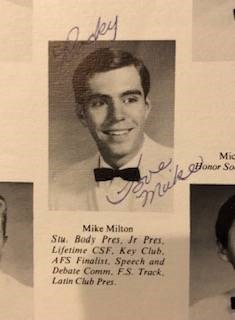 I became an honest man only because I realized that anyone remotely capable on a computer could easily verify my real birth date with the push of a key. I finally succumbed, albeit reluctantly, to the truth. I guess, in the end, I preferred being thought of as someone who looked pretty good for his real age as opposed to being labeled a flat-out liar.
On the Saturday evening at our reunion-- towards the end of the night as people began to take their leave--I was standing near the bar chatting with two classmates.
One of them (Sue, a still-stunning former cheerleader) mentioned--vis a vis whatever we were discussing—that it was seldom anymore that she was in a room where everyone was the same age. And then she looked up at me—her face suffused with apology-- and said, "Mike! I forgot. You were always younger than all of us. By two years, right?"
I blush to confess I instinctively nodded "Yes."
Sorry, Sue.
The fact is, I only skipped one grade in elementary school, so the gap in our ages is actually 365 days smaller than I led Sue to believe.
And even if it had been two years, what does it matter now? Was it worth a white lie because I think I can somehow hold back the future by shaving off a year?
I have found one of the nicest parts of getting older is my growing ability to tell the truth about myself (most of the time,) a desire to be truly known in what time I have left.
At one point in our evening together back in September, I became a bit verklempt. I had just finished looking through the beautifully assembled catalogue of our already-passed classmates. I turned to look out over the room, everyone talking, waving, laughing, eyes glancing down to name tags then back up to faces with an "Ohhhh, I remember you now!" sort of expression.
The hall was filled with a sweet din of delight and surprise. It was like a Christmas morning in some overly fertile parent's home, their many kids sitting around the tree, ripping off the paper which had for days disguised these long desired gifts.
I suddenly realized, we are—even after the passage of half a century-- all a family.
I am an only child. My extended family was always quite small. Who would be my family, I often fretted, when my biological family was no longer?
I didn't understand back in high school how my classmates and I were all so closely connected. I felt I was the only one filled with the awkwardness of puberty, alone in my uncertainties about the future, alone in my spiritual questionings, alone in my wonderings as to the prerequisite steps in becoming a part of a world bigger than San Jose.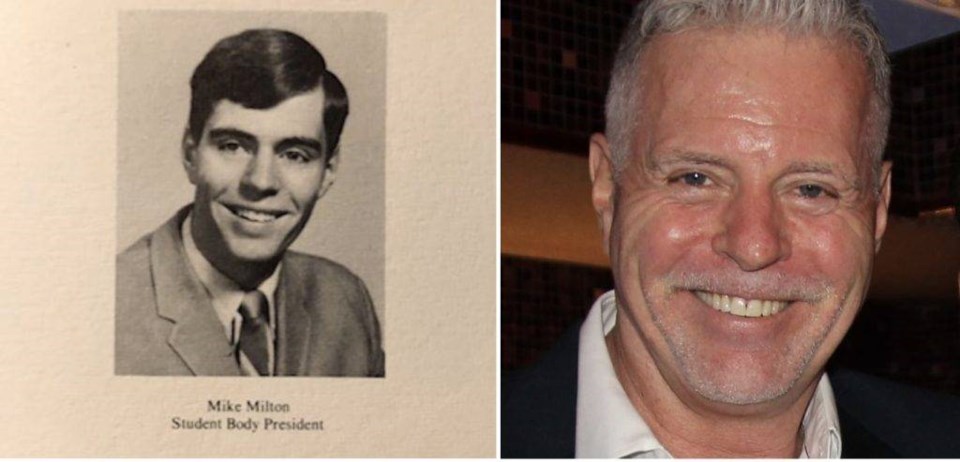 What is "family" at the end of the day? Sure, genetics, bloodlines, brothers, sisters, uncles and aunts. Yet, there are other and perhaps just as meaningful connections.
We graduates at that celebration had all been raised in the same valley, breathing the same air--then still sweet with the seasonal changes of our fields and orchards, our city only just beginning to hint at the silicone changes that lay ahead.
All of us were of a similar socio-economic background, all of us with parents attached to one or the other political party back when donkeys and elephants were more peacefully aligned than they are now.
All of us were roaring with hormones, eating the same warm yeasty rolls at lunch, all of us embarrassed by our body hair, by our sudden erections, by our monthly periods. All us doing similar calisthenics, striding across the same school quad, drinking the same, pure water.
All of us were studying from the same books, repeating the same gossip, admiring the same people, seeing the same movies, wearing pretty much the same style of clothes.
All of us gentle in similar ways, fearful in similar ways, angry in similar ways, petulant in similar ways, loving in similar ways.
Doesn't all of this boil down to a kind of genetics?
Somewhere in my middle age after years of being somewhat of a loner, I became a joiner; I joined a chorus, a Toastmasters group, a writing group, a meditation center. I hiked with one club and traveled with another. And yes, these various groupings provided a kind of latter-day, cobbled- together sort of family.
Yet, being with all of my friends at the reunion made me realize I had always possessed a more primal, more historic clan I could call my own.
One of my favorite poems ends;
May God bless my people
Remember them kindly
In their times of trouble
And in the hour of their taking away.
…those who quietly treat me as one, familiar and well beloved:
But will not, oh, will not,
Not now, not ever; but will
Not ever tell me who I am.
James Agee, Knoxville; Summer, 1915
I say this prayer for my classmates now. Back in 1969, we saw each other at our shining best and rawest worst, the way family sees one another.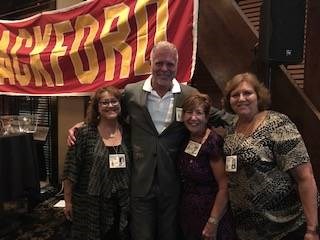 Time is the great leveler. The clock plays no favorites. Whatever ideas we had about ourselves back in high school have been smoothed down to something simple, clear, kind and now shared equally amongst us.
We were—whether we knew it or not back in 1969-- committed to a lifelong vigil for one another. We hoped for the best as our classmates broke ranks and marched forward to choose their own paths towards self-discovery.
Please be assured fellow graduates, I now know I always traveled with the murmur of your encouragements in my ear.
I know you had and always will have, mine.
I may still slip up now and then, maybe mumble a not-quite-discernable response to the question, "So, how old are you?" Yet, I know a lively group of fellow former high school seniors who will be quick to clarify my hedging.
And I'm happy for it.