By: Josiah Howard
---
Nuts, bolts, nipples, spokes, and a pair of tubes wrapped in carbon fiber. This is the secret recipe at Honey Wheel Co. Tijon Randall owner of Honey Wheel Co and Bike shop owner at Tuned has the streets buzzing with his wrench work.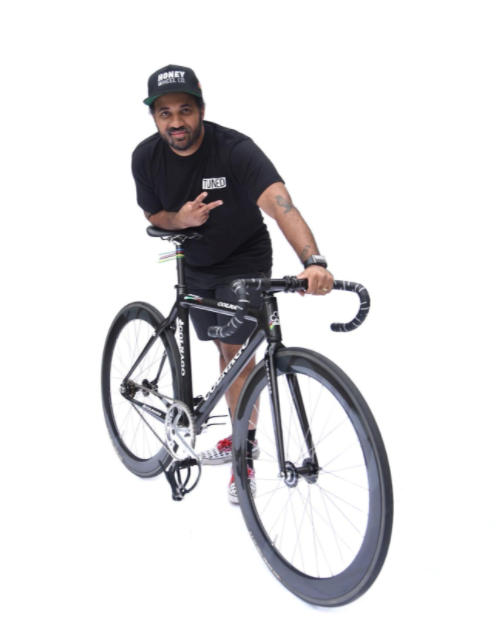 At age forty Tijon gained notoriety in New York City as a professional bike mechanic and entrepreneur. Tijon spent two decades building bikes for professional and amateur cyclists. He has been noted as one of the best bike mechanics of New York after working in several bike shops throughout New York City. With only three to four hours Tijon can build an entire bicycle starting from the frameset. Tijon recognized his talents and started his first business "Honey Wheel Co." in 2018 while he worked at a lighting company. He launched Honey Wheel Co. to fulfill his passion of building bikes and wheels. As time progressed Tijon worked at a bike shop full time.
This allowed him to build clientele and market Honey Wheel Co. Business began to expand and Tijon found himself building bikes and wheels in his living room and basement. His wife Joy suggested they open a bike shop so he could work fewer exhausting hours. In Early May of 2021 Tijon opened the doors to his new boutique bike shop, "Tuned" located on 291 Nevins st, in Brooklyn New York.
The New York native originally from East Harlem better known as "El Barrio" has made his way to Boerum Hill Brooklyn where he currently lives and runs his bike shop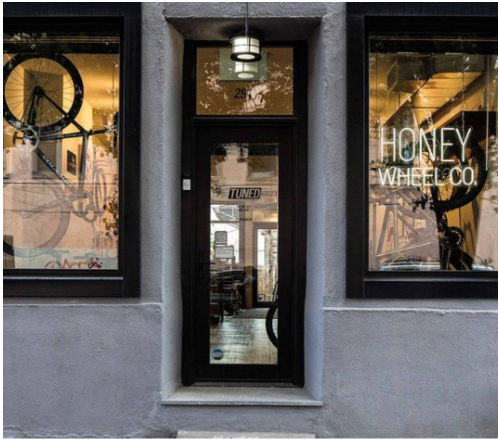 Tijon offers New York a new taste to bike shops with his Boerum Hill studio space. Tuned is more than a bike shop that offers a flat fix and handlebars. "Vibe" was a key element Tijon mentions in the way he designed the shop and services.
Tuned provides a wide variety of services such as "Bike drop-off assessment" "Coffee session with a mechanic", and "Same-day minor adjustments". Depending on your service of choice you can wait in the backyard oasis of Tuned where you can find hammocks, benches, greenery, and bikes most likely Tuned by Tijon alongside the yard.
"It was my mission to create a welcoming space for the avid and intermediate cyclists" Tijon says. With a shop visit at Tuned you should be prepared for bicycle parking, coffee, custom art pieces, and other rare bike related miscellaneous items. Majority of the items available for purchase in the shop range from tires, tubes, chains, cassettes, and track bike parts. Although Tuned does not offer any bikes for sale Honey Wheel Co coexists in the same space as Tuned where you can also inquire on purchasing a pair of Honey Wheels.
As for the famous Honey Wheel Co. the company focuses on building high performance carbon fiber wheels for road and fixed gear bicycles. Each wheel is hand built with precision and accompanied with fine details ranging from titanium quick release skewers and low-friction Japanese bearings. Honey Wheel Co. wheels range in price starting at $1,200-$1,400 plus depending on your modifications.
Although it is a boutique shop Tuned has averaged a five star rating on google and receives support from many customers.
"Tijon is the real deal â€" a friendly, super experienced and detail-focused bike mechanic. Nice shop too!" customer David I. Ban said.
Engineering and creativity are the core components of Tuned and Honey Wheel Co. In terms of bike mechanics Tijon intuitively applies this outlook when he first deals with a client ensuring he delivers the best possible experience on a bicycle.
Tijon took his passion to academia where he completed an 80-hour course and received a certificate at the Barnett Bicycle Institute for bicycle repair and overhaul. He also participated in the 2009 Park Tool Tech Summit, a hands-on training event for professional bike shop mechanics. These training sessions helped catapult his career in bike shops and provided him with new techniques in his profession.
The New York native grew up in the most concentrated areas of NYCHA housing second to Brownsville. As a teen he grew up in the stop and frisk era which he described as "Rough".
Although he wasn't raised in the most perfect neighborhood this is also where he was first introduced to bicycles. Tijon was hooked when he saw a dozen kids riding BMX bikes on first avenue.
His first bike was a BMX GT dyno, which he sold to fund his first actual bike build. Tijon built his first bike refurbishing a Huffy aluminum bike, which he assembled at age twelve. "I would go to the bike shop weekly, buying parts, spending $10 here and $15 there just to piece the bike together," said Tijon. Once he sourced all the parts for the bike, he stripped the paint off the frame, hand polished the bike chrome, and printed out a stencil with his name painting it on the bike frame.
As he grew older, he took on the discipline of BMXing riding the famous Brooklyn Banks. Tijon rode BMX for the love of the sport and mobility.
When Tijon isn't providing bike consultation services or building Honey Wheels you can find him at home watching The Simpsons or scrolling through one of his favorite artist's Instagram page Deathspray.
---
Josiah Howard is a Queens native and local Brooklyn resident currently studying information technology and minoring Cyber Security at Adelphi University. He's a purist of anything on wheels, cars, bicycles, skateboards, etc.