By Guest Blogger Linda Cousins-Newton, "The Brooklyn Storyteller"
As a long-time Brooklyn-based ancestral storyteller and writer, I enjoy, relish and grow from the adventures and lessons of life. Wisdom gathering, however, has taught me that there are delightful, growth-promoting, everyday life adventures right within our homes, our inner beings and our boroughs, as well as in our global travels.
Speaking of global travel as a Brooklyn storyteller, I frequently recall one of my most meaningful journeys: the following up on the June 2000 Enstoolment of Nana Harriet Ross Tubman as a Queen Mother here in the kingdom of Brooklyn by an August 2005 journey to Ghana for a Tubman statue dedication and street naming.
This flowed forth as a result of our Brooklyn-initiated Nana Tubman Honor in Ghana Project (in collaboration with the late John Watusi Branch, Executive Director of Queen's Center of Culture/African Poetry Theatre and the great Nana Osei Boakye Yiadom II, Ghana's first female Chief (after Nana Yaa Asantewaa). I always refer to it as "a major project with miniature money".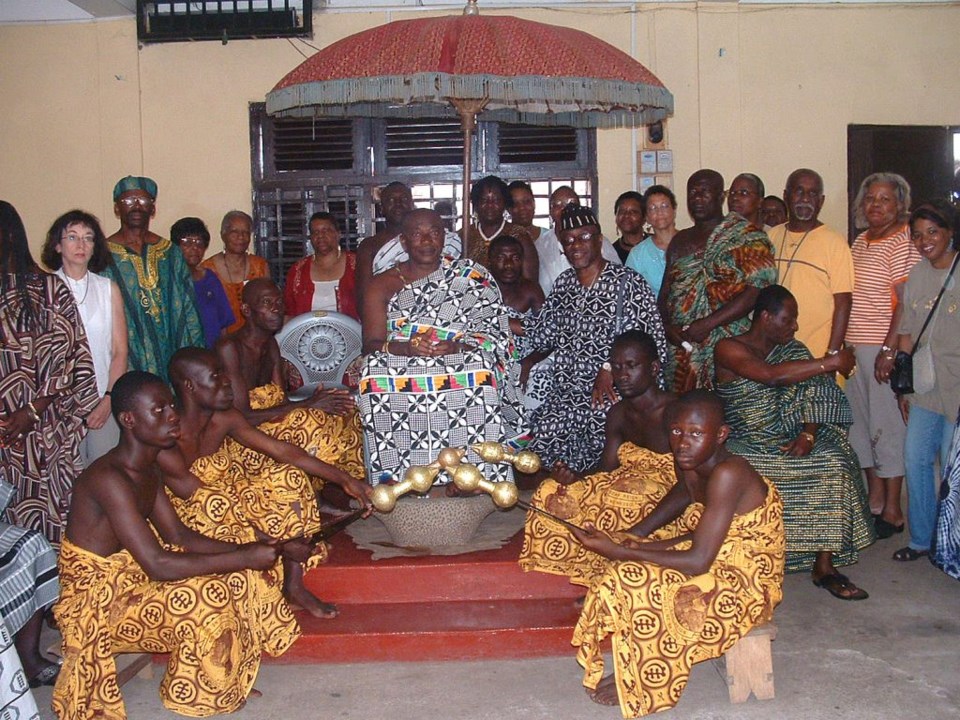 Above is a pic of Ghanaian royalty and their entourage who came out in the ancient kente-weaving village of Kumasi to welcome and greet the Tubman family members and us Tubmanite coordinators and travelers. Now that was quite a life adventure--relating the Tubman freedom exploits throughout Ghana and having the stories immediately translated into Twi for many who had never heard of this distant ancestral contributor.
The memories ever remain with me in this hallway tribute to the Tubman honor which historically spanned from Brooklyn to Ghana. Can't believe next year will mark the 10th anniversary of this cross-cultural herStory.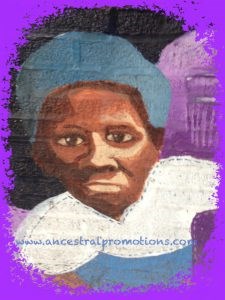 Then as I walked down Washington Avenue a few days ago, right there on a building (on the corner of St. John Pl.) was a lovely mural to numerous of our Black women sheroes, including Nana Tubman. (I call her "Nana Tubman" because she is now a queen mother in Ghana with a stool in the stool house with other royal greats there); yet her humble yet powerful spirit remains right here with us in BK, whose streets she as well as the great Sojourner Truth occasionally walked in those 19th century days.
So glad that it was in this borough she was posthumously honored with global queen motherhood and that, quiet as it's kept, so many Brooklynites joined her family for the ancestral honor in Ghana.
Her story has been told many times throughout the country, throughout the borough, and now extending from this borough nearly a decade ago to the reputed place of her familial origin--Ghana.
Loved the blessing of that Brooklyn ancestral storyteller's adventure of a lifetime. Yes, indeed.
Images of the Nana Tubman Honor in Ghana Project, (including the statue by Ghanaian sculptor Opoku Biney), can be seen at: https://amasewa.tripod.com/NanaHarrietTubman.index.html. (The three Tubman family members who traveled with us for this project were Ms. Pauline Copes Johnson, Ms. Geraldine Daniels, and Ms. LaBerta Greenlea, all of upstate NY where Nana Tubman spent her last days of love and service.)
A detailed written account of the Nana Tubman Honor in Ghana project can also be read in: Afro-Americans in New York Life and History - Harriet Tubman and the Underground Railroad, (Vol. 36. No. 1, January 2012, p. 105. (Published by the Afro-American Historical Association of the Niagara Frontier, Inc. ( www.aanylh.com)
Linda Cousins-Newton