---
I'm not the superstitious type, but I am a little hesitant to start trash-talking the winter, cause like a dystopian, weather zombie, it could come back to life to feed on our collective brains.
Still, I haven't so anxiously bid good riddance to anything since the campus doctor wrote me a 'script for an oh-so-discreet ailment back in my matriculation years.
The past few months is what I imagine the dreaded winter from the Game Of Thrones would feel like. I have yet to see dragons or get imprisoned by some prick boy king, but I have trucked across more icy terrain than Jon Snow and those miserable dudes that guard the wall.
Granted, the dreaded winter from that HBO show hasn't actually arrived, though like Omar from The Wire, everybody is scared that it's a-coming.
But like the inevitableness of partisan politics in Congress or a cat fight on Love & Hip-Hop, it's a fortunate fact that, like clock work, winter wanes and makes way for warmer weather. It's a cornucopia of amazingness that's ushered in with the warm weather. And though one can wax poetically about the birds, bees and skirts above knees, spring is also the harbinger of another beloved occurrence: March Madness.
March Madness is infectious and builds to a feverish pitch across the land and though this particular madness doesn't require meds, so much about it is just loco. And these are the four issues that jump out at me:
MONEY
The NCAA tournament is a a pimp. The word pimp might feel a bit strong, so I would ask the definition of an organization that makes money off the efforts of a group of people, but doesn't give any money to the people that's putting in the work and earning the money?
The players are the product, yet they don't receive any payout from the profit. It's a hot-button topic, but until those kids are getting some bread from the one billion dollars the NCAA makes off the tournament, then what's the real discussion?
One billion dollars. I don't even know what that means, but because I'm often on the Internet, I know that it's approximately one third of Oprah Winfrey's estimated $2.9 Billion net worth.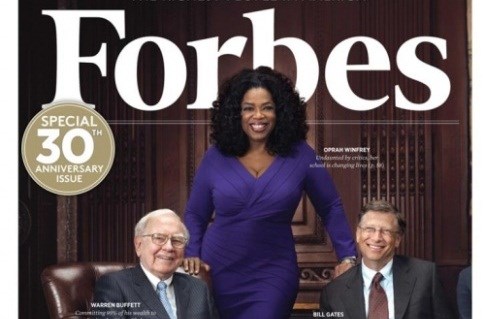 So every year, the NCAA makes one third of the money that took Oprah her entire life to amass... And they ain't eeeeenn sharing it with the players. I'm not saying it would be easy to figure out a payment system, but the unit system that the NCAA utilizes to pay the conferences and schools for the March Madness tournament isn't kindergarten math.
They obviously have people that can bang out a mathematical formula for fair payment, so just utilize those same minds, minds that are being paid for their services I might add, and apply it to figuring out how to pay the kids. That's the only thing that will make their pimp hat disappear.
Folks get their fancy undergarments in a bunch about the slave labor in Asia that's making iphones and Levis jeans for a few dollars a day, but don't bat an eye when consuming an entertainment product where the labor is getting NOTHING! That's because the little girl in Asia can't grab a rebound, take it the distance of the court and reverse slam it on a fast break.
ROOTING
College sports are very interesting when it comes to rooting and fandom. In professional sports, the primary lineage of sports fans is geographical, i.e., rooting for the home team. It's not always the case, as I live in Brooklyn, but my favorite football team is the Cowboys. But it's often the case. College sports is a bit different because it's initially the students and alumni of a school that are fans of the school's teams, which creates a far closer and more intimate relationship between team and fan.
People often have an emotional connection to the school they're attending or previously attended, which is part of the school package. You get a chance to wear the sweatshirts and jackets and act a total fool in support of your team. I get that. What I don't get is where did this nation of Duke fans come from because all of them could not have went to Duke.
The Cameron Crazies are obviously apart of the student body, but what about all the other fans, like Dallas Cowboys quarterback Tony Romo and Roger Goodell, commissioner of the NFL, who were recently at the Duke vs North Carolina game wearing Duke blue.
It's one thing to like a team when the tournament comes around, but it's another thing to completely ride for that team like you have frat party memories or intramural experiences from campus. Obviously, Duke is like the New York Yankees or Dallas Cowboys of college basketball, where people are fans because of the Blue Devil's past success, since many folks likes to be associated with winners.
But if that was the case, it should be more UCLA fans, because the Bruins have won the chip eleven times or more Kentucky fans, since the Wildcats have hugged the trophy eight times.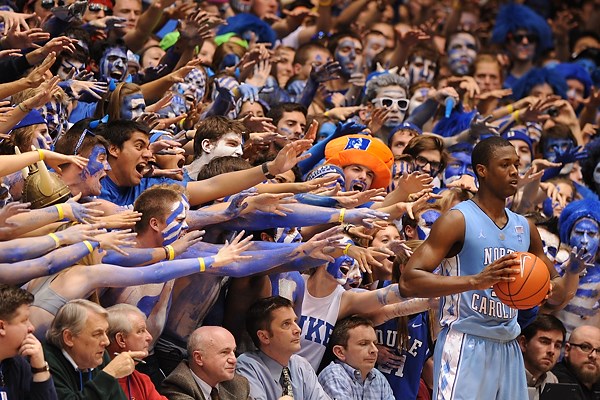 My theory on the abundance of Duke fans is for another time, but I don't think you should be a fan of another college basketball program if the school you went to actually has a division one college basketball program.
If you went to Sarah Lawrence or perhaps Pratt, it's perfectly fine to ride with Syracuse University when it comes to college basketball, because you guys stink in sports. Smart and creative, yeah, athletic, hell no. But if you actually have a dog, that if not in the race, is at least eligible for the race, then you have to stick with that school.
I remember when I was at Rutgers and one of our friends was a die-hard fan of Michigan. He would wear his Michigan hat and those excellent Russell Athletic sweatshirts with the Wolverines emblazoned across the chest.
Granted, Rutgers was getting smashed by other teams in the Big East, but c'mon son, such a blatant disregard for school spirit? If he was really that big of a fan, he should have ponied up that extra, out-of-state tuition, paid that nut and took his talents to the midwest.
If you're determined to like another college basketball program and your school already has a D1 situation, at least have that other school be in the same conference of the school that you actually attended. Being a fan is not without structure. It's rules to this s_ _t, I wrote me a manual.
STUDENT-ATHLETES
This is an excellent description of the many college students across the country that also play college athletics, such as the lacrosse player from LIU who mixes it up out on the field, but is also studying his tail off with a major in art history, a minor in political science and a future as a disgruntled, New York City school teacher. He balances his life between being an athlete and being a student.
Now, if you try to transfer that over to the one and done, diaper dandies and college as pit-stop players that will litter the NCAA tournament, then it's just a fabrication. It's like calling Ice JJ Fish a singer or Fox news unbiased.
It besmirches the dignity of real student athletes, who have the enduring difficulty of balancing both identities for four years of college. Ratchet the pressure up several notches if the student is at school on an athletic scholarship, for a sport like wrestling, where the fiscal value of the sport is nil and hence there are no test takers available to keep his GPA competition eligible.
These kids are getting short changed. America is littered with basketball players from D1 schools that never made it as a professional baller, be it in the NBA or overseas and when that dream ends, the nightmare often begins. Many of these guys didn't take their schoolwork seriously when they were playing college ball. In fact, many of these guys didn't take schoolwork seriously from the first signs of their remarkable, marketable basketball skills.
A professional b-ball career isn't always insurance against becoming broke and destitute since the stories of broke former ballers abound. Kids that cultivate other interests and get a degree or at least become learners are better prepared for adulthood and life after the hardwood.
How can a kid go to school and pass his classes when he's out on the road for the NCAA tournament? He can't, but he's probably hopeful that he can juggle and rig the system for a year or two, before he declares for the NBA draft. Sorry, but I'm gonna have to call bullshit on the whole thing.
ATHLETES' NAMES
Naming babies used to be an act that was special and had meaning. Like, a boy might be named after his grandfather or maybe an inspirational person like an astronaut or U.S. President, but for many of the kids that will be playing in the NCAA tournament, it's like their name is result of a World Star name generator. Example, on the roster of the:
Wichita State Shockers, there are players named Derail, Ria'n and Tekele.
San Diego State Aztecs, there are players named Dekarai, Aqeel, D'Erryl, Niksha and Kibrit.
VCU Rams feature players named JeQuan, Briante, Juvonte, Treveon, Antravious and Jairus on their roster.
Who are these kids' parents, and why would they do this to their progeny? African names are awesome and amazing. Arabic or Islamic names sound beautiful. English and Western names are cool. Names that sound like they were thought up while watching the Ricki Lake show at a hookie party is not so cool.
It seems like it's a kid on every college team with some spelling of the name Devon. It's Devon, Devonne, Devone. It's also a bunch of kids named Shaquille playing college ball. That's a lot of pressure to put on your kid when he starts playing pee wee hoops and especially if he doesn't have any talent.
The announcers and color commentators for college basketball must have fits trying to pronounce the names of players, with the risk of sounding like John Travolta flubbing Idina Menzel, at the Oscars, a real possibility.
MY FINAL FOUR PICKS
With all that being said, I'm still a college basketball fan and because of that, I've picked a team that I think will win it all. No, I'm not filling out a bracket. It's a bit of a chore and eats into my time browsing the Internet for funny videos of animals and babies, of which, baby animals are by far my favorite. Besides, it's too early too put a bracket together since Selection Sunday hasn't happened yet. So here's my pick...
2014 NCAA Mens Basketball Champion: Rutgers University
'Cause I'm ride or die baby (and also delusional)! Though my rational choice is the Florida Gators.