With hip-hop music set to turn 50 this year, Brooklyn-based arts organization BRIC has announced a series of upcoming programming commemorating the genre that originated in New York City.
On Friday, Aug. 11, BRIC will host live performances consisting of a roster of phenomenal alternative hip-hop artists, headlined by Digable Planets and Kari Faux.
Digable Planets is a Brooklyn-based Afro-futuristic hip-hop trio that is comprised of creatively nicknamed rappers Ishmael "Butterfly" Butler, Mariana "Ladybug Mecca" Vieira, and Craig "Doodlebug" Irving. At the upcoming show, the unapologetically political rap group will celebrate the 30th anniversary of their debut album, "Reachin' (A New Refutation of Time and Space)."
Kari Faux is a Southern alt-rap artist that is known for infusing various genres into her work, including gospel and pop, to name a few. Arriving in the hip-hop scene in 2014, Kari Faux has released multiple albums since then, including her third and most recent LP, "REAL B*TCHES DON'T DIE!," which dropped back in May 2023 to rave reviews.
Set to open for Digiable Planets and Kari Faux is NYC indie rap artist Wiki, as well as Brooklyn DJ and creative Donwill.
The following day, on Aug. 12, BRIC will be bringing a fun night of hip-hop activities to the people of Brooklyn.
The arts organization will be screening the 2002 film "Brown Sugar." Starring Taye Diggs and Sanaa Lathan, the movie highlights the writers, producers, managers, and other behind-the-scenes creatives that help keep the hip-hop scene flourishing.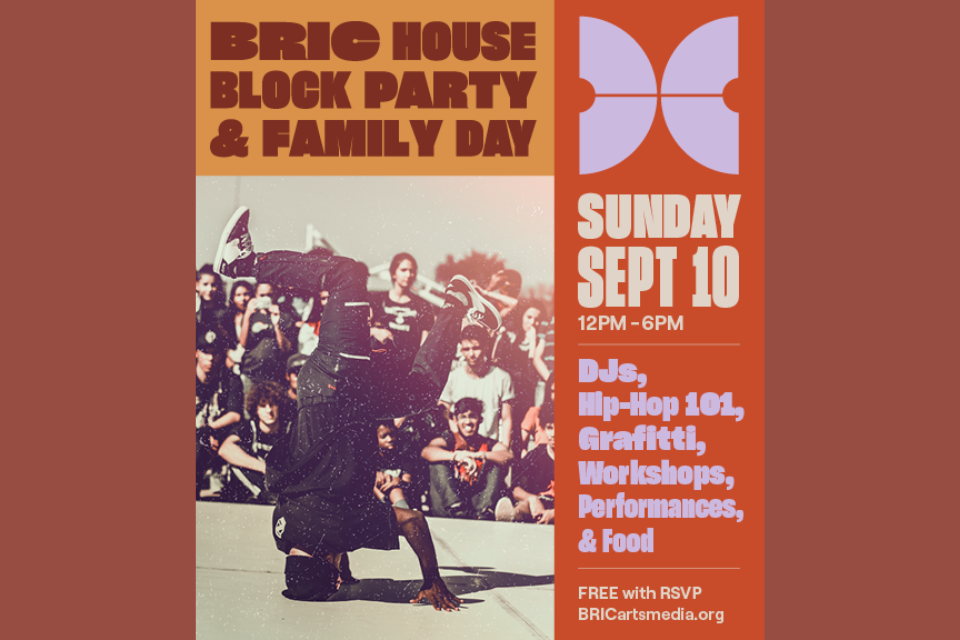 Other experiences planned for the event include a rip-roaring game of hip-hop trivia, a ceremony that honors women in hip-hop, as well as an electric DJ set that is suitable for the whole family.
Almost a full month later, on Sept. 10, from 12:00pm-6:00pm, BRIC will be putting on a block party in celebration of hip-hop's monumental anniversary.
As part of the festivities, the block party will feature a slew of head-bobbing musical performances, informative panel discussions, family art activities, along with hip-hop-inspired workshops.
In addition to the lineup of events over the next couple of months, BRIC is also offering a limited edition screenprint that is based on an acrylic painting created by Cuban-Haitian-American painter Na'ye Perez.
The eye-popping art piece, titled Purple Hearts, is an ode to the hip-hop genre, featuring gel-transferred album covers of some of the biggest names in the music genre's history, such as The Notorious B.I.G., Missy Elliot, Wu-Tang Clan, Megan Thee Stallion, and more.
The live rap show, the hip-hop activity night, and the block party are all free to attend.