Due to wildfires in Canada, The five boroughs are currently coated in a heavy haze of smoke. The abundance of fine particle matter in the air has prompted officials to declare an air quality advisory across the region.
The New York State Department of Environmental Conservation and Department of Health are issuing an air quality health advisory, which began at 12:00am last night and will continue until 11:59pm on Thursday, June 8.
According to department commissioners, the air quality is forecast to reach 'unhealthy' AQI levels on Thursday in the New York City Metro, Long Island, Eastern Lake Ontario, Central and Western regions.
Air quality health advisories are issued when DEC meteorologists predict levels of pollution, either ozone or fine particulate matter, are expected to exceed an Air Quality Index value of 100. Right now, Accuweather is showing the AQI is 170. ​
Fine particulate matter consists of tiny solid particles or liquid droplets in the air that are 2.5 microns or less in diameter. PM 2.5 can be made of many different types of particles and often come from processes that involve combustion, such as vehicle exhaust, power plants and fires.
​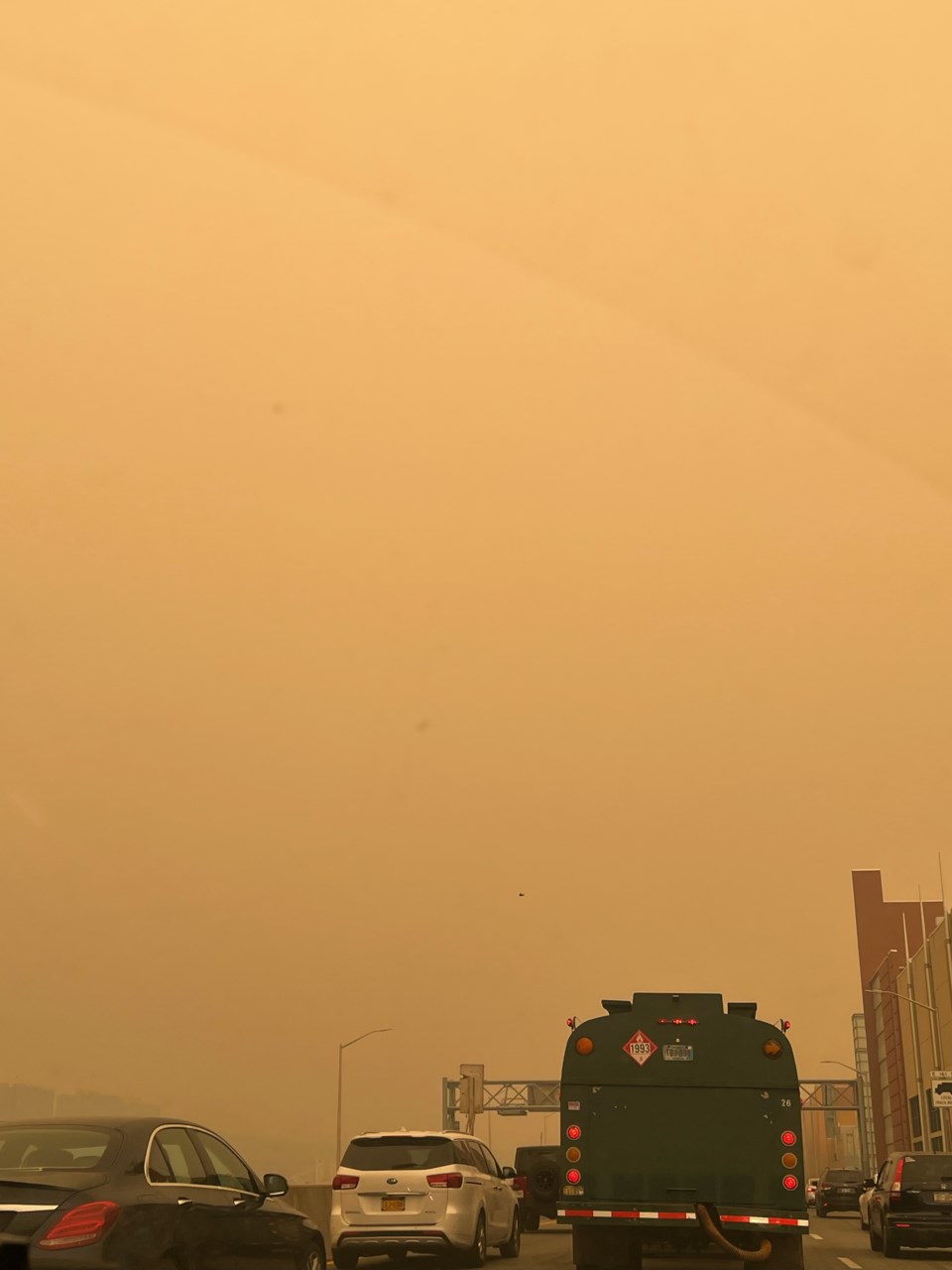 ​Exposure can cause short-term health effects, such as irritation to the eyes, nose, and throat, coughing, sneezing, runny nose and shortness of breath.
Exposure to elevated levels of fine particulate matter can also worsen medical conditions such as asthma and heart disease. People with heart or breathing problems, and children and the elderly may be particularly sensitive to PM 2.5.
When outdoor levels are elevated, going indoors may reduce exposure. If there are significant indoor sources of PM 2.5 (tobacco, candle or incense smoke, or fumes from cooking) levels inside may not be lower than outside.
Some ways to reduce exposure are to minimize outdoor and indoor sources and avoid strenuous activities in areas where fine particle concentrations are high.
New Yorkers also are urged to take the following energy-saving and pollution-reducing steps:
Use mass transit instead of driving, as automobile emissions account for about 60% of pollution in our cities
Conserve fuel and reduce exhaust emissions by combining necessary motor vehicle trips
Turn off all lights and electrical appliances in unoccupied areas
Use fans to circulate air
If air conditioning is necessary, set thermostats at 78 degrees
Close the blinds and shades to limit heat build-up and to preserve cooled air
Limit use of household appliances. If necessary, run the appliances at off-peak (after 7 p.m.) hours
Purchase and install energy-efficient lighting and appliances with the Energy Star label
Reduce or eliminate outdoor burning and attempt to minimize indoor sources of PM 2.5 such as smoking
"With the Air Quality Health Advisory extended through tomorrow, I urge New Yorkers to follow basic precautions as long as it remains in effect — and for those with pre-existing cardiac or respiratory conditions to take particular caution. Children and older adults should also be especially careful amid these conditions. As the situation develops, please continue to follow ongoing updates and warnings from health and emergency officials," NYC Public Advocate and Brooklynite Jumaane Williams said.
"These alerts and recommendations could and should have been made both earlier and more clearly. We cannot treat these as one-off situations. With climate change leading to extreme weather events only increasing in frequency, our city, state and federal government must be more proactive in protection, not reactive in response."
Jillian DiFazio, who works for the Veterinary Emergency Referral Group, an emergency services center in Brooklyn, said that there are precautions pet owners can take.
"Limit outside time just to go to the bathroom, and avoid neck collars and leashes that can put additional pressure on the airways," she said. "No outside activity otherwise."
DiFazio said to watch out for the symptoms of smoke inhalation, which can include squinting, coughing, wheezing, acting strange, staggering and excessive eye discharge.
Additional information on ozone and PM 2.5 is available here. To stay up-to-date with announcements from DEC, sign up for DEC Delivers: DEC's Premier Email Service.