"Essential Brooklyn" is an 8-part series spotlighting the people and organizations working overtime to lift up their communities through the COVID-19 pandemic. These are the ones who give the most with the least resources. They're our true essential workers, our community anchors; the ones who often go unnoticed, until you need them.... The ones who have been there for us all along.
---
It was a sunny Tuesday afternoon in Downtown Brooklyn.
Paula Santiago and Jeffery Foster loaded a Zipcar parked outside VOCAL NY's drop-in center to do deliveries-- an adjustment due to the coronavirus pandemic. Normally they take the train and walk.
Packs of syringes, alcohol wipes, water and other supplies for safe injecting, and masks and sanitizer were packed into the trunk, which was a constant challenge to unlock-Santiago said they always end up with the same faulty car.
That morning, they were headed to Sunset Park to meet with regular participants in VOCAL NY's harm reduction program to hand over supplies.
As we made the drive over, Foster, an outreach worker for VOCAL, visited the drop-in center regularly as a drug user, he explained to us from the front seat. Today, five years after graduating from VOCAL's peer education program, and with a lot of hard work and commitment, Foster has become a full-time staff member.
"That's my life right there. Now, I get up to work to change lives. I help other people, and it keeps it moving forward for me," he said.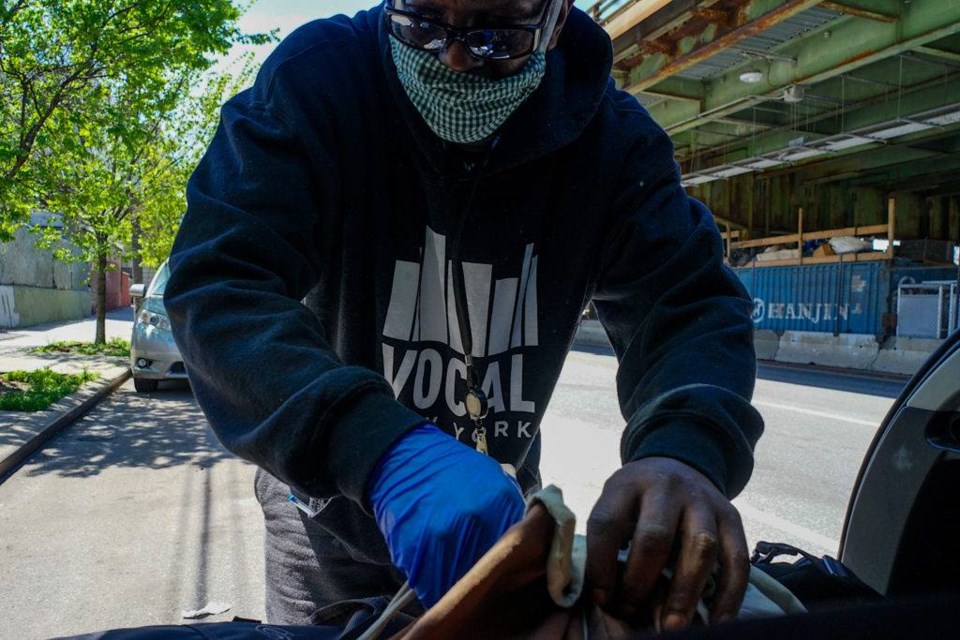 When he first started the peer education program, Foster said his life was in chaos; he was going back and forth to jail and using heavily.
"It really brightened up my life, because being homeless with no direction, then sitting up there learning, it just opened up something in me," he said. "The will to want to live, that's how I put it. Because before that, I didn't care about today or tomorrow; I lived for that second. Things changed."
Fighting drug addiction since the 90s
VOCAL NY was founded in 1999 as The New York City AIDS Housing Network and now has two arms: organizing and service. It builds power among low-income people affected by HIV/AIDS, the drug war, mass incarceration and homelessness through community organizing, leadership development, public education, research, direct action and services.
A main function of the service arm is harm reduction and overdose prevention for active and former drug users. To do that, it runs a needle exchange at the Downtown Brooklyn drop-in center as well as provides outreach services, free programming, testing and medical treatment, general life assistance, and holistic peer education programs. In other words, the organization does a lot.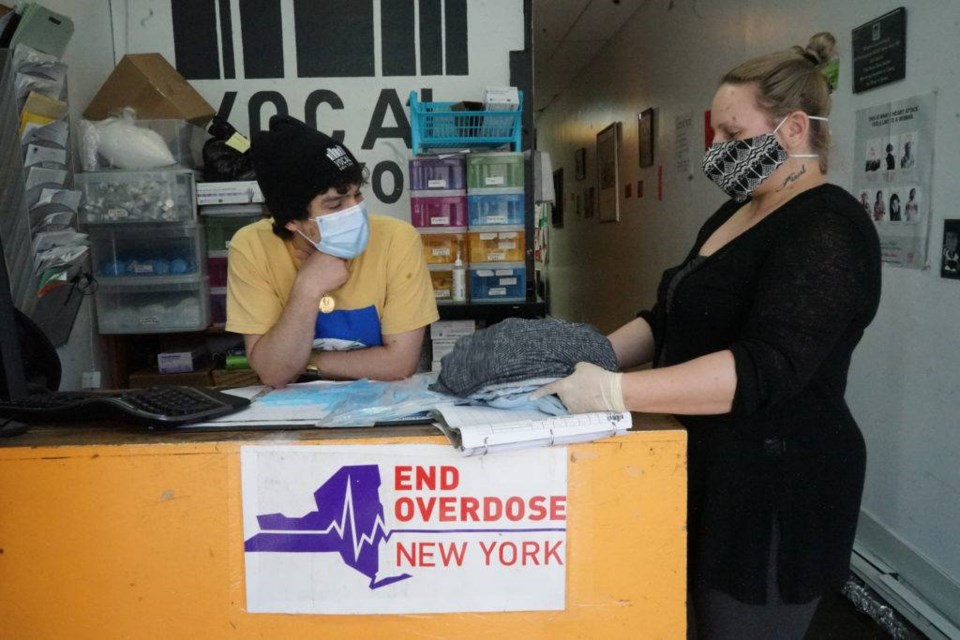 Opposed to forced treatment, which Foster has been through, the important thing about harm reduction was that the staff behind it "meet you where you at, until you believe who are you," he said.
Peer education, a pinnacle of the service team's work, is a 13-week program run by folks who had been through addiction and have come out the other side. After graduating the program, participants apply to work as peer educators at VOCAL when part and full time positions come up.
Foster said the program covered "every minor issue in life that might affect your way of living," and helped him gain a better understanding of how to be a father and provider. It is a constant process and he's still fighting his demons, he added, but was just trying to stay on course.
"It just showed me I have to slow down to move forward; to understand what I'm doing and minimize things until they get better."
Holistic approach to systemic problem
Outreach and peer education manager Paula Santiago, who joined VOCAL in 2014 after decades working in harm reduction, created the organization's peer education program and grew the outreach team, which covers Brooklyn neighborhoods including Sunset Park, Red Hook and Bed-Stuy.
The whole point of the work, she said, was to keep people safe and healthy, and VOCAL understood doing that meant getting to the root of the systemic problems that caused the issues.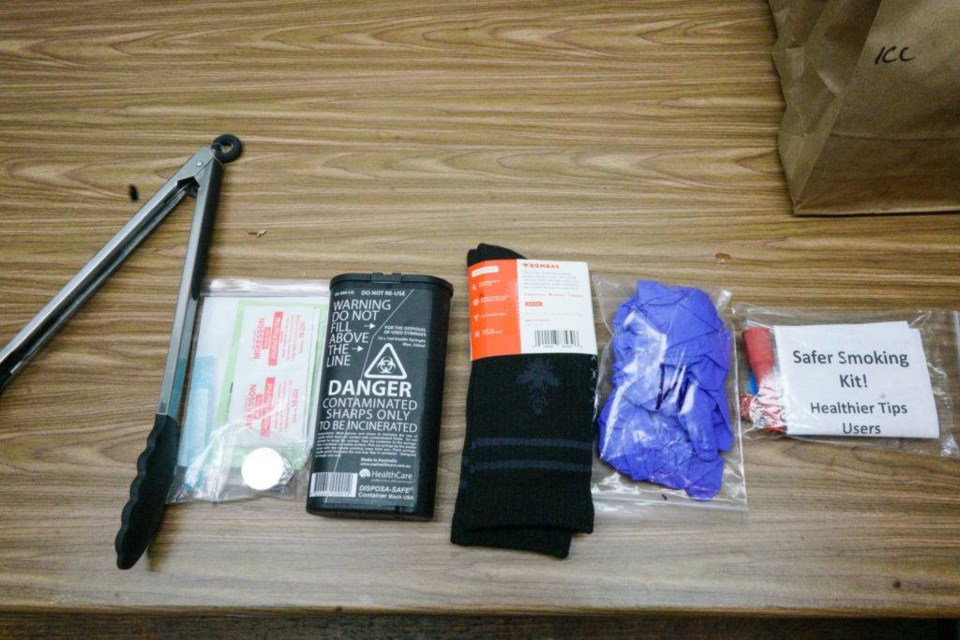 Santiago created a holistic education program, incorporating social justice into the weekly sessions:
"[The participants] need to really realize this and see it for what it really is-- a systemic situation that needs to be addressed," she said. "You'd be surprised how many people just need a little break to change their lives. Just a little break, and people don't realize it, and they lack compassion."
As we drove up 4th Avenue, we passed a man pushing a woman along the street in a shopping cart with their belongings, both with big smiles on their faces. Santiago looked at the couple and smiled, "They look happy don't they? Now that's true love. They've been through everything together."
Adapting in a pandemic
When COVID-19 hit, VOCAL knew it needed to keep serving the community while adapt to a new way of doing things. The Zipcars have replaced the train for outreach. The drop-in center has paused much of its programming. And exchanges and supplies are being registered at the front door.
The on-site bathroom is still open for participants, and the team is there between 10:00am-4:00pm to help with whatever they need, including masks, sanitizer, food and clothing. The organization also is receiving the stimulus checks for those who don't have a permanent address.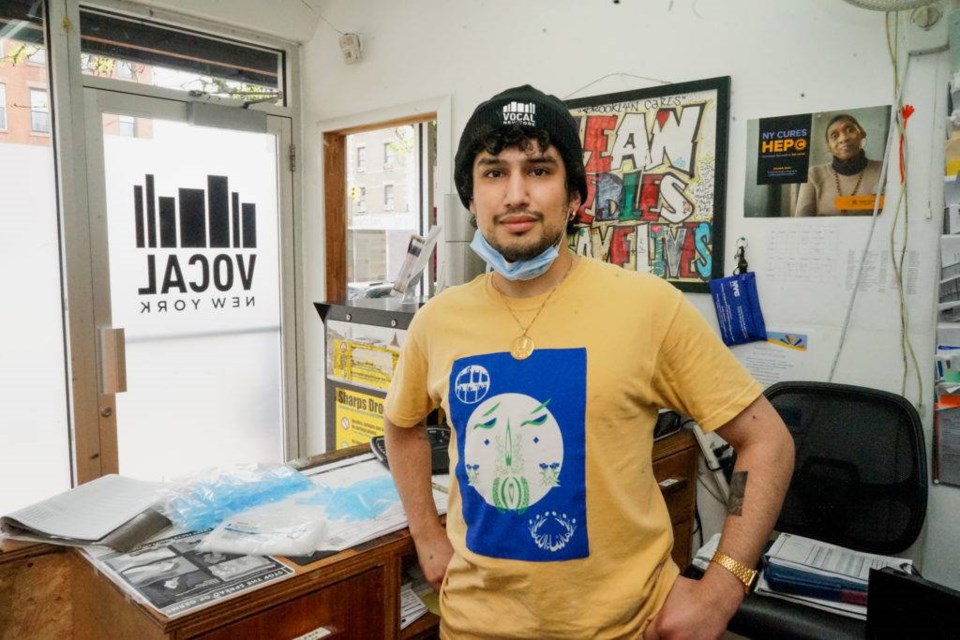 When possible, the team is trying to do care coordination and counseling over the phone, but consistent phone numbers for participants are often hard to come by, Director of Harm Reduction Arash Diba said. Despite the challenges, VOCAL continues to adhere to its spirit of empowering people, on top of delivering services.
"The people here really, really care," he said. "The team that has been built has lived a lot of these experiences, or has worked with people who have these experiences for decades.
"They are really dedicated, competent, and motivated, because they understand that people who use drugs are people. And they understand their needs are not being met."
Whether it is housing, healthcare or just access to a variety of things normally taken for granted, the organization is working to meet client needs, including policy and advocacy work toward destigmatization. But a huge issue for everyone, said Diba, was housing.
Tackling injustice together
Just the week before, health educator Laura Levine drove from her home on Long Island at 10:00pm to get a participant's original birth certificate form the VOCAL office, so they could stay in a hotel that night. The participant and her partner had been turned away from hotels for the third time that day, despite VOCAL and its partner organizations paying for one month of hotel stay. Levine said she wasn't standing for that.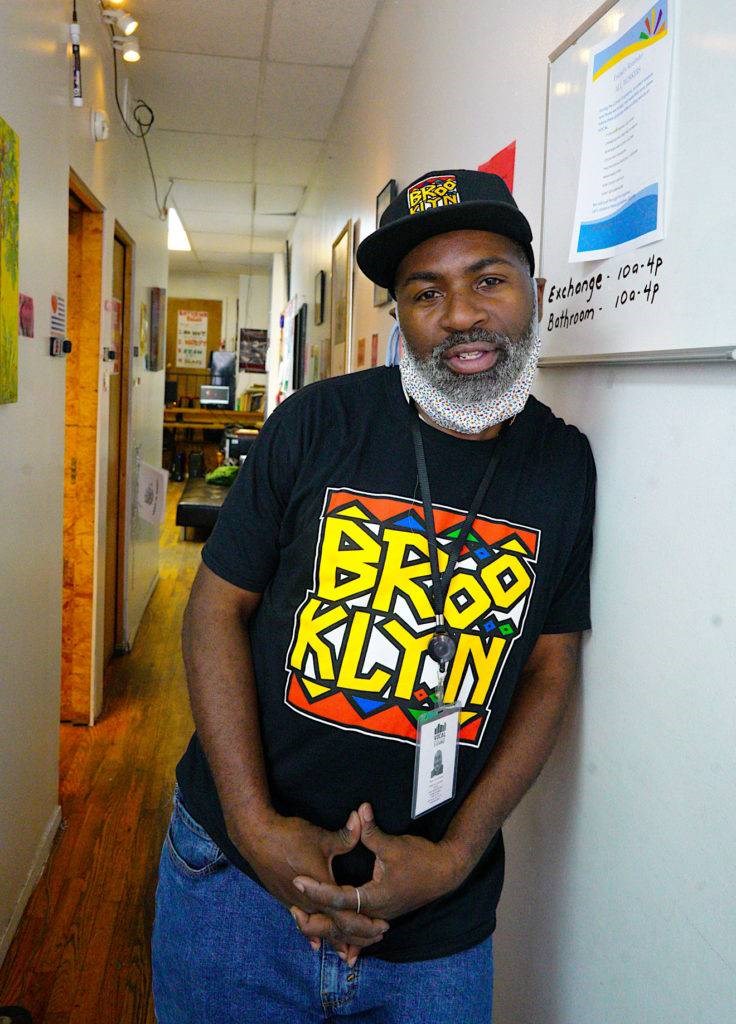 "I took them there and I was like, let's see them send you out now. That's not going to happen," she laughed. "I just wanted them to have somebody there, so they knew look there is somebody here looking out for them."
Levine, a medical assistant for 16 years, got involved with VOCAL after learning how few people knew how to inject drugs safely. She used heroin for the first time at 35 while going through a divorce and said she was lucky to get off it quickly.
At the drop-in center, Levine is an indomitable force. She commands the front desk, seems to be simultaneously doing ten things, while answering questions and helping other staff recall client numbers she has assigned to memory. She is the primary NARCAN trainer, training staff, participants and partner organizations (recently including SWOP) in how to administer the anti-overdose medication. In non-COVID times she runs the drug user help group, the harm reduction group, and a music group for participants, and sometimes oversees creative writing.
"You become family," she said. "If we don't see someone for a few days we start to worry, you know, and they do the same thing for us."
Trust and consistency are the most important things, added Foster.
"A lot of us were hurt so much in our lives that trust is hard to come by, we're scared to follow someone, 'cause we've been hurt so many times. When you take a chance and find the right person you can trust, I think you should hold on for dear life."
*Cover photo by Russell Frederick