New York City continues to ramp up vaccination efforts despite a pause in the Johnson & Johnson vaccine.
The vaccine was put on pause by federal regulators after it was linked to rare blood clots in six people in the United States. The Food and Drug Administration said all six cases occurred among women between the ages of 18 and 48, and symptoms occurred six to 13 days after vaccination.
In a statement, the FDA said: "Right now, these adverse events appear to be extremely rare. COVID-19 vaccine safety is a top priority for the federal government, and we take all reports of health problems following COVID-19 vaccination very seriously."
Appointments at the city's mass vaccination sites, including Medgar Evers College, will use the Pfizer vaccine — which has no reported issues.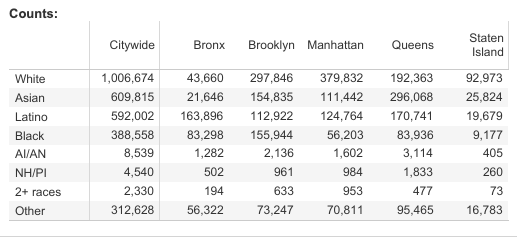 Starting this week, all New Yorkers 50 and over are eligible to get a COVID-19 vaccine without an appointment. Dates and times of availability vary by site, so check the city's website for more information.
Everyone 16 or older is able to make an appointment for a vaccine.
In Brooklyn, 45% of eligible residents have had at least one dose of a vaccine, and 28% are fully vaccinated.
On Wednesday, Governor Andrew Cuomo said the positivity rate in New York State was 2.06% — the lowest one-day positivity since November 5.

"Still, we have a lot of work ahead to get New Yorkers vaccinated and to achieve a sufficient level of immunity to defeat this virus once and for all," he said. New Yorkers are eligible for up to four hours' time off to receive a COVID-19 vaccine, in a new law passed last month.
The city has launched a new AfterCare program for New Yorkers suffering from COVID-19 symptoms and side effects long after the virus has left their systems. The program is designed to help patients access physical and mental health care, community and financial support. It is being run through the public hospital system and will start reaching out to Test & Trace patients who were still experiencing COVID symptoms at the end of their isolation period. The AfterCare Program.
The city's restaurants, bars and food carts will soon be able to sign up for additional pandemic relief under $28.6 billion federal Restaurant Revitalization Fund, aimed to keep hard-hit small businesses afloat.
Eligible businesses can get up to $10 million in cash, including up to $5 million per location. To learn more about the application requirements, head to the SBA's program guide here.
New Yorkers can call 877-VAX-4NYC and make a coronavirus vaccine appointment 24 hours a day, seven days a week in any language. To make an appointment online, click here.