NY State
New York City, this past Wednesday, saw its first day without any confirmed deaths from the coronavirus, according to data published by the New York City Department of Health and Mental Hygiene.
The statewide total of coronavirus cases is 376,208, as the number of new cases continue to drop, announced Governor Andrew M. Cuomo on Friday. It is the lowest number of deaths and hospitalizations since the COVID-19 pandemic began.
Thursday, 42 people in New York passed away due to COVID-19, down from a record-high of 800 just eight weeks ago. The number of total hospitalizations was down Thursday to 2,728 from a record-high of 18,825 during the peak of the pandemic.
New York averaging 50,000 COVID-19 tests per day.
New York's Day Camps Can Open June 29th
New York state expanding COVID-19 testing criteria to include all those who have joined recent protests.
New York will start to allow drive-in and drive-thru student graduations. Cuomo says they will keep evaluating situation for updates to graduations.
The New York State Legislature passed a bill to provide $100 million of rent relief to tenants whose income was disrupted due to COVID-19. The Department of Housing and Community Renewal program will offer rent vouchers to New Yorkers earning less than 80 percent of the area median income both now and before the pandemic struck in March, with the subsidy being paid directly to the landlord. Click here to learn more about this legislation.
Cuomo said earlier this week that the families of essential workers who died fighting the coronavirus outbreak-- including transit workers, emergency medical workers, police officers, and firefighters-- will receive line-of-duty benefits. The benefits include both the covering of funeral costs and 66 percent of the deceased's salary.
"I want to make sure we repay them — and not just by saying thank you and running nice television commercials," Cuomo said.
On Tuesday, Governor Cuomo rang the bell to open the trading floor on the New York Stock Exchange The trading floor which had been closed since March 23. The floor opened at 25 percent capacity under a new set of rules meant to prevent the spread of the coronavirus. Anyone entering the building must undergo a temperature check, wear a mask, maintain six feet of distance, and not ride public transit.
Applications for New York Forward Loan Fund, a new New York State small business loan program intended to provide aid to businesses that didn't get money from federal COVID-19 relief programs, opened May 26. Thanks to the program, $100 million is available for small businesses and nonprofits with less than 20 full time employees and landlords with less than 200 units who have lost rental income during the coronavirus pandemic, with an emphasis on minority- and women-owned small businesses. Businesses who didn't get the PPP loan or the Economic Injury Disaster Loan may qualify for the state funds.
To apply to the New York Forward Loan Fund, click here.
---
NYC:
As of June 5, there have been at least 210,728 cases of coronavirus in New York City, according to a New York Times database. As of Friday afternoon, at least 21,262 people had died.

Now, after having met five of the seven metrics required to be able to begin a coronavirus "UnPause," New York City is on tap to begin a phased re-opening on Monday, June 8, announced Cuomo.

"COVID-19 is still a real threat and we're still battling it. I know it's not on the front pages today, but it is still in people and in society... But thanks to the people of New York and the nurses, doctors and essential workers, today we have the lowest number of hospitalizations ever and we have the lowest death toll ever," said Cuomo. "We are continuously evaluating activities that can be safely reopened, and today we are adding outdoor seating at restaurants to phase two."
The New York City Council introduced a bill in late May that requires the Department of Transportation identify pedestrian plazas and space that restaurants can use for outdoor dining. The bill would create a temporary, fast and simple permitting process that would cut through red tape and allow establishments to "get back to business," said speaker Corey Johnson.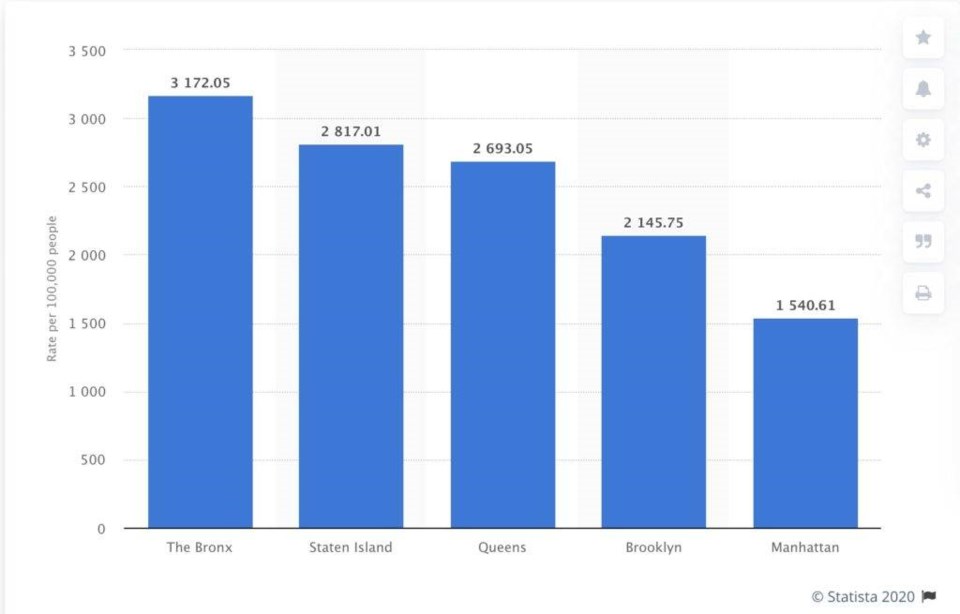 The Mayor announces universal COVID-19 testing for New Yorkers:
But as the city experiences a increasing drop in cases and protests continue around police brutality the killing of an unarmed Black man, George Floyd, at the hands of Minneapolis police on May 25, much of the mayor's updates have shifted to address the later:
On Monday, June 1, Mayor Bill de Blasio and Gov, Cuomo announced citywide curfews that begin at 8:00pm and continue until 5:00am. The two also announced that the New York City Police Department will double its police presence in areas where violence and property damage have occurred most heavily, specifically in lower Manhattan and Downtown Brooklyn. ?
"I support and protect peaceful protest in this city. The demonstrations we've seen have been generally peaceful. We can't let violence undermine the message of this moment. It is too important and the message must be heard. Tonight, to protect against violence and property damage, the Governor and I have decided to implement a citywide curfew," said Mayor de Blasio. "The Police Commissioner and I have spoken at length about the incidents we've all seen in recent days where officers didn't uphold the values of this city or the NYPD. We agree on the need for swift action. He will speak later today on how officers will be held accountable."
The mayor also added he is worried about the protest creating another spike in coronavirus cases: I'm very worried also that protest is leading to the potential of the spread of the coronavirus. That is not a minor matter at this point," the mayor said. "One day, two days — that's one thing. As it's continued, that danger is increasing. I'm asking everyone to think about that personally, about yourself, your family, the people in your life, your elders in your family, continuing to be out interacting."
Watch the mayor's full 5/1 update, where updates on the Black Live Matters protest of police brutality have now joined press updates on COVID-19:
Stay Informed: Notify NYC
Over 800,000 New Yorkers have signed up for the City's COVID text notification system, "Notify NYC," to get regular updates on the latest developments with coronavirus in New York City text COVID to 692-692. New Yorkers can text COVIDESP to 692-692 for updates in Spanish. You will receive regular SMS texts with the latest news and developments. If you have any questions on finding medical care call 311.
Texts this week ending 6/05/20:
Vote safely during COVID-19 by voting from home. Request your mail-in ballot for the primary election: vote.

nyc

or call 1-866-868-3692
New Yorkers with symptoms or questions about COVID-19 can call 1-844-

NYC

-4NYC to connect to a medical provider free of charge 9 am - 9 pm.
This is a challenging time for all New Yorkers. If you need help coping, contact

NYC

Well, a confidential 24/7 helpline:

nyc

.gov/nycwell
Go here to read the NYC Department of Health Coronavirus fact sheet.
NYC BOC Absentee Ballot:
To access an absentee ballot application
click here.
Job Opportunities
: To access NYC Health and Hospitals job postings
click here.
Project Cupid
: For more information on virtual Marriage License programs,
click here.
Outlook in Brooklyn
As of Thursday, June 4, there were 55,889 confirmed cases in Brooklyn and an 1,634 additional probable deaths.
TESTING!
The City of New York is expanding testing for COVID-19 rapidly throughout the five boroughs. Testing is free, but at most sites, an appointment is required. Register online or by phone. Here are the sites in Brooklyn so far:
NYC Health + Hospitals (Sheepshead Bay)
2601 Ocean Parkway
Brooklyn, New York 11235
718-616-3000
Hours: Monday - Friday, 9:00 AM - 4:00 PM
No appointment necessary.
NYC Health + Hospitals/Gotham Health, Cumberland (Fort Greene)
100 North Portland Avenue
Brooklyn, New York 11205
718-388-5889
Hours: Monday - Friday, 9:00 AM - 3:30 PM; Saturday, 10:00 AM — 2:00 PM
No appointment necessary.
NYC Health + Hospitals/Gotham Health, (East New York)
2094 Pitkin Avenue
Brooklyn, New York 11207
718-388-5889
Hours: Monday - Saturday, 9:00 AM - 3:30 PM
No appointment necessary.
NYC Health + Hospitals/Gotham Health, Ida G. Israel Community Health Center (Coney Island)
2925 W 19th Street
Brooklyn, NY 11224
Hours: Monday - Saturday: 8:00 AM - 4:00 PM
No appointment necessary.
NYC Health + Hospitals/Gotham Health, Jonathan Williams Houses (Williamsburg)
333 Roebling Street
Brooklyn, New York 11211
Hours: Monday - Friday 9:00 AM - 3:30 PM
No appointment necessary.
NYC Health + Hospitals/Kings County (Flatbush)
451 Clarkson Avenue
Brooklyn, New York 11203
718-245-3131
Hours: Monday - Friday, 9:00 AM - 4:00 PM
No appointment necessary.
NYC Health + Hospitals/Woodhull (Bed-Stuy/Bushwick)
760 Broadway
Brooklyn, New York 11206
718-963-8000
Hours: Monday - Friday, 9:00 AM - 4:00 PM
No appointment necessary.
One Medical, Brooklyn (Crown Heights)
Medgar Ever College
Hours: Daily, 9:00 AM - 6:00 PM
By appointment only.
(888) 663-6331
Register online: use code NYCCARE30
Brooklyn Borough President Covid-19: A Rundown and Review
The office of the Brooklyn Borough president has created a helpful guide that includes information on cash aid, unemployment assistance, student loan relief, small business loans, and additional stimulus measures.
HEALTH

FINANCIAL SUPPORT

FOOD PANTRY/FOOD ASSISTANCE

GENERAL

HOUSING
If you see price gouging, report it to 1 (800) 697-1220, fill out the complaint form on the New York State Attorney General's website, or email askeric@brooklynbp.nyc.gov.
---
*Thank you to the office of Brooklyn Borough President Eric Adams for content to this list. For more updates and resources, you can visit the BP's coronavirus online update here.