The statewide stay-at-home order — known as New York State On Pause — is scheduled to lapse on May 15, as the state recorded its lowest death daily toll in nearly a month, Gov. Andrew Cuomo announced on Sunday.
With promising indications that the coronavirus has peaked, Cuomo laid out a broad plan for a "low-risk" re-start of city and state governments, and a gradual re-opening of some businesses, given the death toll steadies or continues to drop.
However, he warns, upstate New York would have a more aggressive rollout than New York City, with an emphasis on manufacturing and construction.
Also, New York became the latest state to close schools for the remainder of the academic year.
For Mayor Bill de Blasio's part, he's beginning to slowly roll out plans that address operations in the city, post-coronavirus.
To help curb the growing problem of NYC homeless residents sheltering in subway stations-- as ridership is down overall 92% system-wide-- MTA trains will be closed every night from 1:00am to 5:00am, starting Wednesday, announced the governor and the mayor.
Additionally, subways, buses and trains will be cleaned every 24 hours to help stop the spread of COVID-19: "I would wager in the history of public transportation in this nation you've never had a challenge of disinfecting every train every 24 hours," said Gov. Andrew Cuomo. "Wherever a hand could touch, or coughing, sneezing. Wherever droplets could land. So you have to disinfect the entire interior of that car.
New Yorkers will soon be able to get free face masks in parks and other public spaces, to make it easier for New Yorkers to develop a habit over covering, Mayor de Blasio announced during his Thursday address:
"We want to make it easy for people to have face coverings, so we're going to start to give them out free in our city parks," de Blasio said Thursday. "We know it's going to get warm, we know people are going to go to the parks — again, want people to keep some real limits on that — but I want everyone to have a face covering."
And as the curve on the virus slowly begins to flatten, the USNS Comfort has left New York City, exactly one month after its arrival. The 1,000-bed hospital ship sailed off from Pier 90 Thursday afternoon to ample cheers and salutes by first responders.
---
National: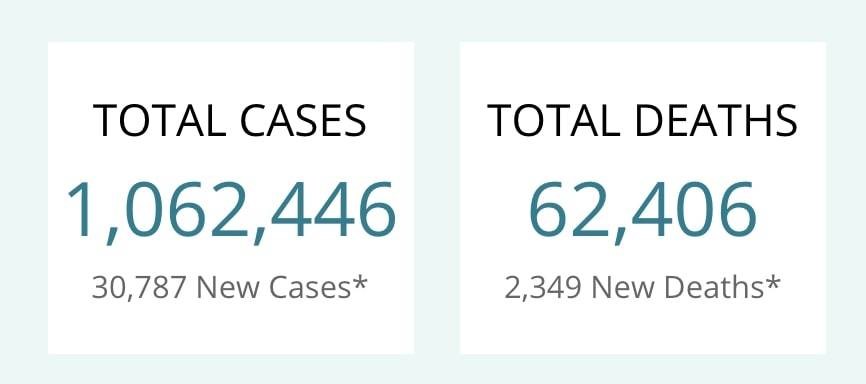 There have been more than 1 million coronavirus cases in the United States, and the death toll has surpassed 64,000 people, according to the Johns Hopkins University tally.
The U.S. Food and Drug Administration issued an emergency-use authorization on Friday for remdesivir in hospitalized patients with severe COVID-19-- a lower regulatory bar than full FDA approval, but it's a sign that the FDA believes the benefits of a drug outweigh its risks in certain patients.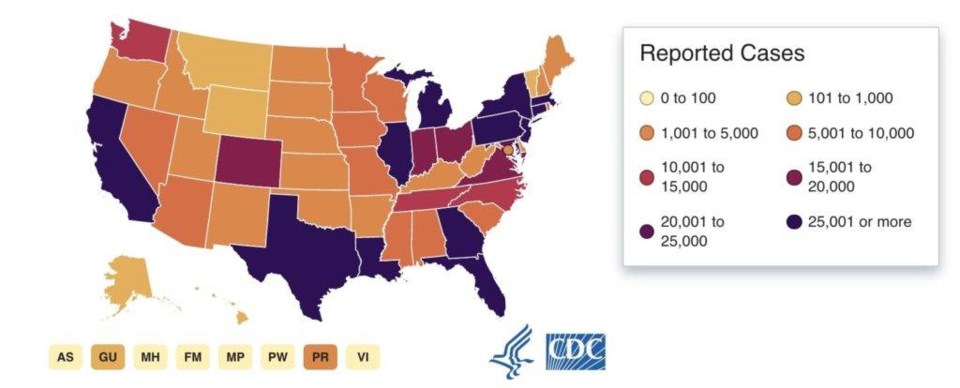 U.S. intelligence agencies have concluded that the new coronavirus was "not manmade or genetically modified."
President Trump on Thursday announced additional steps to deliver supplies to nursing homes and protect seniors from the coronavirus.
---
NYC:
As of Friday May 1, 2020, there have been more than 309,696 confirmed cases of the coronavirus in New York, including more than 172,784 in New York City. More than 18,564 people with COVID-19 have died in the state, not including the deaths of people with probable cases.
Health officials are seeking plasma donations from people who have fully recovered from the illness to help treat those still infected. More information can be found here. As of April 22, orthodox Jewish groups have organized the bulk of plasma donations, according to The Forward.
To see nursing home fatalities, across NY counties, click here.

For so long testing in New York City was very limited, and the focus had to be on saving lives in the hospitals on protecting health care workers, knowing who had the disease, who didn't, who needed to get home or get treatment, who was able to stay at work, and the same with our first responders, said the mayor at a Thursday press briefing.
In recent weeks, however, the City has been able to significantly expand its testing outreach, focused primarily on underserved and under-resourced communities-- those disproportionately impacted by the spread.
Currently, there are 11 community sites open-- eight at Health and Hospitals clinics all over the five boroughs, three at New York City Housing Authority sites:Jonathan Williams Houses in Williamsburg, at the Woodside Houses in Woodside, Queens, and Saint Nicholas Houses in Harlem.
"So, that has been a big step forward. We're now going to go a lot farther," de Blasio said. "This is the first of many steps we're going to take. I'm also pleased to announce there will be new sites opening as part of this community testing initiative.
"Two more Health and Hospitals sites will open this weekend at the Ida G Israel Clinic in Coney Island, and the Dikeman Clinica de Las Americas in Inwood in Manhattan. Starting next week, we will also provide community testing on a broader scale at all 11 Health + Hospital hospital locations as well," he said.
"That's how we set up with the limited testing we had. Now we're focusing on the groups of people in this city who have been hardest hit by this disease in a very, very pinpointed way."
Additionally, over a million gowns are now on their way to the city. Another 900,000 will be on their way next week, and 3 million more are being produced, he said.
This week, Citi Bike announced it is giving first responders, transit workers and health care workers a free month of membership. They expanded the offer a few days later to a one-year free membership, offered to an even broader set of essential workers:
"I want to thank ... both Citi and MasterCard have provided tremendous support, a million dollars to fund this program. This is going to be fantastic for helping people get around who need this alternative," de Blasio said. "And on top of that, we'll be expanding with a hundred new stations, docking stations in the Bronx and Manhattan, including key locations that have been the frontline of this crisis, including Lincoln Hospital and Harlem Hospital.
Watch the mayor's full 5/1 update here:
Recent Mayoral press releases
Stay Informed: Notify NYC
Over 800,000 New Yorkers have signed up for the City's COVID text notification system, "Notify NYC," to get regular updates on the latest developments with coronavirus in New York City text COVID to 692-692. New Yorkers can text COVIDESP to 692-692 for updates in Spanish. You will receive regular SMS texts with the latest news and developments. If you have any questions on finding medical care call 311.
Texts this week ending 5/01/20:
REMINDER: Ferries are for essential travel only. If you must take a ferry, face coverings are required to board.
DOE families: Get your remote learning device: https://coronavirus.schools.

nyc

/RemoteLearningDevices or 718-935-5100 & choose option "5."
When home isn't safe, domestic violence survivors can find services 24/7 at

nyc

.gov/NYCHOPE, 1-800-621-HOPE(4673) or 911 for emergencies.
Pet owners impacted by COVID-19 can call the Pet Hotline at 1-877-204-8821 from 8 a.m. to 8 p.m., 7 days a week.
This a challenging time for all New Yorkers. If you need help coping, contact

NYC

Well, a confidential 24/7 helpline:

nyc

.gov/nycwell.
Alternate Side Parking will be suspended for an additional two weeks through Tuesday, May 12th
Help your city. Volunteer, donate or partner with the City of New York. Visit

NYC

.gov/helpnow to learn how to get involved.
Go here to read the NYC Department of Health Coronavirus fact sheet.
NYC BOC Absentee Ballot:
To access an absentee ballot application
click here.
Job Opportunities
: To access NYC Health and Hospitals job postings
click here.
Project Cupid
: For more information on virtual Marriage License programs,
click here.
Outlook in Brooklyn
As of Thursday, April 30, of 115,417 people who have tested for coronavirus, 45,519 have tested positive, about 40 percent of those tested.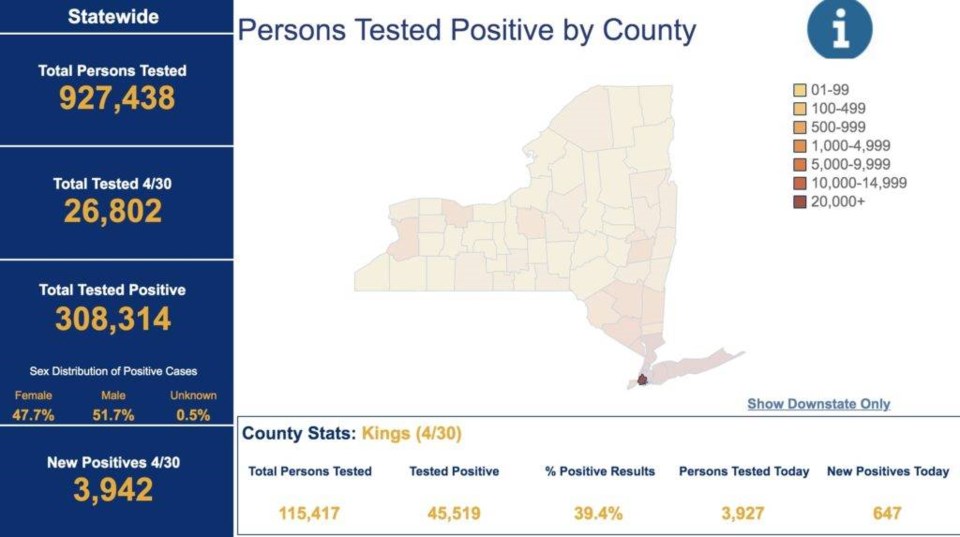 Here's a map showing the concentration of positive cases of COVID-19 across the borough, by zip code, as of May 1, 2020.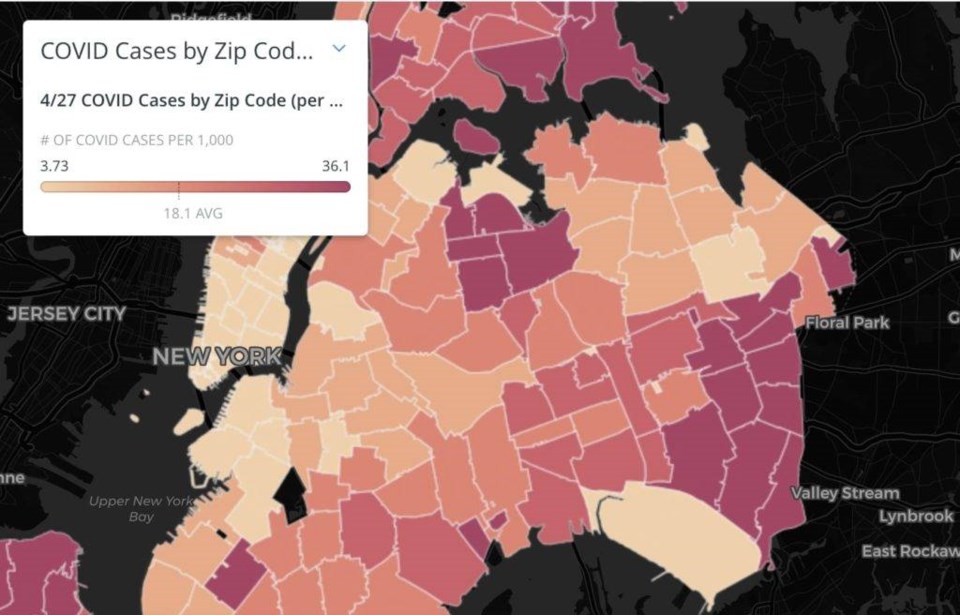 Other news in Brooklyn included:
Brooklyn Borough President Covid-19: A Rundown and Review
The office of the Brooklyn Borough president has created a helpful guide that includes information on cash aid, unemployment assistance, student loan relief, small business loans, and additional stimulus measures.
As per Governor Cuomo, all registered voters may apply for an Absentee Ballot to vote in the upcoming June 23rd elections.
As per Mayor de Blasio and Schools Chancellor Carranza, an adjusted K-12 citywide grading policy will be put into effect.
The Formula E venue at Brooklyn Cruise Terminal on July 11, 2020 has been cancelled.
The New York City Board of Elections (BOE) has canceled June's Democratic Presidential primary.
Hunter College New York City Food Policy Center has partnered with Share Meals, Hunger Free America, BetaNYC, and Plentiful to compile a listing and guide on food resources available to New Yorkers.
New York Road Runners has released an online portal to keep you "Active at Home."
SOMOS Community Care has opened an antibody testing center in Sunset Park. It is available by appointment only, Tuesday through Saturday, from 11:00 AM to 3:00 PM. Call 1-833-SOMOSNY (1-833-766-6769) for an appointment.
New York City partnered with T-Mobile to provide free tablets with internet access to 10,000 the New York City Housing Authority (NYCHA) seniors to stay connected with their families including a hotline for live human help. The first neighborhoods to receive help from the $5 million venture will be Brownsville, Bushwick, Coney Island, East New York, Red Hook, and Mott Haven.
The Coalition for the Homeless has resources online to help homeless New Yorkers, including downloadable borough-specific resource guides, a crisis hotline, mobile soup kitchen schedule, New York City Department of Homeless Services (DHS) guidance, and policy papers.
All publicly permitted events that were scheduled in the month of May and June have been cancelled.
The New York City Department of Consumer and Worker Protection's Office of Financial Empowerment has transitioned all financial counseling and coaching programs to offer services remotely. Book an appointment here.
Beginning May 4th, the New York City Department of Sanitation (DSNY) will suspend its curbside composting program. During the suspension, any food scraps and yard waste set out for composting will be collected as trash. Residents with brown bins should store their bins in a safe location for the duration of the suspension.
The New York City Department of Environmental Protection (DEP) announced that the opening of its recreational boating season will be postponed until May 23rd.
The New York Legal Assistance Group (NYLAG) launched the NY COVID-19 Legal Resource Hotline to help New York City residents impacted by COVID-19 get answers to their legal questions on issues including unemployment benefits, employee rights, housing, public benefits, consumer debt, advance planning, stimulus payments, and special education issues. Call (929) 356-9582 Monday-Friday 10:00 AM — 1:00 PM to leave a message with your name and contact information or visit nylag.org/hotline for more information.
Women.NYC, which is powered by the New York City Economic Development Corporation, released a downloadable guide for free and low-cost tech courses in New York City.
Per Governor Cuomo, the PAUSE plan will stay in effect through Wednesday, May 15th. The maximum social distancing fines have been increased from $500 to $1,000. One hundred percent of a non-exempt essential service business's workforce should stay home. Guidelines on what essential services must still be in person can be found here. A halt on all non-essential public gatherings remains in effect.
The Trump Administration is moving to delay some deadlines for the 2020 Census due to the novel coronavirus, including delivering data to states for congressional redistricting. The Census Bureau is requesting Congress to allow a 120-day delay on some data-reporting deadlines. The delay would accommodate social distancing guidelines for workers to prevent the spread of the disease and extend the deadline from December 2020 to April 2021. You can do your part to secure respect, money, and resources with the 2020 Census. Please fill out the Census online and #MakeBrooklynCount.
If you or your house of worship would like to sign up to participate in this rolling 24-hour prayer initiative, go to brooklyn-usa.org/24hrs-of-prayer to share and commit to the day you are planning to hold your vigil.
NYCHA's journal has information about how they are responding to COVID-19. Information is available here about hardship reductions for NYCHA residents struggling to pay rent.
New York Cares is currently mobilizing volunteers to respond to COVID-19.
The City has streamlined the home delivery of meals to seniors and working to support our food pantries, who are critical partners in these efforts. In the interim, you can find a list of key resources at nyc.gov/GetFood or by calling 311 and saying "Get Food."
Free and low-cost childcare options during the COVID-19 crisis are available through Workers Need Childcare, for parents and caregivers in New York City's essential workforce.
Mental health professionals have signed up to volunteer their services at a FREE hotline. Call (844) 863-9314 for a free appointment.
Worried about having to self-isolate in a dangerous home situation? Co-quarantined with an abuser? Please reach out and contact the National Domestic Violence Hotline. Call 1 (800) 799-7233, TTY 1 (800) 787-3224, or chat online at thehotline.org.
The City has created a new, online portal that will allow New Yorkers to self-report COVID-19 data, helping the City to communicate with affected members of the public and assist in the identification of areas that may require an enhanced response. By going online or calling 311, New Yorkers can quickly input information about themselves and legal guardians can add information for children or adults in their care. New Yorkers can update their status at any time through the Portal or by calling 311. The Portal is available in 11 languages: Arabic, Bengali, Chinese, English, French, Haitian Creole, Korean, Polish, Russian, Spanish, and Urdu. It is not intended as a mechanism for providing medical advice or treatment, and should not be relied upon as a method to obtain medical care or emergency service. Personal information will be stored securely and only accessible to City employees protecting public health. It will not be accessible by ICE, or used for law enforcement or any other purpose.
Banks have waived mortgage payments for 90 days and suspended foreclosures. Eligibility is based on financial hardship. Late payment fees and ATM overdraft fees are also suspended. All student loan interest has been suspended.
Tax Day has been pushed back to Wednesday, July 15th. As per Mayor de Blasio, all tax lien sales will be postponed from May until at least August.
The Employee Retention Grant for small businesses with four or fewer employees is available and includes space for you to add March and April's revenue. Information and eligibility can be found here. Additionally, loans are available for small businesses affected by COVID-19, the application can be accessed here. The Small Business Continuity Fund will offer financial assistance to small businesses with fewer than 100 employees who have seen sales decreases of 25 percent or more will be eligible for loans of up to $75,000, to help retain employees and ensure business continuity.
We have partnered with the Brooklyn Chamber of Commerce to get businesses the relief they deserve amid the pandemic. Join the Small Business Hotline via the Brooklyn App.
Mayor De Blasio and Chancellor Carranza announced that New York City public schools are remote learning and are closed until September 2020. The DOE will provide computers and internet access to every student who needs it. Call (718) 935-5100 (press 5). Parents and guardians of students with disabilities can send questions to specialeducation@schools.nyc.gov.
School sites are open for grab-and-go meals this week, from 7:30 AM to 1:30 PM, outside of main entrances of every school building. The program is now open to anyone who wants food, no questions asked. Go to schools.nyc.gov, or text "FOOD" or "COMIDA" to 877-877 for lists of where meals are being served.
For veterans and their families, the NYC Veterans Alliance has a list of resources on their website.
MTA buses and subways remain open, and the NYC Ferry system and Staten Island Ferry will continue to operate. MTA buses are rear-door boarding-only, with exceptions for disabled riders. On local buses, that means no more fare collection. Regular fare policy remains in effect wherever on-board payment boxes or SBS off-board ticket machines continue to be accessible.
Alternate Side Parking (ASP) is suspended through Tuesday, May 12th. Parking meters are still in effect. Rideshares and carpools have been banned by executive order. With the exception of families, there can only be one passenger per vehicle.
The City is recruiting TLC-licensed drivers through DeliveryTLC to help with work related to COVID-19, such as delivering food to older adults. This work will be paid $15/hour plus reimbursement for gas and tolls. Drivers will be selected on a first-come, first-serve basis. The initial need for drivers will be small, but they expect it to increase as they expand the programs.
The New York City Department of Buildings (DOB) is fining and shutting down non-essential construction sites. Essential construction may continue and such construction includes roads, bridges, transit facilities, utilities, hospitals, or health care facilities, affordable housing, and homeless shelters. A map of essential and emergency construction sites allowed to continue working can be found here.
While all Brooklyn Public Library branches are closed until further notice, services and programming are still available online at their website.
A statewide eviction moratorium is currently in effect, including residential and commercial properties as well as foreclosures, according to the Office of Court Administration. The City will work with the State to suspend the Rent Guidelines Board process for the coming year, which will maintain all regulated rents at their current level for 2.3 million tenants in nearly one million stabilized units across the city.
Utilities have been ordered to not shut off service for gas, water, or electricity. Internet services will not be cut off during this time.
If you see price gouging, report it to 1 (800) 697-1220, fill out the complaint form on the New York State Attorney General's website, or email askeric@brooklynbp.nyc.gov.
---
*Thank you to the office of Brooklyn Borough President Eric Adams and City Councilmember Laurie Cumbo for contributing much of the updated information in this list. For more updates and resources, you can visit the BP's coronavirus online update here.