New York State on PAUSE is now extended through May 15, governor Cuomo announced on Thursday.
The governor said that hospitalizations from the virus statewide was about 17,000, down from 18,000 at last official count. The governor said ICU admissions were also down significantly throughout the state. Despite these positive trends, the governor insists we are not out of the woods.
"The bad news is that 2,000 people walked into the hospital for the first time yesterday for the disease and the worst news is 600 people died yesterday from the disease," Gov. Cuomo said.
The federal government has passed three bills on the crisis but there is zero unrestricted funding for states, said Cuomo, adding that despite what President Trump saying, it's up to states to handle reopening plans, and that the state will need federal aid to do so.
After New York City Mayor Bill de Blasio announced that grocery stores could now require all customers to wear masks, the governor went further, ordering everyone in the state to wear something to cover their nose and mouth any time they can't stay 6 feet apart.
Cuomo the rule would be enforced without fines... for now, that is: "People will enforce it. They'll say to you, if they're standing next to you on a street corner, 'Where's your mask, buddy?' in a nice New York kinda way," he said.
---
The Trump administration is pulling back federal support of testing sites by the end of the week amid ongoing concerns over testing shortages nationwide, according to the Federal Emergency Management Agency.
The so-called Community-Based Testing Sites program was intended to jumpstart initial testing capabilities to critical areas across the US, according to the agency. But given FDA approval for individuals to self-administer nasal swab tests at sites, the demand for personal protective equipment and trained health care providers will be reduced, a FEMA spokesperson said in a statement.
---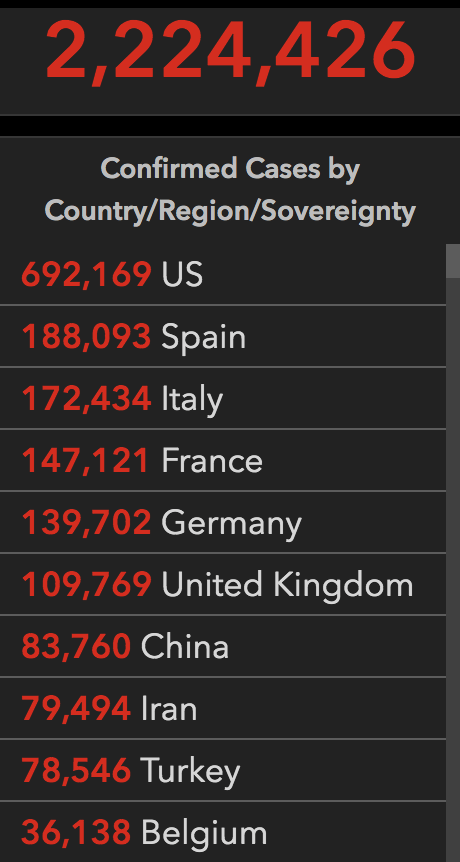 As of Friday, April 17, the United States continues to lead the world in the number of Covid-19 cases, with 692,168 confirmed cases. Of the total number of US cases, New York City has 123,146 confirmed cases-- nearly 20 percent of the country-- with 12,192 deaths statewide, according to the city statistics.The number of confirmed cases in the city increased nearly 47 percent between last week (87,725) and this week.
Of the number of current confirmed cases in the city, there have been 7,890 deaths so far, representing about 6 percent of total cases.
Across the 5 boroughs, Brooklyn has the second highest number of confirmed cases, at 32,499; and Queens has the highest, 37,447. However, the highest rates of infection is in the Bronx, with 1,835 deaths per 100,000 people and Staten Island-- which has the lowest number of cases-- is second right behind the Bronx with 1,830 confirmed cases per 100,000 people.
Mayor de Blasio announced today the opening of three COVID-19 testing sites for communities hardest hit by the pandemic. Beginning today, NYC Health + Hospitals/ Gotham Health East New York, Morrisania, and Vanderbilt will offer COVID-19 testing on a walk-in basis, with a priority for those over the age of 65 with pre-existing conditions that put them at risk for serious illness. Two additional sites at NYC Health+ Hospitals/ Queens and NYC Health+ Hospitals/ Sydenham in Manhattan will open on Monday, April 20th.
The City will also partner with One Medical, a national digital health and primary care provider, to offer COVID-19 testing and virtual care services.
The mayor reiterated the need for testing on a citywide level and, like Cuomo, stated the city still needs help from the federal government to do so. He said 311 calls have increased from an average of 55,000 daily calls to up to 200,000 per day.
The mayor will be focused on "community testing sites," aimed at provide testing primarily to those residents in the surrounding area.
The mayor also announced plans to soon open five new testing sites (one in each borough), enabling the City to perform 3,500 tests per week. Certain New York City residents will have priority, including those 65 and older with preexisting conditions, frontline 1199SEIU workers, essential workers and other vulnerable populations, including adult care employees or those working with people with disabilities, by appointment only: 1-888-ONEMED1 or onemedical.com and use code NYCCARE30.
"... This additional community-based testing is going to help us a lot because at least in the meantime we can focus on addressing some of the greatest needs in the city and some of these very painful disparities that have become clearer and clearer in this crisis," de Blasio said, during his daily briefing on Friday.
"Where did we focus initially? ... We focused on saving lives, testing for the folks who are most vulnerable, who are literally the patients in the hospitals that the doctors and nurses were most concerned about saving their lives ... keeping them safe, knowing who could be on the job, who needed to be home, who needed to be given care.
"That's how we set up with the limited testing we had. Now we're focusing on the groups of people in this city who have been hardest hit by this disease in a very, very pinpointed way."
To watch the full briefing, go here:
CITY TO PROVIDE DIRECT RELIEF TO IMMIGRANTS: Mayor de Blasio announced a partnership with Open Society Foundations to establish the New York City COVID-19 Immigrant Emergency Relief program. This $20 million donation will help provide emergency monetary relief to immigrant workers and their families. The NYC Mayor's Office of Immigrant Affairs and the Mayor's Fund to Advance New York City will create a citywide network of community based organizations that will provide direct, one-time emergency relief payments to immigrant families — including undocumented workers.
Recent Mayoral press releases
Stay Informed: Notify NYC
Over 800,000 New Yorkers have signed up for the City's COVID text notification system, "Notify NYC," to get regular updates on the latest developments with coronavirus in New York City text COVID to 692-692. New Yorkers can text COVIDESP to 692-692 for updates in Spanish. You will receive regular SMS texts with the latest news and developments. If you have any questions on finding medical care call 311.
Texts this week ending 4/17/20:
Healthcare workers: If you need a place to stay to reduce the spread of COVID-19, visit

nyc

.gov/covid19hotel to reserve a free hotel room.
New York State on PAUSE is extended through 5/15. Non-essential workforce is directed to continue to work from home until at least 5/15.
REMINDER: 3 free meals are available for ALL New Yorkers at more than 400 meal hubs, Monday-Friday: https://schools.

nyc

.gov/freemeals
Attention New Yorkers: all people must wear a face covering in public where social distancing is not possible.
COVID-19 resources are available for individuals with disabilities, access and functional needs: https://on.

nyc

.gov/34qzVkF
New York Blood Center is seeking donations of plasma from those who have recovered from COVID-19: https://nybc.org/
Alternate Side Parking will be suspended for an additional two weeks through Tuesday, April 28th.
Go here to read the NYC Department of Health Coronavirus fact sheet.
Outlook in Brooklyn
Here is the most current number of cases of patients testing positive for Covid-19 by zip code in New York city and the percentage of patients testing positive for Covid-19 by zip code n New York City.
Other news this week included:
Public health experts' prescription to fight the coronavirus; More testing, contact tracing and federal funding are needed — and not just right now. Read the full interview from City & State.
Brooklyn Borough President Covid-19: A Rundown and Review
The office of the Brooklyn Borough president has created a helpful guide that includes information on cash aid, unemployment assistance, student loan relief, small business loans, and additional stimulus measures.
If you see price gouging, report it to 1 (800) 697-1220, fill out the complaint form on the New York State Attorney General's website, or email askeric@brooklynbp.nyc.gov.
---
*Thank you to the office of Brooklyn Borough President Eric Adams and City Councilmember Laurie Cumbo for contributing much of the updated information in this list. For more updates and resources, you can visit the BP's coronavirus online update here.